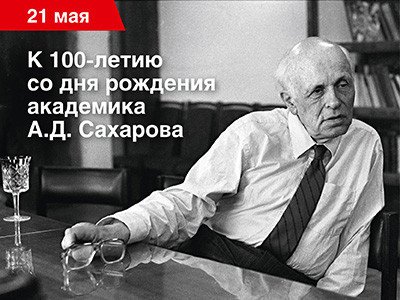 Today, on May 21, the Svetlanov Hall of Moscow International House of Music hosted a concert of Russian National Philharmonic Orchestra under the guidance of Vladimir Spivakov devoted to the 100th anniversary of academician Andrey Sakharov's birthday. 
Renowned physicist, Nobel Prize winner, and public figure, Andrey Sakharov would have been 100 years old on May 21, 2021. Russia Culture TV Channel timed the concert broadcast to coincide with this date. 
The opening speech at the ceremony was made by President of the Russian Academy of Sciences (RAS) Alexander Sergeev, chairman of the Organizing Committee for activities devoted to the 100th anniversary of Sakharov's birthday. 
Alexander Sergeev stressed that the organizing committee for preparing and holding events devoted to the 100th anniversary of Sakharov's birthday was formed on the order of Russian President. It included prominent figures of sciences and culture, representatives of public organizations, state authorities and mass media, as well as Andrey Sakharov's relatives.
"Very many interesting events have been held before this date. These are conferences, exhibitions, etc. New books have been published and films have been produced about Andrey Sakharov. I am sure that we will see many more interesting events devoted to Sakharov during this year. However, today is the main day, so various activities in the memory of great scientist are held in different cities," Alexander Sergeev said. 
After that he read aloud the greeting statement of Russian President Vladimir Putin. 
"We are proud of having this outstanding scientist among our compatriots and contemporaries. His fundamental scholar papers and applied developments have become an invaluable contribution to the development of scientific ideas aimed at enhancing the defensive capacity and national security of our country. We will remember Andrey Sakharov as a courageous man of unbending spirit possessing pronounced personal integrity," the state head said in his statement. 
Andrey Sakharov is a notable figure in Russia's and world's history of the 20th century. He was the founding father of thermonuclear bomb and the greatest humanist at the same time. As for the fundamental principle of his life, the scholar used scientific approach in both physics and public activities.