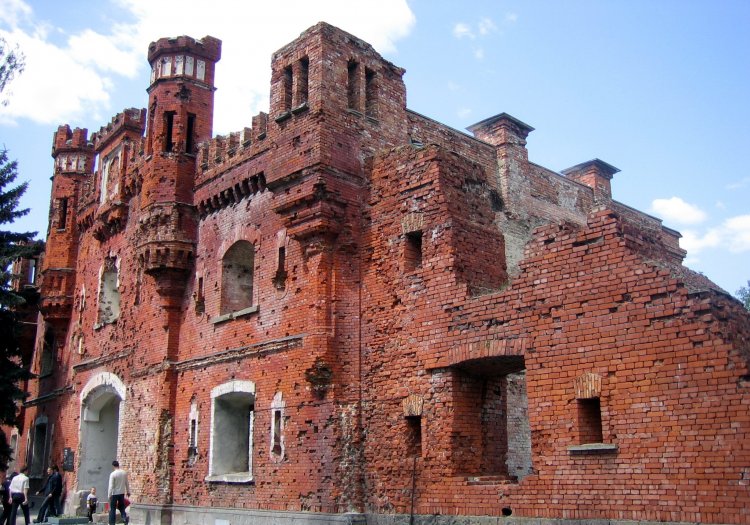 After the war with the French, the Russian Empire took care of the reinforcement of its western borders. By 1830, they accepted a long-term fortification program. It provided for the construction of four fortresses according to the latest achievements of military sciences: in the village of Modlin, in Ivangorod, in Warsaw and the fourth one – in Brest-Litovsk.
To begin with, Brest-Litovsk was reduced to rubble. According to the project of the military topographer and engineer K.I. Opperman, the Brest Fortress was built on place of the old center, and the new city was built at a distance of a cannon shot – two kilometers away from the fortress walls. In the center of the island, there stood the Citadel surrounded by fortifications which formed the enceinte and covered the citadel from all sides.
After the bloody and lost Crimean War, this fortress seemed weak. Engineer Eduard Totlebemm who distinguished himself in the defense of Sevastopol took it upon himself to fix the matter. According to his plan, the fortress was further strengthened and surrounded by a ring of forts, a defensive line of more than thirty kilometers. Before the beginning of World War I, they started to build a second line of forts – the famous Karbyshev participated in its design. But to they had not managed to finish by the time the battles began.
In that war, the fortress was intensively prepared for defense. But it did not happen – during the general retreat, it was abandoned and partially blown up. On March 3, 1918, The Treaty of Brest-Litovsk, or Peace of Brest, was signed within the citadel walls. On the second day of World War II, it was attacked by the Nazis, and having taken it, they handed it over to the USSR. On September 22, a flag with swastika was hoisted down in the fortress.
On June 22, 1941 at four hours fifteen minutes in the morning, the Nazis opened artillery fire on the fortress. Half an hour later the assault began. The last fort fell on June 29. But not its last defender – legends were made about the courage and stamina of the defenders of the Brest Fortress. A writer Sergei Smirnov, the first one to tell a story about the heroic act of the defenders of the fortress, learned that the last Soviet soldier surrendered to the Nazis in April 1942. "The fortress did not fall: it just bled out. I am its last straw" – another writer, Boris Vasiliev, wrote about this in the story Not on the Active List. The Nazis never received the key to the fortress. After the war, a symbolic key weighing more than three kilograms was found at excavations in the fortress ruins.