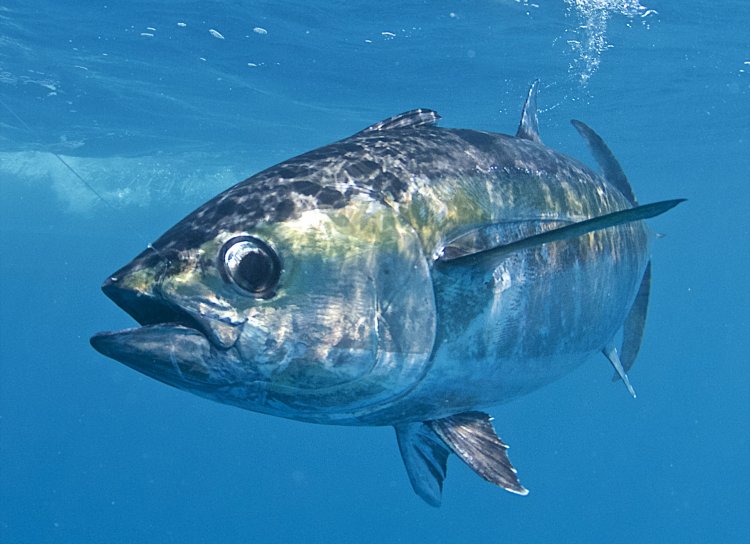 In December 2016, the UN General Assembly declared May 2 the World Tuna Day. Tuna is a game fish of mackerel family. It is rich in protein and does not lose its health benefits even in conserved form. This feature made tuna preserves almost a rescue for some people during the pandemic period thanks to relatively low price and accessibility at stores of this food product.
Tunas vary greatly in size and weight: from 50 cm in length and about 2 kg in weight (bullet mackerel) to 4.5 meters in length and 500 and even 600 kg in weight (blue-fin tuna). Tuna can be met in subtropical waters of the Pacific, Indian and Atlantic oceans. In certain periods of their lifecycle swim in the waters of Mediterranean, Black and Japanese seas. The most surprising thing about this fish is the fact that tuna can maintain the body temperature higher than the ambient one. This ability is typical only of tuna, moonfish, and white shark alone. Tuna is capable of swimming quickly and for a long time thanks to its body structure and strong muscles. As tuna meat is rich in iron and different from fish in taste, it is often called sea chicken and sea veal. 
The UN reports that the Tuna Day is marked to raise awareness of this fish's value, threats that tuna populations meet with and the importance of sustainable development with respect to preserving sea ecosystems, which is the 14th goal of UN in the field of sustainable development. 
Over 7 million tons of tuna are being fished out annually in the world, both the species used for making preserves and sushi and sashimi. The catch of migrating tuna species accounts for 20% of global marine fishing volumes. Due to being in such a demand, this fish is caught in excessive volumes, so the UN stresses the importance of effective execution as to the international legal framework. 
According to the UN Food and Agricultural Organization (UN FAO), the amount of significant tuna reserves subject to overfishing reduced from 13 to 5 over the period from 2014 to 2019. Due to this fact, some tuna reserves are in the state of repopulation.
Sources:
World Tuna Day. May 2. UN
Tuna. Wikipedia
Tuna. Yeda (Food) Television Channel
Overfishing of the world's major tuna stocks going down, bycatch and pollution reduced and 18 new areas protecting vulnerable marine ecosystems established. Food and Agriculture Organization of the United Nations
COVID-19 : Impact on global fish trade. Food and Agriculture Organization of the United Nations
Source of photo on the homepage: img.lifter.com.ua
Source of photo on the article page: naked-science.ru