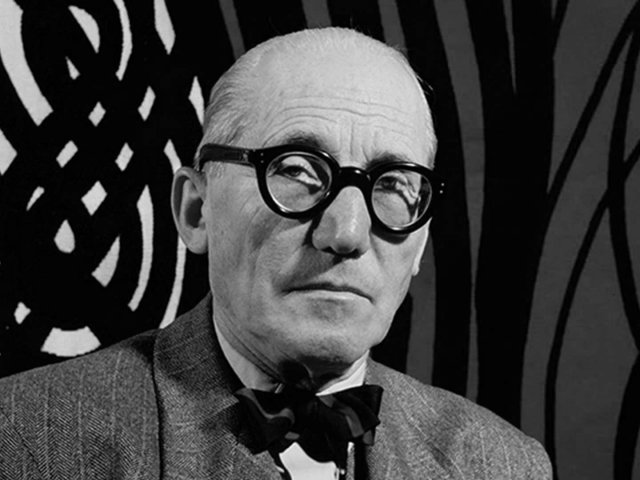 Official:
Le Corbusier (Charles-Edouard Jeanneret-Gris). October 6, 1887 – August 27, 1965. French architect, pioneer of architectural modernism and functionalism, artist and designer.
Life and Work:
1. Unlikely architectural duet, Corbusier – Luftwaffe,
Arranged for Europe's facades
A much-desired lift
For what went missing in fury of the raids
The pencils later made a perfect fit. Of course, there is a poetic exaggerration in Joseph Brodsky's Rotterdam Diary, but it is not too large. Indeed, the remarkable French architect Le Corbusier changed the face of Europe. And Asia, too.
2. Le Corbusier was born on October 6, 1887 as Charles-Edouard Jeanneret-Gris. He was born in the family of a hereditary watchmaker and enameller, and started on his father's path of jewelry and design.
3. Le Corbusier did not pursue the designer's career too long; he suddenly turned to architecture and initiated his first architectural project at the age of less than eighteen. The future great architect did not overestimate the result, "At the age of 17 and a half, I designed my first house. It was just awful! I always avoid it."
4. Using the money received for this first architectural experiment, Le Corbusier, whose name was still Jeanneret then, went to have a look at architectural masterpieces of Italy and Austria-Hungary. The journey ended in Paris, where he learned from the Perret brothers, who later did not recognize Le Corbusier as their student for his architectural extremism.
5. From Paris, Le Corbusier went to Berlin for an internship, and then to the East and the Balkans – today, the roots of his favorite architectural solutions are found in Bulgaria.
6. Ed Jeanneret, who would become Le Corbusier only in the early 20s, opened his first architectural studio in his hometown in 1914. It was there and then that he designed and patented the legendary Dom-Ino project, where "domus" means "house," while "ino" stands for "innovation." The house was based on the concept of construction from large prefabricated elements. Later, Le Corbusier used the Dom-Ino concept in many of his buildings.
7. In Paris, where the architect moved in 1917, he met the artist Amedee Ozenfant, who introduced him to modern painting. That was when Le Corbusier created his first picture. He described it in his usual rough manner: "I prefer drawing to talking. Drawing is faster, and leaves less room for lies."
8. Le Corbusier was a consistent urbanist – he insisted on building and developing large cities. He called cities in a wonderfully figurative way: "workshops of the spirit, where the best works of the universe are created." In his opinion, there was only one problem: the streets of medieval cities were built by donkeys. And this is the pure truth with no offence: city streets were laid where roads for horse-drawn carriages were located once. It is clear that these streets were not wide and straight, and Le Corbusier was a strong proponent of reconstructing the old cities.
9. Le Corbusier was not allowed to show himself in Paris or Barcelona, but in Marseille he managed to implement many of his ideas. For example, the notorious Marseille block – an apartment building with standardized apartments, a direct ancestor of Soviet khrushchyovkas.
10. Le Corbusier described houses as vehicles for living. He followed this principle in practice: Le Corbusier's buildings are extremely ascetic and functional. No Baroque squiggles, no classical columns – everything is quiet, simple, in the spirit of the time, and elegant in its own way.
11. In 1928, Le Corbusier won an open competition for construction of the Tsentrosoyuz building in Moscow. In connection with the construction, Le Corbusier visited Moscow several times – in 1928, 1929, and 1930. He met with cultural figures – Tairov, Meyerhold, Eisenstein, admired the achievements of the Soviet architectural avant-garde – works by Vesnin brothers, Moisei Ginzburg, Konstantin Melnikov. Le Corbusier participated in the international design competition for the Palace of the Soviets in Moscow, but his bold project did not win, while the Palace itself had been never built.
12. In addition to the Tsentrosoyuz building in Moscow, the classic examples of Le Corbusier's work are the chapel in Ronchamp, the National Museum of Western Art in Tokyo and, of course, Villa Savoye.
13. The project of Villa Savoye, built in the French commune of Poissy for the industrialist Pierre Savoye, is usually cited by architectural theorists as an example. It perfectly illustrates all five starting points of Le Corbusier's architecture: a house on pillars, a garden on a flat roof, an open interior layout, horizontally extended windows, a free composition of the facade.
14. In the early 40s, Le Corbusier invented the modulor – a system of harmonic proportions, which he applied in his first large post-war projects. Le Corbusier's idea was based on the Vitruvian Man by Leonardo da Vinci. The modulor is based on human body measurements, doubling, Fibonacci numbers, and the golden ratio.
15. Le Corbusier really showed himself in India: the 63-year-old Knight of the Legion of Honor and honorary member of many art academies was invited to build the new capital of the Indian state of Punjab. He hired Maxwell Fry and Jane Drew – spouses-architects from England – and his cousin, Pierre Jeanneret, as assistants. Today, art scholars hold contradictory views on the results if this work. But the city of Chandigarh, created from scratch, is considered one of the most convenient and beautiful cities in India.
16. The buildings of the Secretariat, Palace of Justice and Assembly in Chandigarh, designed by Le Corbusier, were a milestone in the architecture of the 50s and are recognized as architectural masterpieces.
17. "He was always able to confuse and mislead," says Michel Richard, director of Le Corbusier Foundation. "He is either enthusiastically admonished or categorically condemned, and each side allows exaggerations."
18. One of the darkest aspects of Le Corbusier's biography is his collaboration with the Vichy regime. But the researchers suggest that a clear line should be drawn between the genius creator who saw the totalitarian regime as a tool to "totally" rebuild the world in the spirit of Russian avant-gardism enriched by German technology of the Bauhaus style, and real collaborators, fascist accomplices.
19. The architect was also a master of small forms in applied art, and one of his wooden sculptures was sold in 2015 at an auction in Zurich for the astronomical sum of 3.12 million Swiss francs.
20. The University of Zurich awarded Le Corbusier an honorary doctorate in 1934 for his research on mathematical orders. In addition to the University of Zurich, Le Corbusier has received honorary doctorates from Cambridge, Columbia University, the University of Geneva, and the Technical University of Zurich.
21. Despite that it was prohibited by his doctor, on August 27, 1965, Le Corbusier decided to have a swim near Cape Roquebrune, on the Mediterranean Sea, where he lived in his summer house. He drowned during the swim, probably due to a heart attack.