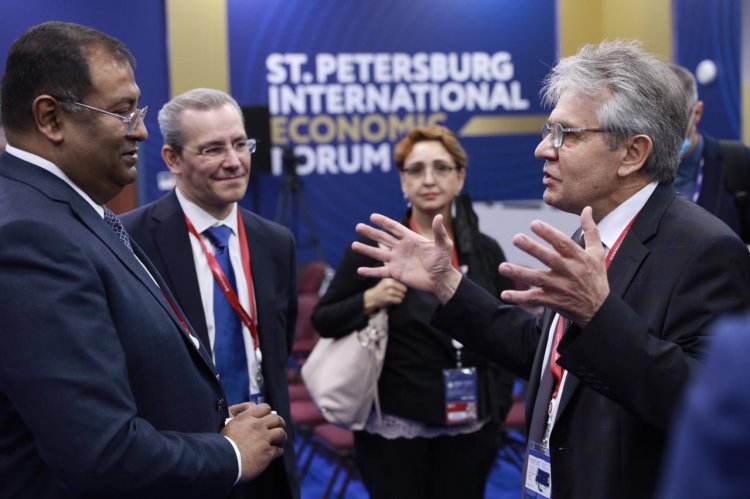 On June 3, the session "Is knowledge truly power?" took place under the Saint Petersburg International Economic Forum. The participants of the session included Aleksandr Sergeev, President of the Russian Academy of Sciences (RAS), Andrey Rudskoy, Rector of Peter the Great St. Petersburg Polytechnic University, Yuri Olenin, Deputy Director General of Rosatom, and other representatives of academic organizations, industry and state-owned companies. The leading experts identified a number of weak spots that could not be addressed without knowledge.
During the course of the discussion, President of the Russian Academy of Sciences Aleksandr Sergeev pointed out that "knowledge and new technologies should be applied for everyone's benefit. This alone can transform knowledge into real power."
Then Vladimir Yevtushenkov, Chairman of the Board of Sistema JSFC, pointed out a recent trend – development of digital technologies. "This is a highly relevant sector today. We must be involved in it. I believe that such discussions are critical. The more people become interested in developing these technologies, the sooner they will be recognized by society and really noticed by the government. I hope that our concerted efforts will prevent Russia from falling behind too much in terms of technology."
Aleksey Mordashov, entrepreneur, Chairman of the Board of Severstal, said that science had played a colossal role in the development of humanity. "We saw these trends become even stronger during the pandemic. Everyone was talking about digitalization before the pandemic. But the pandemic environment only reinforced these trends. Knowledge seems to become even greater power than it was before. The current events make it clear that those willing to invest in trends win in the future."
Yuri Olenin, Deputy Director General of Rosatom spoke of success stories regarding cooperation with the Academy of Sciences. "Today, we are even more sensitive to how we are perceived by the science sector. We have cooperated with the Academy of Sciences and scientific institutes all these years. We continue our interagency relations. We cannot exist without science and large-scale products." Yuri Olenin is certain that one of the main issues to be addressed today is linking science and business.
Maxim Protasov, Head of the Russian Quality System (Roskachestvo), spoke to draw attention to negative facts in the sustainable development sector. According to estimates by Roskachestvo, around 60 million tons of electronic waste ends up in the ground every year. "Knowledge is power, no doubt. But now we need soil remediation methods and sustainable development standards for smart cities, regions and countries."
According to Andrey Rudskoy, Rector of Peter the Great St. Petersburg Polytechnic University, knowledge has two components: education and science. "Higher education institutions and institutes of the Academy of Sciences are the main pillars for development of everything around. We have to understand that everything that is done in science and technology is done to improve quality of life. Knowledge is not just about science; it about addressing social issues."
Wrapping up the session, President of the Academy of Sciences Aleksandr Sergeev emphasized: "In the 21st century, the technology race replaced the arms race. It's about the ability to take new knowledge, throw new technologies onto the market, and then use the excess profit to invest in science. Economies that managed to create this chain are winning the technology race. Russia has nothing to boast about so far. But we have companies and corporations that have learned to do it. I believe that the future of this country can only be technology-oriented. We need each other. The link between science-oriented business and the science sector may become our only trump card that would allow Russia to catch up with the rapidly evolving world."