The ideas of using hydrogen for energy purposes were suggested long ago, and the interest in them would arise more than once. The global problems triggered a surge in research and developments (with focus on transport), yet it did not come to serious practical implementation of hydrogen technologies. The situation started changing rapidly, when the leading countries of the world entered the path of sustainable development and transition to zero-carbon energy industry of the future. It is for this reason that people began resting their hopes on hydrogen. Meanwhile, hydrogen is not the best fuel for energy industry today. However, it can be used in a different capacity – as energy accumulator for industry using renewable energy sources. The methods of accumulating energy developed at the Institute of Chemical Physics Problems (ICPP) RAS in Chernogolovka are highlighted by Boris Tarasov.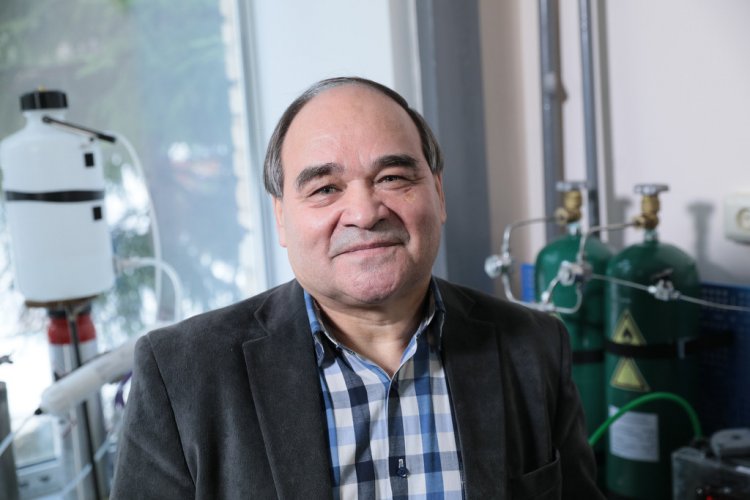 Boris Tarasov, head of laboratory of hydrogen energy accumulation materials at ICPP RAS in Chernogolovka, leading research fellow at the Competence Center of National Technological Initiative New and Mobile Energy Sources, candidate of chemistry.
— The idea of hydrogen energetics has literally enchanted people and supporters of clean energy sources. To what extent does our country need hydrogen energetics? 
— Let me remind you that hydrogen energetics is based on hydrogen as the energy carrier that is used for accumulation, transportation, production and consumption of energy. 
The first reason behind rising interest in hydrogen is related to climatic changes in the world. Our country has joined the Paris Climate Agreement which envisions the reduction in greenhouse gas emission. Consequently, the mankind needs new alternative energy sources which do not emit greenhouse and toxic gases. If hydrogen is used for production of electric energy, only clear water is emitted. 
The second reason is related to the problem of energy accumulation, as the volumes of electric energy production and consumption vary widely in terms of time. The global transition to renewable energy sources (solar, wind, etc.) requires the solution for the key problem – how to accumulate energy and what form to store it in. The conventional solar panels use simple electrochemical batteries. However, if the issue in question is about large-scale production, about megawatts and gigawatts of energy, the electrochemical batteries are not enough. In this case, one of the storage methods lies in accumulation of energy in the form of hydrogen. Then, the surplus energy being produced is used for water electrolysis releasing hydrogen, which is stored in some way, for instance in chemically bound state. When required, it is oxidized in fuel cells with production of energy and release of water.
— What areas of research are carried out at your laboratory of hydrogen energy accumulation materials?
— Initially, I founded the laboratory for the purpose of developing new hydrogen-accumulating and hydrogen-generating materials, as well as creating compact and safe metal-hydride accumulators and generators of hydrogen. Later, we took interest in other research areas. 
The first one is devoted to the problem of producing green hydrogen by way of water electrolysis with the use of renewable energy sources, solar power generators in particular. The metal-hydride accumulators developed at our laboratory allow for accumulating hydrogen and delivering it to the consumer whenever required. It is the second key research area. The hydrogen is fed from metal-hydride accumulators to fuel cells where it is oxidized by atmospheric oxygen with generation of electric energy and formation of water. The creation of automated electric energy accumulation system with the use of hydrogen as energy carrier is the third area of our research.
— Can you please highlight the methods of storing hydrogen in detail? 
— There are four main methods of storing hydrogen: in gaseous state under pressure in steel or composite vessels; in liquid state at the temperature of 20K; in the adsorbed state on the surface of sorbent agents; and in the chemically bound state in the form of hydrides and other compounds. We suggest the safest variant of storing hydrogen – in the form being adsorbed in carbon nanomaterials and chemically bound state in hydrides. For instance, the reusable metal-hydride accumulators and hydrogen compressors that we design are compact and safe in operation. The research in the field continues for the purpose of developing new materials with the maximum possible concentration of hydrogen being stored.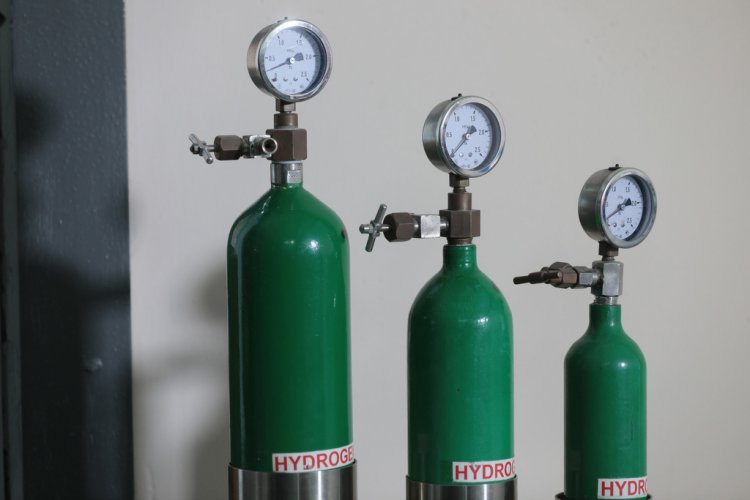 — How meaningful is the progress that you have made in studying this topic?
— From the scientific point of view, we do not fall behind the foreign developments. The employees of the laboratory are active in publishing articles in foreign journals of the first quartile (specific gradation of scholar periodicals), which allows for estimating the level of our papers as high. As far as technologies are concerned, the situation looks a bit more challenging. It is clear that new areas of research require serious financing. However, we try not to fall behind here as well creating and patenting our own innovative solutions including new hydrogen-accumulating and hydrogen-generating materials, metal-hydride accumulators and hydrogen compressors and hydrogen systems of reserving and accumulating electric energy all of them being on par with foreign analogues.
— In what application domain do your technologies enjoy demand? 
— The simplest example is about compact and safe metal-hydride accumulators and hydrogen compressors. They look promising for storage, transportation and compression of hydrogen intended for various applications. Such devices are already used as sources of pure hydrogen for hydrating metals and organic compounds, production of metals and alloys in the form of high-dispersed power and powering fuel cells in autonomous systems of electric energy supply. Recently, we have started developing hydrogen systems for accumulating electric energy for raising the efficiency of using renewable power sources consisting of electrolysis hydrogen generators, metal-hydride systems for storage of hydrogen and fuel cells. Such systems can be used at Arctic research stations and in other distant areas where there are no power transmission lines. Fundamentally, it is possible to use them for leveling the difference in volumes of produced and consumed grid electric power. 
— Is there any interest in such innovative technologies on the part of the state?
— Our activity aimed at development of innovative solutions in the field of hydrogen systems of electric power reservation and accumulation enjoy financial support within the framework of Federal Target Programs implemented by the Russian Science and Education Ministry, while InEnergy Group and OOO Dragtsvetmet act as our industrial partners. 
In October 2020, the Russian Government approved the action area plan (so-called roadmap) devoted to development of hydrogen energetics in Russia for the period to 2024 aimed at increase in production of and extending the application area for hydrogen as environmentally clean energy carrier, as well as at joining the group of global leaders in production and export of hydrogen. We do not know which projects will be supported by the state so far. However, we see serious interest in this area of the research on the part of Rosatom, Gazprom, Roshydro, RZD, AFC Sistema and other companies. 
Yet, the problem lies in the fact that such programs have long been implemented in the world. Foreign countries have made serious progress in the field of hydrogen energetics. It is obvious that the research devoted to the use of renewable power sources and reduction of carbon dioxide emissions will find ample funding in future as well. I am sure that many countries will introduce new taxes levied on carbon dioxide emissions.
— You mean that the states will create some artificial situation making it economically inefficient to purchase gasoline-powered-engine cars, don't you?
— You are quite right. It is the imperative of our time. However, we also don't want to breathe toxic air, do we? Moreover, who wants to be responsible for global warming? Today, we have an opportunity to correct what has been done to the planet. Yet, the process should naturally be gradual. One cannot change instantly the state of things that we have got accustomed to and, moreover, find profitable. However, if someone creates the conditions making it economically efficient to use hydrogen-powered vehicles instead of gasoline-fueled cars, we will be only happy to switch over to environmentally clean transport. 
As far as our country is concerned, the hydrogen energetics is a costly affair for us, especially if compared to relatively cheap natural gas and petrol. Developed countries spend exorbitant amounts of money for implementation of programs aimed at development of hydrogen energetics, which will inevitably scale down the use of hydrocarbon fuel. It is probably not so good for Russia, as the leading exporter of hydrocarbons to Europe. Such projects are being implemented not only in Europe, but in the USA, Japan, South Korea, China and other countries.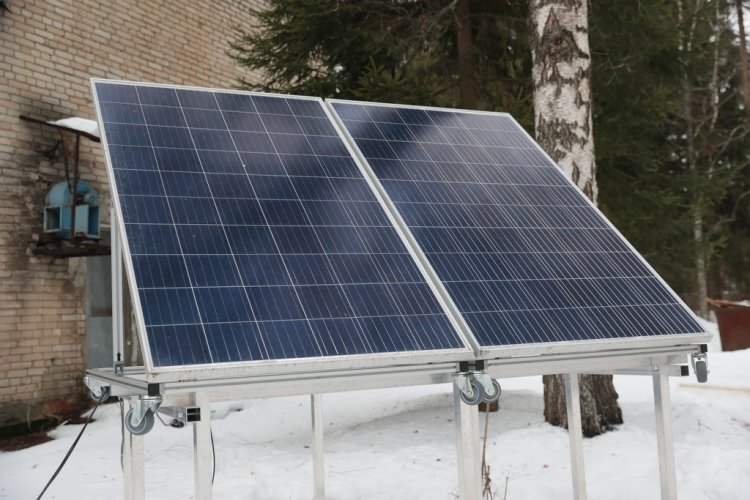 — What education programs are required today? 
— Training of specialists is a very important aspect. The education and our own thirst for knowledge are the key elements of development for any area of research. If the young people feel that their knowledge and skills are sought-after and therefore remunerated with high enough salary, many talented students will choose scientific careers. I read lectures in hydrogen energetics to the students of Moscow State University and Izhevsk State Technical University and see that they take interest in science. Unfortunately, one can hardly expect that young people will have craving for scientific research as future career today, as the existing allowances for students and postgraduates, as well as salaries of young scientists leave much to be desired. 
Besides, one should not forget that science is an international phenomenon. I would pay serious attention to Chinese practice of sending young people to foreign countries for training, as some knowledge can be gained quicker only within the framework of international experience. For instance, we enrich our knowledge at the expense of gaining our foreign colleagues' experience while implementing international projects, say, as part of BRICS cooperation.
— Do you keep track of work and achievements of other research groups?
— Every scientist is a lifelong student. As soon as scientists stop taking interest in the achievements of their colleagues, they lag far behind. A scientist should continuously study scholar literature, get to know the results of latest research and be aware of modern trends and current developments in his/her area of expertise.
However, this situation is fraught with certain challenges. Today, a lot of scholar papers are published, yet not all of them can boast of high quality. Thus, the scientists have to sift a great deal of information like gold diggers, look for new ideas, scientific approaches and methods of research. That is why it is very important to teach young scientists to get their bearings in these information flows.
— Do you cooperate with the laboratories dealing with the same areas of research?
— Naturally, we are active in exchanging experience, ideas and solutions with our colleagues from Russia-based laboratories. We know some of them personally. As for others, we know them through their scholar papers. We meet many of our colleagues at specialized conferences discussing with them relevant problems, ideas, new solutions, successes and failures, as well as joint projects and publications.
As far as foreign colleagues are concerned, we also have joint projects and publications with them. In particular, we are implementing a joint project within the framework of BRICS cooperation. Unfortunately, the pandemic has interfered with implementing it in full measure. 
— What exactly do you and your colleagues work on today?
— Now, our interest is inextricably linked with hydrogen energetics and renewable energy sources. Our research is aimed at making the transition to hydrogen energetics economically efficient for our country. Though Russia is rich in raw materials, such a transition will become inevitable sooner or later. That is why it is necessary to develop different methods of power accumulation today, including the ones using hydrogen as the most economically efficient and promising energy carrier. 
I am sure that we have chosen the right direction. Having just started dealing with hydrogen energetics, I met with misunderstanding and even distrust in this sphere of research, while today we already see the state policy being worked out in this area. Unfortunately, we had no state support in the time of my youth, when I could boast of strong drive and tried to convince everybody in importance of this research field. However, I am sure that today the young scientists will do their best to ensure rapid and efficient development of hydrogen energetics within the framework of the program backed by the state.