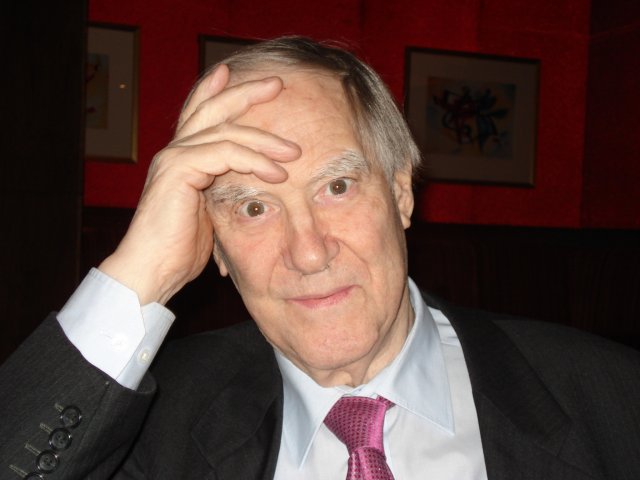 Today, Sergey Petrovich Kapitsa, a scientist and an enlightener, a host of the legendary TV show The Obvious and The Incredible and a professor would have turned 89. 
We were very lucky to work under his direction. To talk to and be with him, to learn from him. Sergey Petrovich taught us so many professional and life lessons that it would be enough for a lifetime. But most importantly, he taught us to love science and respect people who dedicated themselves to it. 
Thank you for everything, Sergey Petrovich. We will remember and love you always. 
Here is a selection of articles about S.P. Kapitsa for you and the documentary "Good Day in the Life of Sergey Kapitsa" which was filmed by The Obvious and The Incredible TV company (RTR, 2008)
In the studio of the Line of Life show, Sergey Kapitsa tells about his father, a legendary physicist Pyotr Kapitsa, first children's impressions of his life in Cambridge, how to teach students and why physics and technology graduates are highly employable all over the world.
 http://tvkultura.ru/video/show/brand_id/20872/episode_id/156529/video_id/156529/
Rules for Life by Sergey Kapitsa
If you pretend to be a smart guy before people, speak a foreign language as you talk to them they will never forgive you for that. If you talk to people seriously and they do not understand they will never forgive you for that.
Good Day in the Life of Sergey Kapitsa
The film is a TV memoir, a rare genre for today's television. Sergey Petrovich tells about himself and his life. His sincere emotional speech is not just recollections as the TV audience will immerse in feelings of a person who will "draw" his line of life before their eyes.
https://scientificrussia.ru/articles/dobryj-den-sergeya-kapitsy
The obvious with the incredible
Sergey Petrovich Kapitsa was an excellent storyteller and often shared experiences among his friends or in the family circle. Later, he had his book My Memoirs (Moi Vospominania) based on these stories published. One of the chapters from this remarkable book is devoted to The Obvious and The Incredible show that Kapitsa gave over thirty years of his life. The television intrigues, the reaction of authority, colleagues and viewers to the out-of-the-box conversation about science, behind-the-scenes conversations with heroes of episodes — a plenty of unknown details about the popular show.
https://scientificrussia.ru/articles/ochevidnoe-s-neveroyatnym