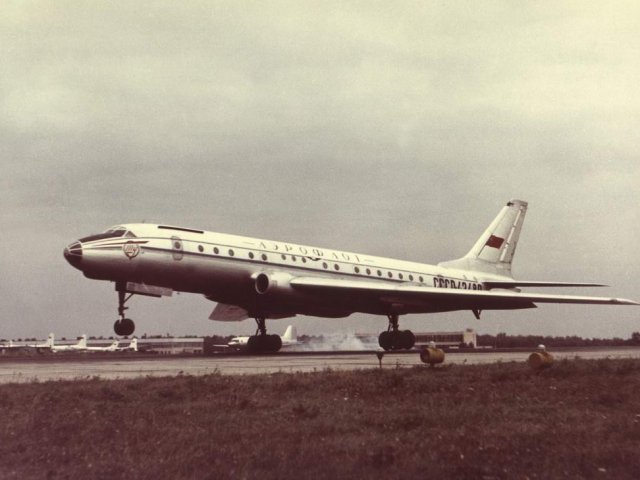 24 years of service in aviation – TU 104, the first production passenger jet, took off on June 17, 1955. Having modified the long-range bomber TU 16, the aircraft plants in Kharkov, Omsk and Kazan had produced 201 TU 104 jets by 1960. They used the wings, the power plant, the tail unit, and the landing gear of TU 16, which they knew how to make very well. A new fuselage was made – much wider and fully sealed.
TU 104 was the start of the era of commercial flights as we know it today. Airplanes became more comfortable: soft contour seats, hot food and soft drinks, pre-flight safety briefings from the crew.
As early as 1956, Nikita Khrushchev chose TU 104 for high flight to London even though the project had not been completed. The Soviet airliner became a revolution in aircraft engineering, surpassing its main competitors: the British Comet and the French Caravelle. Another TU 104, with a different number, arrived in the British capital the day after Nikita Khrushchev came there. The newspapers claimed that it was the same prototype with the number changed. Then Tupolev, the chief designer, had three planes sent to London at once, as evidence of mass production.
Three years after the first flight of TU 104, the first disaster struck – 64 people were killed near Khabarovsk due to loss of control over the plane. Another crash happened only 2 months later – 80 people were killed over the town of Kanash, Chuvashia, again due to aircraft control loss and the plane going into a tailspin 13 km above the ground. According to some evidence, those crashes resulted from the "aviation race", when mass production of TU 104 began before proper tests were completed.
TU 104 was improved constantly: there was a total of 22 modification projects, plus projects that were never implemented. TU 104AK, the flying laboratory, was one of the successful projects. It was created for cosmonaut training: artificial zero-gravity conditions were created onboard for 25 seconds while the plane was performing a zoom climb. Three such lab planes were produced where zero-gravity was created for spacewalk practice, and to test the electric welding machine designed by the Paton Institute of Electric Welding, a communication satellite TV antenna opening device, and the chassis of Lunokhod 1 moon rover.
Despite the crashes, TU 104 airliners were actively used till 1976. Over the history of TU 104, 37 aircraft (almost 20 percent) had serious failures. Following the crash in March 1979, the Civil Aviation Ministry of the USSR issued a directive to stop using TU 104 in commercial flights. The last flight of TU 104 took place on November 1, 1986 when one of the remaining jets was sent to the Ulyanovsk Civil Aviation Museum and parked there forever as an exhibit.
Photo on the main page: bigpicture.ru
Based on aviamuseum.com.ua bigpicture.ru