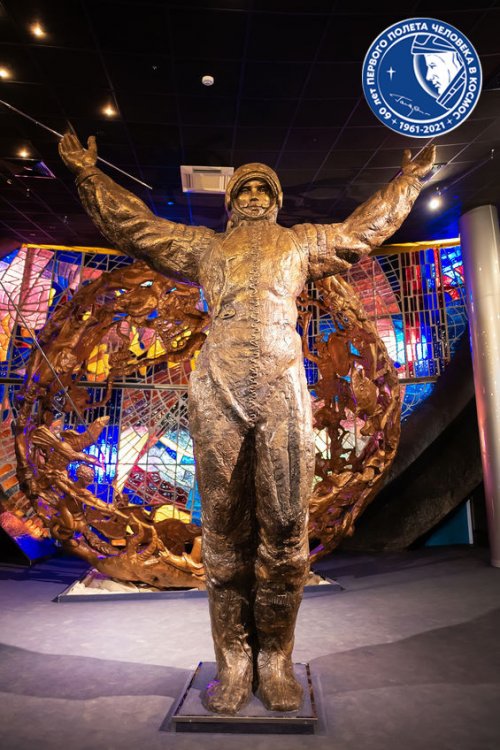 The Museum of Cosmonautics (formerly, the Memorial Museum of Cosmonautics), one of the largest science and technology museums in Russia, was opened in Moscow on April 10, 1981.
Very soon, on April 12, the whole world will celebrate the 60th anniversary of the first manned space flight and the Moscow Museum of Cosmonautics will become the central site of this date celebration. The Museum is preparing several large exhibition projects in Moscow, as well as two space exhibitions in Smolensk and Saratov. 
The central exhibition project timed to the 60th anniversary of the space flight will be the exposition called "The First." It will present documents and personal belongings of Yuri Gagarin that were kept in museums all over the country and in personal archives for a long time. These include the authentic birth certificate of the first cosmonaut, toy plane Yuri Gagarin made himself as a child, huge scoop for casting metal that future cosmonaut worked with at the furnace (he obtained the specialty of "figure-caster" in a vocational school), diplomas, clothes, tools, photographs, and other unique things that belonged to Gagarin. 
One of the main exhibition objects will be the original descent module of the one-man Vostok spaceship, which made the first space flight in the history of mankind on April 12, 1961. 
On November 4, 1964 the monument "To the Conquerors of Space," the main space monument of the capital, was unveiled at the VDNKh, and in 1981, a museum was established at the base of the monument. Sergei Pavlovich Korolev, chief designer of the rocket and space systems, carefully monitored the work on the monument erection, and it was him who suggested covering it with a space material – titanium, and opening a museum in the monument stylobate. 
Over the 40 years of its existence, the Museum of Cosmonautics has become a point of attraction and a meeting place for cosmonauts, scientists, designers, artists and musicians. Today it is one of three most visited museums in the Department of Culture of Moscow. The modern exposition includes eight exhibition halls. The collection has more than 99,000 items: rocket and space technology, relics, documents, philately, numismatics, arts and crafts, collections of paintings and drawings.
The publication is based on the materials of the Cosmonautics Museum in Moscow Photo on the homepage: https://ru.123rf.com/profile_olegpodi