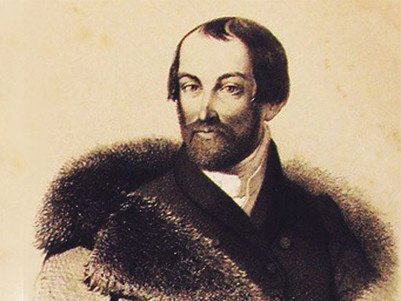 On May 1, 1791 (April 20 by Julian calendar), Fyodor Semenov, Russian amateur astronomer, was born. He is known to the residents of Kursk first of all being the native of this city. His father Alexey Semenov dealt with cattle trading and sold fish and fat. He would take Fydor with him, when the boy was just 12. Alexey Semenov wanted to introduce the son to his business, yet Fyodor was not interested in trading, as science was his passion… 
He would write in his autobiography: "Since being a small boy, I had found huge delight in stargazing, as well as observing other natural phenomena, like lightning, thunder, snow, rain, etc. Falling stars astounded me, yet, having no opportunities for self-development and conceiving these phenomena, I would turn to the people around me and ask questions about the Sun, Moon, stars, etc. However, these people, though very intelligent, would say: "These are inconceivable things, comprehensible to God alone." Some of them would even laugh at me: "Fyodor, you are kidding again. What do you want to know it for? What is the benefit of it? How will you live? You are a gone man…" 
However, he managed to live an interesting life rich in scientific discoveries. At the age of 12, a clerk vicar taught him to read and right, and the boy started reading a lot. Inquisitive mind and thirst for knowledge allowed him to create on his own spotting glasses, microscope, a telescope with 40-fold magnification and some other instruments. He created his own chemical laboratory for making experiments. Later, the young man even received an offer to work as technician at the laboratory of the Saint Petersburg Medical Surgical Academy. However, he refused to interrupt his astronomical studies being interested mostly in this science. 
The self-taught astronomer won the recognition of prominent scientists, wrote 50 monographs and papers. He would observe the Moon, Jupiter, Saturn and Venus with special interest, worked on eclipse tables and even dared to refute the data of a French scientist saying that solar eclipses would happen during the period from 1832 to the end of 19th century. His main work is Tables of indications of the time of lunar and solar eclipses from 1840 to 2001, on the Moscow Meridian, according to the old style, calculated by Fyodor Semyonov. For that very work, the astronomer was awarded with a Golden medal of Russian Geographical Society in 1858. The award was granted to him for scholar papers and vast knowledge of astronomy.
Fyodor Semenov was interested in not only chemistry, astronomy and mechanics, but meteorology as well. In Kursk, he laid the foundation for meteorological observations. Such studies had not been carried out in any other city before. The Head Physical Observatory elected Semenov its correspondent member. The Academy of Sciences gave a full set of meteorological instruments to him as a gift. The Russian Economic Academic Society elected Semenov its correspondent member and awarded him with a Golden Medal. 
The house where he lived was turned into Semenov's memorial house museum. The table on its wall says: "Self-taught astronomer Fyodor Semenov (1791-1860) was born and lived in this building."
Based on the following materials:
Fyodor Semenov. Wikipedia
Semenov Fyodor (1794-1860). Article in collection of stories PRIDE OF KURSK LAND, author: M. Shekhirev. Website Pre-Revolutionary Kursk
Fyodor Semenov – Kursk-based astronomer. Livejournal.
Source of photo on the homepage and article page: Vesti. Kursk