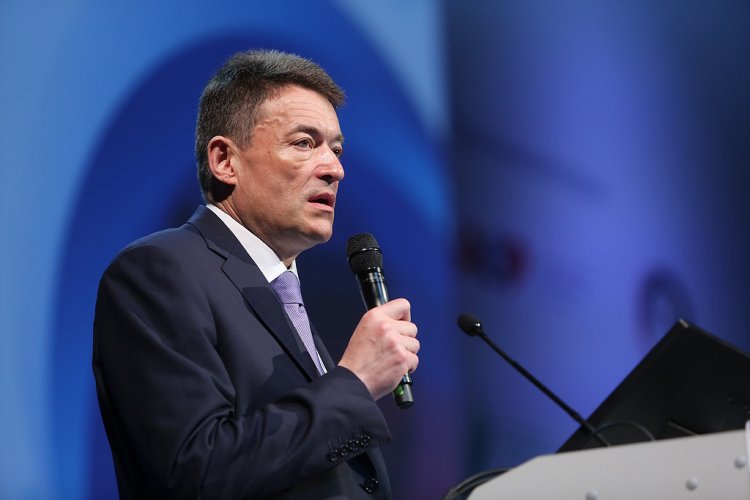 Today, the Russian Federation Council held its 505th meeting. Within the framework of Expert's Time session, the senators listened to the presentation by RAS academician, director general at the Herzen Moscow Research Oncological Institute (MROI), chief external oncologist of the Russian Healthcare Ministry Andrey Dmitrievich Kaprin. 
In his report half an hour long, the scientist touched upon the key issues regarding the oncological service in Russia: dynamics of oncological diseases, medical staffing problems, scientific potential and replication of domestic technologies, new methods of treating cancer, and impact of COVID-19 on the work of oncological service, etc.
Here are the main theses of his presentation. 
How COVID-19 has re-educated us
"In what way has COVID-19 re-educated us? We are more active in using medical teleconsultations, and I think that it is good, as the colleagues in the most distant corners of our country do not feel abandoned." 
<...>
"During the period of COVID-19 pandemic, no oncological establishments were closed. None of the oncological patients was abandoned. We are grateful for that to the government of the country and the minister. It was the right decision, and all oncological centers could continue their work during the pandemic period." <...> "We can say with confidence that Europe has failed with regard to rendering oncological aid during the COVID-19 pandemic. There were oncological departments under large University clinics in Europe, so the patients could quickly get the help of specialists, while the physicians were free to use the equipment available at the university clinics. However, when the pandemic broke out, all these departments were either closed or repurposed, thus 58% of oncological care capacities (which is a lot) were lost. We chose a different path. In Russia, the oncological service had been built as a network of oncological dispensaries, and all of them were working."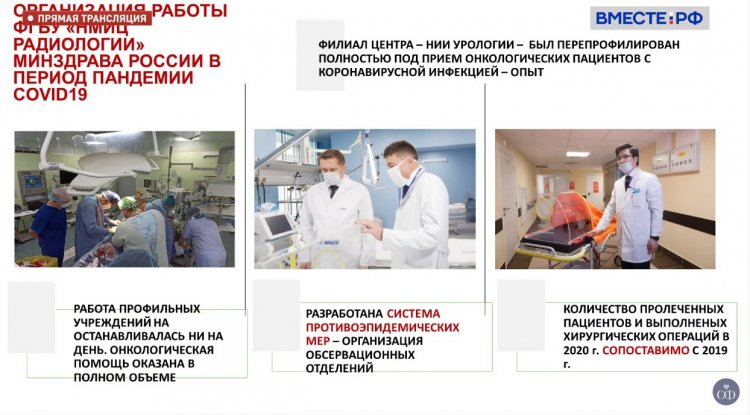 Oncologists Grow in Number
"Oncologists grow in number, and it looks great, because I, for instance, remember the time when nobody wanted to become an oncologist. At present, however, thanks to the attention paid to oncology, we get increasingly more specialists. Last year, 358 boys and girls applied for 116 budget places at our establishment, i.e., the competition was higher if compared to the State Institute of Theatrical Art for instance. We have even got specialists speaking two foreign languages. Moreover, when there were no more budget places, we would take the most talented guys and paid for their education ourselves concluding agreements envisioning that the specialist remains at our establishment for work after having finished the course of training." 
Replication of Domestic Technologies 
"What can we replicate in general? Naturally, we can replicate radiotherapy. Besides, we can boast of having other interesting developments. For instance, we are now performing radio embolization of tumors: liver tumors, bone metastases, liver metastases. It looks great, as colorectal cancer in advanced form leads to liver metastases as a rule. Before, the physicians would write off such patients at once, but the new breakthrough method of treatment opens up great prospects for the global oncological practice. We have already received applications from our colleagues working in China and Pakistan who want to visit our center for the purpose of exchanging experience."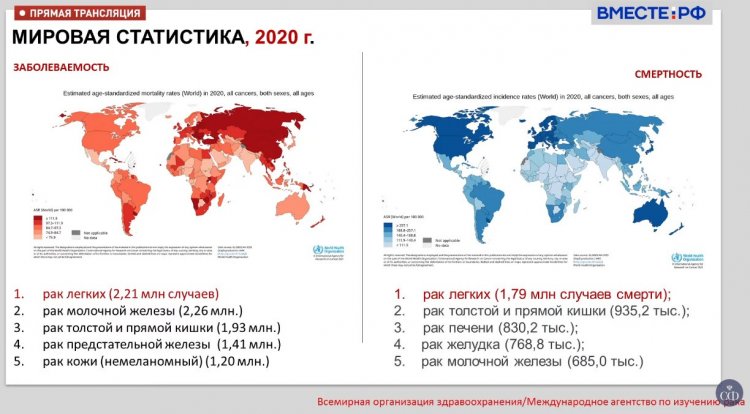 Indispensable Radionuclides
"A far as radionuclides are concerned, we are unfortunately falling behind, though Russia is a nuclear power which has actually invented thee radionuclides. <...> Radionuclide tourism is an expensive enough affair. At our institute, we continue to work out radionuclides, new medications, and it makes us very powerful, as we can now treat metastatic patients. We can prolong the life of a patient with certain metastatic sites by 5 years in 38% of cases."
Dynamics of oncological diseases
"What do we have today with respect to the global statistics? We see that it is predominantly lung cancer that takes away the patients' lives. I want to address the Federation Council, as senators are good organizers, and say: do not scold your oncologists for morbidity figures. Many people say that morbidity should be reduced. It is an absolutely wrong formulation. Morbidity if a demographic story: the older we become, the longer the life expectancy is – 80 years or more – the higher is the oncological disease incidence. <...> It has been proved that such adverse factors as smoking, asbestos, overeating, obesity, etc. lead to increase in number of oncological patients."
Photo from the archive of Scientific Russia