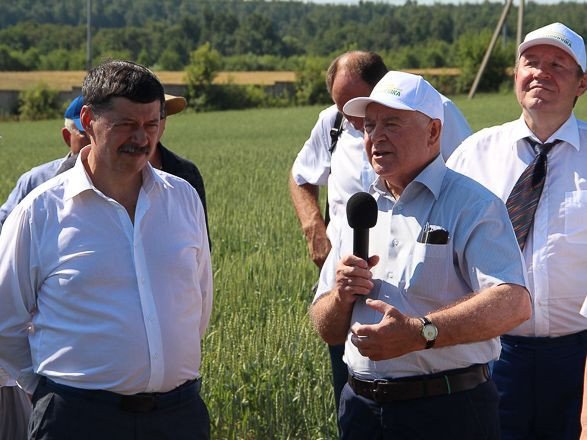 In the Year of Science and Technology, Nemchinovka Federal Research Center celebrates its 90th anniversary. The program for the second day of the anniversary event included the seminar: "New Varieties of Grain and Grain Legume Cultivars and Their Cultivation Processes". 
Today, the unique grain varieties grown at the Nemchinovka institute provide bread to Russia, from Kaliningrad to Sakhalin. One in five loaves of bread is made with grain produced by selection specialists of the Center after years of work: this grain sprouts on eight million hectares of Russian fields.
On July 9, specialists of the Center demonstrated released and proposed varieties and hybrids of winter and spring soft wheat, winter rye, winter triticale, spring barley, oat, peas, blue lupine, and spring vetch (Vicla sativa) on the premises of the experimental production facility of Nemchinovka FRC. The demonstration included cultivation processes for these crops, ensuring 10 tons of grain per hectare or more.
The Scientific Russia portal aired the event live:
9.10 the start of the conference. 
9.11 speaker: Sergey Voronov, Doctor of Biological Sciences, Professor, Director of Nemchinovka Federal Research Center. 
9.13 speaker: Vladimir Kosolapov, Doctor of Agricultural Sciences, Professor, Member of the Russian Academy of Sciences, Director of Fodder Research Institute (FWRC FPA). 
9.15 visit to an experimental field. 
The Laboratory for Selection of and Primary Seed Breeding for Winter Wheat
9.21 speaker: Bagrat Sandukhadze, chief research officer and RAS Academician on the progress and prospects in winter wheat selection: 
"A hundred years ago, they mostly grew rye, and now it's 1 percent rye and 99 percent wheat. Three generations of selection breeders worked to achieve this"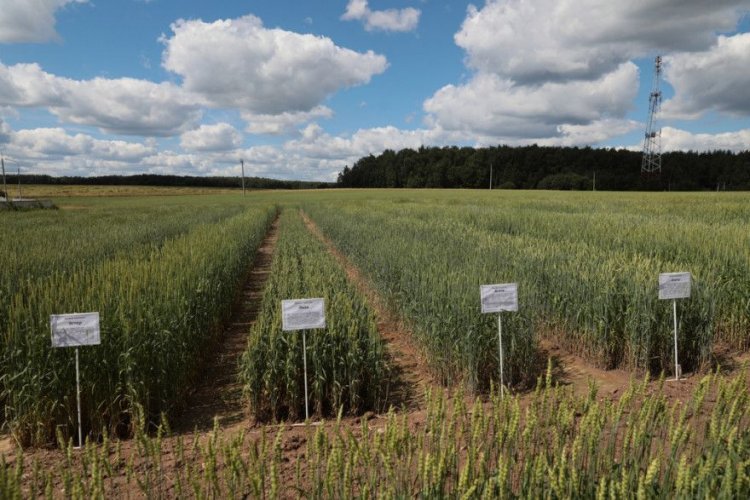 9.29 "Our primary focus should be selection in Russia" 
9.32 "In the current economic situation, 60 percent of the population would struggle without bread <...> We need to grow 250 to 300 million tons of wheat instead of 120 million tons." 
                Spring Wheat Selection Laboratory

9.44 speaker: Natalya Davydova, Head of Spring Wheat Selection Laboratory:
"At present, this variety is being grown on 2 million hectares. Perhaps even more than that. We are still working on varieties – observing the selection vector" 
9.49 "We create varieties with sustainable yield potential. <...> Most of our varieties were created using winter versions to increase the crop height – one of the indicators of yield capacity and resistance to pests." 
The speaker is talking about particular wheat varieties (Zlata, Agata, etc.). 
9.51 "We are cooperating with Moscow State University and investigating specifics of each variety, as every one of them is unique"

9.55 "Radmira is our 'bestseller'. <...> This variety is most stable in terms of yield."
10.00 "Any plant is a living body"
10.05 Speakers are discussing greenhouse gas emissions and GHG absorption by plants . 
The Laboratory for Selection and Primary Seed Breeding for Winter Wheat 
10.11 speaker: Bagrat Sandukhadze, chief research officer, RAS Academician – on the progress and prospects in winter wheat selection.  
Climate change is making us change properties of crop varieties.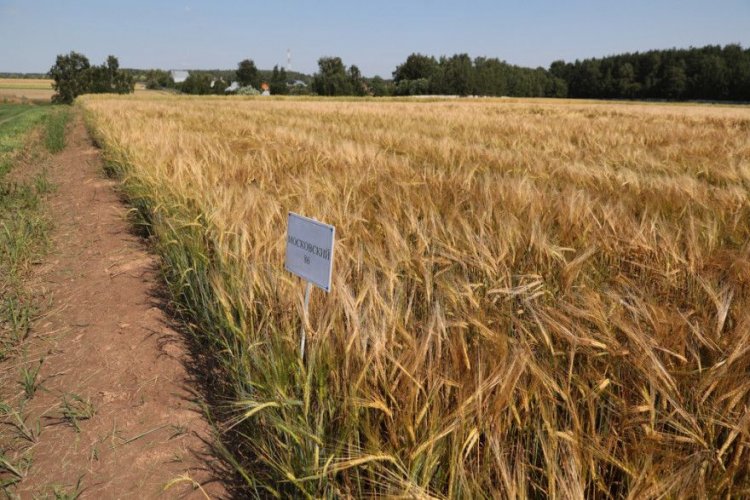 10.16 "We created the variety Moskovsky 39. Many people called it a milestone event." 
10.20 The speaker is talking of released varieties that are sustainable and show high crop capacity.
10.26 Bagrat Sandukhadze is talking about improved and short-stalked varieties.
10.27 "Nemchinovskaya 17 is well liked by many; it is not too tall but is of good quality, and in high demand." 
The winter triticale laboratory

10.40 speaker: Andrey Nardid, Head of the Winter Triticale Selection Laboratory. 
10.45 "Nemchinovsky 56 is our pride. In the primary seed breeding sector, we sell around 30 tons and cooperate with many farms. This is a soft fodder that suits many animal species." 
10.50 speaker: Anatoly Medvedev, chief research officer, Correspondent Member of the Russian Academy of Sciences. 
He is talking of new approaches in selection breeding of winter triticale. 
"Last year, we undertook crossbreeding with many superior varieties. The best Polish varieties" 
10.51 "The excessive precipitation has had an undesirable effect on microflora." 
The speaker is talking of short-stalked varieties that are resistant to lodging and have high crop capacity. 
Oat Selection Laboratory

11.06 speaker: Aleksandr Kabashov, Doctor of Agricultural Sciences, Head of the Oat Selection Laboratory at the Nemchinovka Moscow Research Institute of Agriculture.
The speaker is talking about growing various oat varieties in a summer climate when there is drought in the first half of the season, followed by rain in the second half. 
11.12 "With an integrated plant protection system, modern equipment and sufficient nutrition, the yield of hulless oats could increase to the level just 5 percent below that of chaffy oats. But this is where the main advantage of hulless oats is produced, i.e., its hullessness."
11.14 The Nemchinovka institute created the hulless oat variety "Nemchinovka 61."
11.17 "Our laboratory is doing its best to provide the country with animal fodder and our population – with an environmentally-balanced product that is cheap and widely accessible to the general public." 
 Winter Rye Selection Laboratory
11.25 speaker: Anatoly Goncharenko, chief research officer, RAS Academician. 
He is talking about the outlook for population and hybrid selection of winter rye.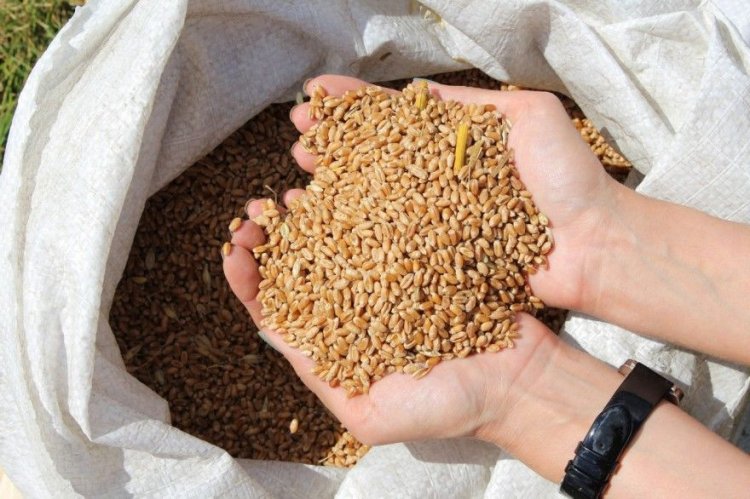 11.27 "Winter rye has been selected since the early years of the institute. A total of 15 varieties has been created. Recently, we decided to focus on creating hybrid varieties." 
11.29 Hybrids have 10% to 20% higher yield.
11.33 "Hybrid selection is more mobile than population selection – it gives us freedom to choose direction."
11.50 "Population varieties are cultivated on a low-fertility land in desert areas, to produce the desired 15% increase of a hybrid. In Germany, it's 80 percent hybrids and 20 percent population varieties."
11.52 "10 population varieties have been put on the State Register. The common ones are Valdai, Tatiana, etc. They are playing a key role in the region and account for 1/3 in Central Russia."

11.57 Rye is the only crop that is not used to make cereals due to the softness of its grains.
12.05 "Our varieties can rival the Orlov varieties in crop capacity"

he Spring Barley Selection Laboratory
12.20 speaker: Lyubov Yeroshenko, Head of Spring Barley Selection Laboratory 
12.23 "The harvest in 2020 was 20.5 tons of grain. Thanks to their high productivity potential and high adaptability, the varieties we selected are grown on a quarter of all barley growing areas in Russia" 
12.23 It is important to know about varieties selected elsewhere. 
"We are aware of varieties selected in Germany, France, and Belarus"

12.27 the speaker is talking of barley varieties 
"Prometei" is a variety released for blackearth regions. "Raider" is a new variety from Belarus.
12.28 "Varieties selected in Belarus are our main competitors due to their excellent adaptation properties." 
12.35 "Rafael" was created by crossbreeding. According to the State Commission, its main advantage in Tatarstan was higher crop capacity; therefore, it will be released for cultivation after two years of testing.
12.39 The competitors are using super intensive selection and high-cost technologies. But even so, they cannot surpass Russian varieties. 
The Laboratory for Variety Specific Technology for Winter Grain Crops and Fertilization Systems

12.52 speaker: Yuri Pleskachov, Doctor of Agricultural Sciences, chief research officer.
He is talking of modern approaches to designing techniques for cultivation of agricultural crops.
Highly intensive processes, intensive processes, soil and plant diagnostics.
12.59 Application of nitrogen fertilizers in three periods ensures high crop capacity.
13.05 Hybrids are easier to work with: they have higher resistance to lodging and higher crop capacity. 
End of broadcast

Photo in the text: Scientific Russia portal
Photo in the Illustrations gallery: Nemchinovka FRC