A relatively small European country, such as Denmark or the Netherlands, is similar in size to the dumps of Russia. According to various sources, an average person throws away up to two cubic meters of waste a year. 
Garbage is kept in dumps and landfills, recycled or burned. Recycling is still the safest waste management method, but not everything that goes into a garbage truck can be reused. That is why there are waste incineration plants, releasing black smoke, although filter systems are used to minimize hazardous emissions, and dumps, contaminating soil and groundwater, especially those created decades ago.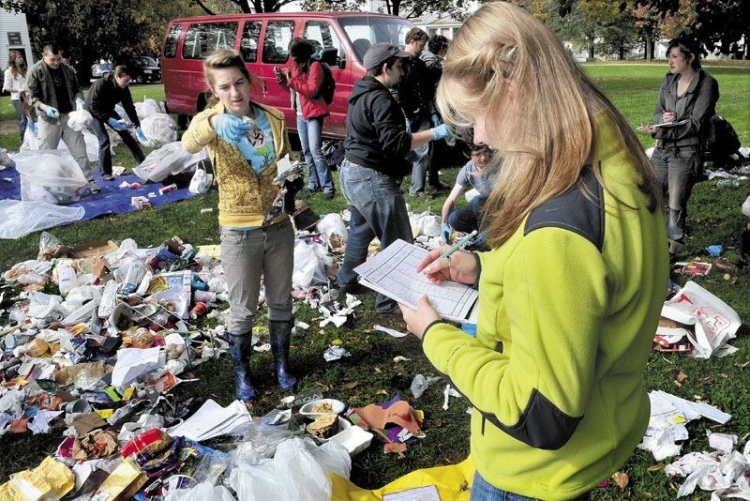 Unpopular science 
The branch of ecology that studies garbage and waste disposal methods is called garbology. Not the most popular term or profession: In 2007, the Popular Science magazine declared garbology the fourth least popular profession in science. The term originates from the English word garbage. Specialists in this area study domestic waste, their properties and composition, how waste reacts to the environment and how different fractions react to one another. 
Curiously, the term was not coined by an ecologist, but by an archaeologist – William Rathje who researched New Yorkers' preferences. Therefore, garbology is seen as "garbage archeology" amongst other things: the contents of garbage bins and containers could tell you more about habits and preferences of the residents of a particular city or country than a poll would. However, the garbologists' job is mostly finding more effective and safer methods to recycle and dispose of garbage. 
To throw away in order to use 
To throw away in order to use
A thrown away water bottle may be useful once again – this time as clothing. There is a popular trend: things made of recycled plastic. Pantyhose, T-shirts, shoes and accessories, e.g., spectacle frames are produced out of compounds containing polyester. The materials used to produce the synthetic textile include garbage.

An important phase in the use of "waste" plastic is its preparation, i.e., cleaning for further utilization. Clean waste is crumbled up. Then the extrusion process starts: viscous, melted plastic chips are put through shapes to produce threads. Textile machinery is used to weave recycled plastic threads and form a cloth. 
Clothing is just one of the industries using recycled plastic. It is also used to produce ballpoint pens, furniture, building materials and new packaging. The same piece of plastic cannot be recycled endlessly since it becomes unusable after the 2nd or 3rd recycling. It is the same with paper, which cannot be used again and again forever, but one sheet of paper may serve three times, playing different roles. More durable materials that are not used forever but for quite a long time, such as metal and glass, are another matter. 
Organic waste cannot be used to make rags. Potato peelings, banana skin or a core of an apple – this is the kind of waste that generates landfill gas in landfills. Organic waste in dumps does not become compost: there is no oxygen in a compressed garbage pile, but it releases sulfur oxide, hydrogen sulfide, mercaptan, and a lot of methane.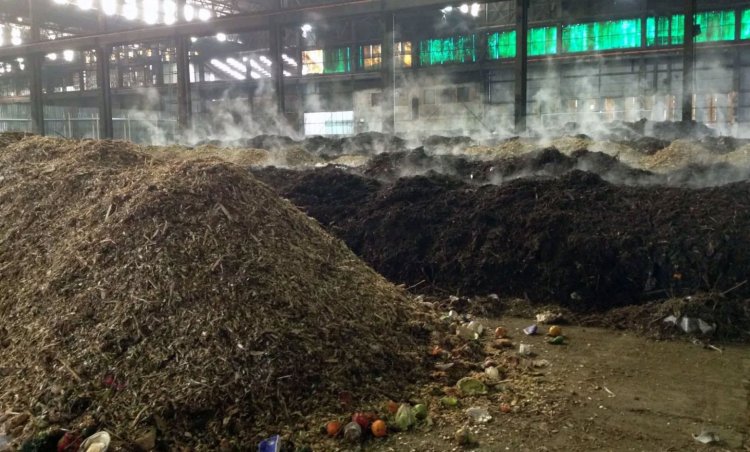 Organic waste composting allows reuse of products as natural fertilizers. For that, organic garbage is piled and then mixed with microorganisms, e.g., thermophilic lactic-acid bacteria. The pile is heated up to 70 degrees to kill pathogenic microflora, parasite eggs and maggots, while the "working" bacteria go on working and accelerate the composting process. The pile is turned over on a regular basis, to fill it with oxygen and accelerate the evaporation process.
According to various assessments, in Russia 10 to 15 percent of garbage is recycled. The waste management culture in Russia is underdeveloped, which is one of the factors preventing a sound recycling system. The domestic waste sorting principles are being promoted, but garbage still mostly goes into one basket.
Into the furnace 
To get rid of dumps and generate energy – these are the goals of waste incineration specialists. Up to 90 percent of waste can be incinerated. However, ecologists point out the danger of waste incineration for the environment and human health, as it generates carbon dioxide and, possibly, toxic emissions. Especially if hazardous waste is incinerated such as batteries, thermometers or mercury lamps. But waste incineration is an effective method to save space. Therefore, it is the most common in small countries that do not have land for landfills. 
Currently, there is more than ten waste incineration methods, varying in effectiveness and safety. Burning on shearing grates, incinerating in a furnace with a boiling layer, and high-temperature pyrolysis are considered the most effective methods in terms of thermal energy production. 
A composite shearing grate made of steel or cast-iron elements is always moving and pushing the garbage through all stages of burning – from the drying at the start to dross burning in the end. The shearing grate technique involves layer-based incineration. There is a layer of garbage on the grate, which is treated with air flows with the temperature of 850 to 1,500 degrees. Depending on the grate type and the garbage composition, the air may be supplied to the chamber in different directions: parallel to the waste flow, in the opposite direction or in particular points of the chamber. 
The boiling layer technique splits waste into fractions of the same type. The boiling layer is created when solid particles are suspended by the upward flow of gas. The speed of the upward flows of burning fuel gas is calculated so as to reduce the density of the waste layer being burned while keeping the particles in the layer. To increase heat output, dross, sand or limestone are added to the boiling layer.

Pyrolysis is used in incineration of hazardous or toxic waste, pyrolysis being the process of materials breaking up into molecules in a furnace with high temperature, high pressure and without oxygen. The temperature in a pyrolysis chamber is around 400 to 600 degrees. Gases released during the burning are post-burned using oxygen. That generates gases and liquids that can be used as fuel, and a solid residue that can be used as raw material in chemical production.
Photo on the homepage: https://pixabay.com
Sources: kmzp.ua, recyclemag.ru, plast.guru, vyvoz.org, w2e.ru