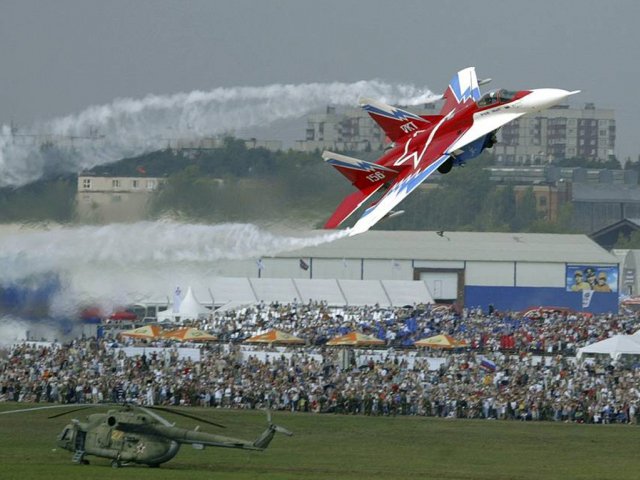 On July 20-25, the MAKS International Aviation and Space Salon was held at the airfield of the Gromov Flight and Research Institute in Zhukovsky. This event is the largest aerospace exhibition in Europe and every time it attracts numerous foreign guests. Scientific conferences and symposiums under the auspices of the Central Aerohydrodynamic Institute named after N. E. Zhukovsky – TsAGI – take a significant place in the program.
The first Russian exhibition of international aviation was held in St. Petersburg on August 18, 1911. Later this day became known as Air Fleet Day. The first air show was held in Zhukovsky on August 11, 1992. At that time the exhibition was called "MosAeroShow-92." The MAKS air show received its present-day official name and international status in 1993. Since that time, the exhibition has been held every two years, each time surprising its viewers more and more.
According to the Rossiyskaya Gazeta newspaper, the fifteenth MAKS aerospace exhibition surpassed the achievements of previous years. It showcased technologies that "will determine the shape of aviation and space science of the future." The exponents included developments not only of various aviation, industrial and technological organizations, but also scientific centers and universities. The following organizations presented their scientific developments in the field of aviation: All-Russian Scientific Research Institute of Aviation Materials (VIAM), Bauman Moscow State Technical University, Moscow Aviation Institute (MAI), Moscow Institute of Physics and Technology (MIPT), National University of Science and Technology MISiS, Samara National Research University named after academician S. P. Korolev (Samara University), Tula State University (TulSU), Central Aerohydrodynamic Institute named after N. E. Zhukovsky (TsAGI), Southern Federal University (SFU), and others.
The event is unique, because some experimental prototypes of aircraft, combat complexes and experimental installations, which cannot be presented outside Russia, are demonstrated only at the International Aviation and Space Salon. But the demonstrations are not only static, the most inspiring and fascinating thing is the demonstration flights of experienced specialists on the best civil and military aviation vehicles. According to the official website of MAKS 2021, the air show gathers more than 140 thousand specialists and more than 570 thousand participants and guests.
The next MAKS Aviation and Space Show will take place in 2023. Their official page is already counting down to the date of the event.
Sources:
MAKS 2021. Organizer https://aviasalon.com/ru/about/organizer
Wikipedia. International Aviation and Space Salon. https://ru.wikipedia.org
Rossiyskaya Gazeta. The harder the test, the higher the flight https://rg.ru/2021/07/28/itogi-maks-2021-prevzoshli-dostizheniia-aviasalonov-proshlyh-let.html
The Year of Science and Technology. Universities present their developments at MAKS 2021. https://xn--80afdrjqf7b.xn--p1ai/news/4554/
Photo: GALLERY "MAKS-2021". https://aviasalon.com/en/about/gallery