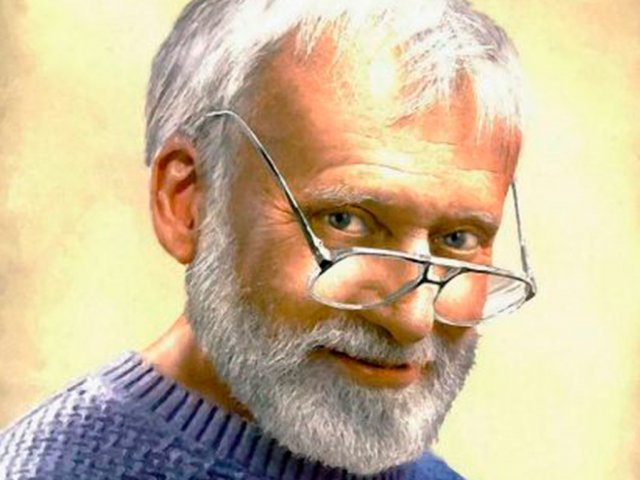 Adventures through time and space: detectives and fairy tales about a time machine and an expedition lost on a distant planet, about a little girl and a space doctor. The public knew little about the author under his real name, Igor Mozheiko. The books covers bear the name of Kir Bulychev. The Soviet and Russian science fiction writer was born on October 18, 1934.
The writer's mother name was Maria Mikhailovna Bulycheva. He took part of his pseudonym from her. She was a graduate of the Smolny Institute of Noble Maidens; after the revolution she graduated from the Automobile Road Institute and served as a commandant of the Schlisselburg Fortress; during the war she worked as head of the airborne school.
His father left the family when the writer was 5 years old. His stepfather Yakov Bokinik was a Soviet chemist, a scientist in the field of photographic technology.
After graduating from school, Igor Mozheiko entered the Maurice Thorez Institute of Foreign Languages. Having graduated in 1957, he worked for two years as a translator and correspondent of the Novosti Press Agency in Burma, today's Myanmar. This state and region became the object of Igor Vsevolodovich's future research and scientific works.
Igor Mozheiko wrote historical and geographical essays for the Vokrug Sveta and Asia and Africa Today magazines . He completed his postgraduate studies at the Institute of Oriental Studies of the USSR Academy of Sciences and worked there, studying the history of Burma. His candidate's and doctoral theses were also devoted to Southeast Asia.
The author wrote his debut story Maung Joe Will Live in 1961, when he was still in his postgraduate studies. He took up fiction in 1965 and published his works under a pseudonym only. The writer hid his real name for the fear of dissatisfaction of the institute management. Igor Mozheiko's pseudonym was formed from the maiden name of his mother – Bulycheva, and the name of his wife – Kira. At first, his fiction works were published under the name of "Kirill Bulychev." Later it was shortened to "Kir. Bulychov," and then the dot after the name was removed.
The Guest from the Future movie based on stories about Alisa Selezneva became one of the most popular children's movies of the 1980s. The novel called Those Who Survive is one of the most famous science fiction novels of the Soviet Union. The entire bibliography of Kir Bulychev is collected in 18 volumes.
The author received the USSR State Prize, the Order "For Merit to the Fatherland" of the 4th class, and various literary prizes for his achievements in literature. There is also a memorial award named after Kir Bulychev, which was introduced a year after the writer's death – in 2004. And the symbol of the award is a small bronze typewriter.
The monument to the writer has "Kir Bulychev" written on top in handwriting. And a little lower, it has his real name in block letters – Igor Vsevolodovich Mozheiko.
Photo on the homepage: znay-pro.ru, chitariki.livejournal.com
Based on open sources