June 15, 1921, is the birthday of Gavriil Abramovich Ilizarov, a prominent surgeon-orthopedist, Professor, inventor, Member of the Russian Academy of Sciences, Doctor of Medicine Gavriil Abramovich Ilizarov. The physician performed a huge number of surgeries in his life. He is the author of 208 inventions, protected with author's certificates of the USSR, with 18 of those patented in 10 countries. Ilizarov was intelligent and gifted since he was a boy. However, he first went to school when he was nearly an adolescent (at 11-12), which did not prevent him passing all tests with top marks and being admitted to the 5th grade of secondary school, which he finished as an external student and immediately continued his studies at the Buynaksk medical school for workers (Medrabfak). He went all the way from a mere surgeon to Director of the All-Union Kurgan Scientific Center for Traumatology and Orthopedics (now the National Ilizarov Medical Research Center for Traumatology and Orthopedics).
In 1947, Gavriil Ilizarov successfully performed his first complex operation with the bone fixation device he designed. In 1950, Ilizarov was appointed traumatologist-orthopedist at the Kurgan Regional Hospital where, a year later, he designed and presented a transosseous compression distraction apparatus fixing bone fragments while controlling complex biological processes of bone tissue development through compression or extension. In 1955, Ilizarov became Head of the Orthopedics and Traumatology Unit at the Kurgan Regional Hospital for veterans of the Great Patriotic War. Observing severely injured patients, Gavriil Ilizarov proposed an entirely new osteosynthesis method for fractures. The Ilizarov apparatus made treatment for fractures more effective while reducing treatment time. Such vast practice broadened the application of the apparatus.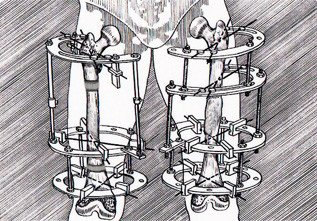 The Ilizarov apparatus has metal "rings" with "spokes" attached to them that went through the bone tissue. The rings are connected with mechanical bars that can be adjusted by about 1 mm a day. Specialists believe that the Ilizarov apparatus is a universal dynamic design that creates optimal medico-biological and mechanical conditions for both osteosynthesis and anatomical and functional rehabilitation of the musculoskeletal system. Over time, the surgeon improved some parts and details of his invention. At present, the device is widely used in treatment of injuries, fractures, congenital bone tissue deformations, and in "aesthetic" operations – in orthopedic cosmetology to lengthen and straighten legs.
Some time later, Gavriil Ilizarov made his first progress in experiments in restoring spinal function after partial (nearly complete) surgical transsection of the spinal cord. Basic research of this type had never been conducted in traumatology and orthopedics in Russia or abroad. When the Ilizarov technique had been widely put into practice, foreign patients started coming to him as well. Gavriil Abramovich Ilizarov was a truly outstanding orthopedic surgeon who managed to put a huge number of people back on their feet.
Based on open-source data.
Source of the image in the text: Gavriil Abramovich Ilizarov, the wizard doctor Gavriil Abramovich Ilizarov
Source of the image on the main page: Academician Ilizarov: character and scalpel