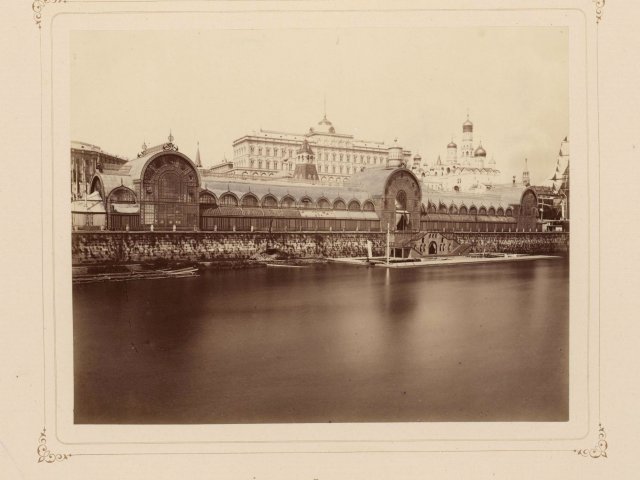 The first All-Russia Polytechnic Exhibition opened on June 11, 1872. This was a major event for the country and a huge success. The exhibition was held in Moscow and was dedicated to the 200th anniversary of Emperor Peter I (Peter the Great). The main organizer of the event was the Imperial Society for Natural Sciences, Anthropology and Ethnography. Contributors to the preparation of the exhibition were: the Moscow Branch of the Russian Technical Society, the Moscow Agricultural Society, the Russian Society for Naturalization of Animals and Plants, the Moscow Technical Knowledge Dissemination Society, and the Moscow City Council. The goal of the exhibition was to demonstrate achievements in science and technology, and to collect exhibits for the Museum of Applied Science, now the Polytechnic Museum. A whole range of achievements of the Russian Empire in the industrial sector, agriculture, military industry, science and technology, and culture were first presented at that exhibition.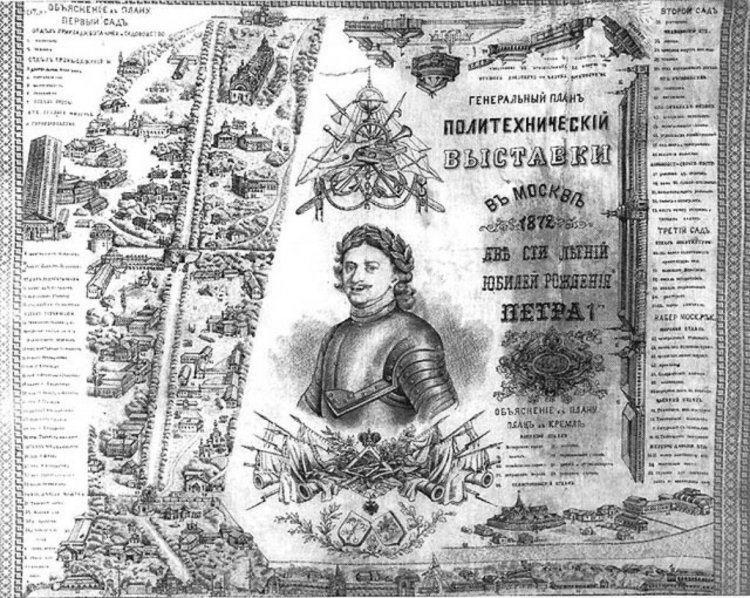 The preparations for the large-scale event were thorough. The organizing committee was set up already in 1870, and the layout of the exhibition sections designed. In 1871, Dmitri Nikolaevich Chichagov became the Chief Architect of the first national exhibition. A second horse-drawn railway line was built within a short period of time in the run-up to the opening of the first All-Russia Polytechnic Exhibition. It extended from the Iberian Gate (now the Resurrection Gate in the Red Square) to Smolensky (now Belorussky) Railway Station.
A colorful opening ceremony was prepared for the celebration. The Botik (Small Boat) of Peter the Great was taken to Moscow from the Peter and Paul Fortress of Saint Petersburg, and the composer Pyotr Ilyich Tchaikovsky composed a cantata, which was performed at the opening ceremony. The Polytechnic Exhibition was active throughout the summer, closing in early September. The First All-Russia Polytechnic Exhibition of 1872 saw 750,000 visitors. Remarkable exhibits were displayed in 86 pavilions at the Manege, in the Alexander Gardens, on the Kremlin Embankment and in Varvarskaya Square.
The Polytechnic Exhibition displayed a total of over 12,000 exhibits, including about 2,000 foreign ones. There were 24 sections: on botany and horticulture, applied zoology, geological oryctognosy, technology, manufacture, hunting, veterinary, medicine, agriculture, rural home-making, applied physics, architecture, history, military exhibits, forest management, telegraphy and post, and the section in the Caucasian and Turkestan pavilion. The first All-Russia Polytechnic Exhibition was a roaring success and won international renown. When it was over, the organizing committee sent selected exhibits to the Moscow Polytechnic Museum, which was then under construction.
Based on open-source data.
Source of the image in the text – The Polytechnic Exhibition. Wikipedia
Source of the image on the main page – The Triumph of Science