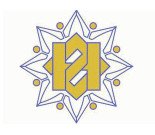 The Heydar Aliyev Foundation is a non-governmental humanitarian organization established in 2004, driven by the urgent need to express respect and honor for the memory of the national leader Heydar Aliyev; reflecting his rich spiritual and moral heritage, the desire to emphasize the national importance the philosophy of "Azerbaijanity" espoused by Heydar Aliyev, and transfer the ideas of national statehood to new generations.
Today the Heydar Aliyev Foundation promotes projects in the fields of education, medicine, culture, sports, science and technology, environmental conservation and social security. In these matters the Foundation cooperates with various foreign public institutions. The organization builds new schools, boarding schools, libraries, cultural centers both in Azerbaijan and abroad. Sponsorship is provided to socially important institutions, especially children's institutions. Great attention is paid to the construction of new medical centers and the development of healthcare.
The Foundation supports cultural projects and artists.
Educational books promoting the rich Azerbaijani culture and healthy moral values are published. As part of the promotion of scientific research, the organization helps research centers of Azerbaijan and other countries to establish relations, hold joint conferences and research.
The President of Heydar Aliyev Foundation is the First Lady of the Azerbaijan Republic, a Goodwill Ambassador of UNESCO and ISESCO, Mehriban Aliyeva