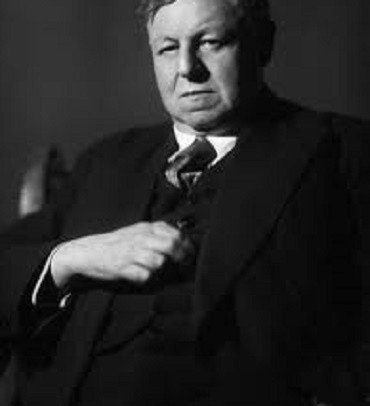 People teased Samuil Marshak at Tarle's jubilee party, saying that even he would not be able to find a rhyme for Tarle's name. But Marshak instantly responded with:
"In one sitting, the historian Tarle
Could write (as I did in the album)
Huge tome about each Karl
And about any Louis."
Anyone who has memorized this little verse will never again stress the wrong syllable when saying the scientist's name. Lots of people make this mistake: it is said that during a lecture at the History and International Relations Department of the Moscow State Institute of International Relations (MGIMO) in the autumn of 1951, he said with annoyance: "My name is not TarlE, it's Tarle: I'm not French, I'm Jewish." This was a remarkably brave thing to say: the antisemitic campaign had just started picking up.
Yevgeny Tarle defended his doctoral dissertation and published several volumes of his works before the revolution. Tarle supported the February
Revolution, but not the October one, but he refused to emigrate and declined a professorship at the Sorbonne. In 1927, Tarle, Professor of the Moscow University, was elected Full Member of the Academy of Sciences of the USSR. Persecution followed almost instantly: Marxist historians declared his works to be class alien, branding Tarle an imperialist apologist. In January 1930, Tarle was arrested. The scientist was saved by Stalin who was planning to use Tarle as a court historian.
In 1936, Tarle published his most famous book – Napoleon. Stalin liked it, and soon after, a government messenger arrived at Tarle's apartment, delivering a packet whereon historians' best friend had written with his own hand: "To Tarle, Member of the Academy of Sciences."
No-one tried to hamper his work ever since. Before World War 2, he published his biographical book Talleyrand, and later, during the war – the Crimean War, in two volumes.
Many people criticize Tarle for romanticizing Napoleon at the expense of historical truth. But what is important is his literary talent: Tarle introduced those who knew very little about science to history. Today, Yevgeny Tarle's contribution to the science of history is undoubted: The Russian Academy of Sciences awards Tarle Prize for outstanding scientific work in world history and modern development of international relations.
"He himself looked like old, flabby Napoleon," – Panteleyev, the author of the novel The Republic of ShKID, remarked once.