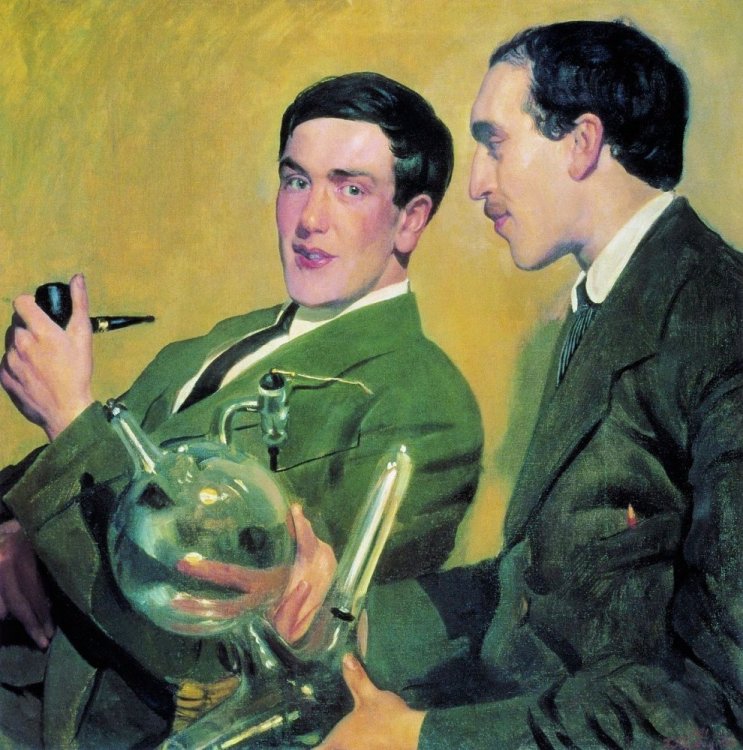 We are talking about that very Pyotr Kapitsa that would become a famous scientist, make fundamental discoveries in low-temperature physics and be awarded a Nobel prize for them. He showed great talent since childhood and was sure that he would become a great physicist. He and his friend Nikolay Semionov asked the painter Boris Kustodiev to paint a portrait of future famous men. The great artist, covering his portrait of Fyodor Shalyapin, answered with a sight: "It is the first time in my life that I paint fameless but very persistent young people." In 1921, the same year when the portrait was painted, Kapitsa went to England. Abram Ioffe, a prominent physicist and member of the USSR Academy of Sciences, asked
Ernest Rutherford who headed the Cavendish Laboratory at that time to take Kapitsa to work as a trainee. Rutherford refused, explaining it by the absence of vacant jobs. However, Kapitsa was not easy to discourage. "What is the error margin of your experiments?" he asked. "Three percent," replied Rutherford, surprised. "And how many people work in your laboratory?" – "Thirty." "Then can I be within your error margin? You won't even notice that I am working with you!" Rutherford accepted him but it was impossible not to notice his work: it was so successful that Rutherford asked a special scholarship for him. Later, Kapitsa was forced to return to the USSR and was appointed director of Institute for Physical Problems. But, besides research work and his famous workshop, kapitchnik, he was a human rights activist. He saved several scientists from repressions, including the great Lev Landau.
As a true scientist, he encouraged education: he was at the origins of the famous Ioffe Physical-Technical Institute. In addition to that, he fought against pseudoscience: in 1955, he signed the famous Letter of 300, which gave rise to the revival of biology and helped put an end to Lysenkoism. He did not allow to expel Andrey Sakharov from the USSR Academy of Sciences: at the right moment, he reminded that Einstein was expelled from the Academy of Sciences in Berlin by Hitler.
Until the end of his life, Pyotr Kapitsa was true to his own words: an academician that does not conduct scientific research himself is no longer a scientist. If an academician is remember ten years after his death, he is a classic of science, said Kapitsa, a classic of science himself, as we know now.