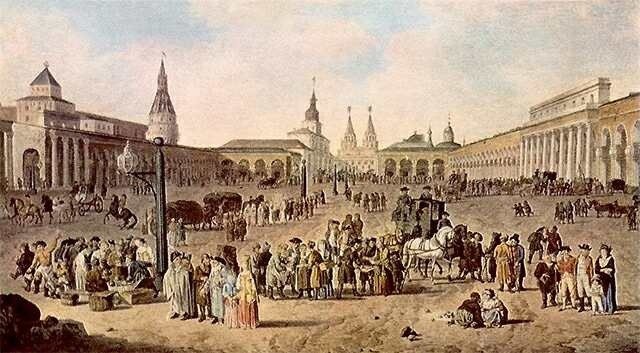 In an edict of Tsar Aleksey Mikhailovich, the future main square of the country was mentioned as a place of meeting of monarch's envoys. It was ordered to hold a welcome ceremony for the ambassador of the Holy Roman Emperor Leopold I at the Red Square with regiments of Tsar's solicitors and guards.
Some insist that a market existed east of Kremlin as early as 14th century, others posit that the market square was only born a century later, in 1493, when the Ivan III, alarmed by a fire, ordered clearing up a strip measuring "a hundred and nine sazhen" (232 meters) in front of the red-brick walls of Kremlin.
Moscow's main square has seen diverse events over the centuries. Once there was a zoo in a drained dike alongside Kremlin, and a theater – the Comedy Building erected near Nikolskiye Gates at Tsar Peter's orders. The square was used for dispensing medications at the Central Pharmacy, barbers worked at the Vshivaya Ploshchadka site near the Kazan Cathedral, money was minted in the Coinage Yard, and students attended the Moscow University which had operated here from the day of its founding before moving to a newly-built campus on Mokhovaya Street. Criminals were executed on the square – albeit not in the Lobnoye Mesto as many are used to think but next to it. Lobnoye Mesto served not as a scaffold but as a herald platform: Tsar's edicts were proclaimed from there. And the very first sculptural monument in Moscow was also erected on the Red Square so that grateful Russia with the hands of sculptor Ivan Martos paid tribute to its citizen Kuzma Minin and Prince Dmitry Pozharsky for saving Moscow from the Poles in 1612.
The monument still stands on the square although it was relocated in 1931 closer to the Saint Basil's Cathedral, freeing up space under the walls of the GUM store for traffic. Yes, that's true – vehicles drove through the square: as hard as it may be to believe, there had even been a tram line – for 20 years after 1910.
No less diverse are the people. Here the best-known Russian venerated saint Basil spoke, king Ivan the Terrible repented from the Lobnoye Mesto, Peter I decapitated offenders, Napoleon walked by, Lenin held parades... The Red Square is also remembered for the Victory Parade and Yuri Gagarin was received after his spaceflight.