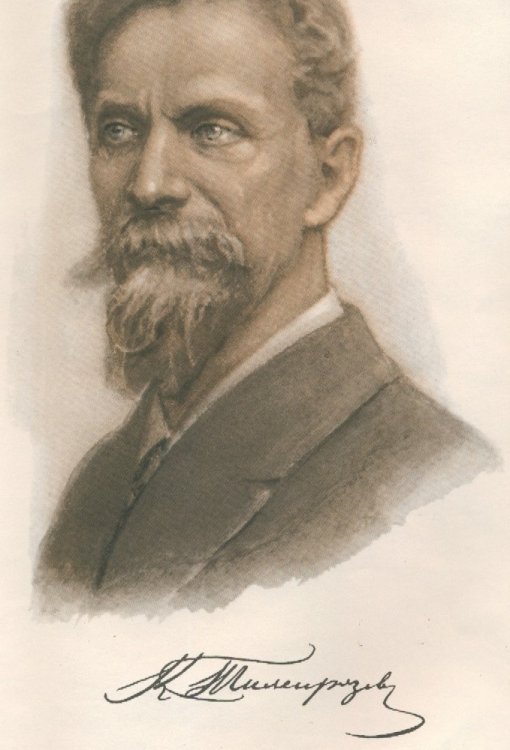 At a solemn meeting of the Royal Society in London in 1903, a guest from Russia spoke: "When Gulliver first saw the Academy of Lagado, he immediately noticed a lean man sitting fixated on a cucumber sealed in a glass jar. Questioned by Gulliver, the unusual man explained that for eight years in a row he had been immersed in the contemplation of this object, in the hope of solving the task of capturing solar rays and applying them to ulterior ends. For the first time, I have to admit that you have such a weird man in front of you. I have spent more than 35 years staring if not at a green cucumber sealed in a glass jar but at something quite equivalent – on a green leaf in a glass tube – scratching my head over the problem of sunlight storage…"
So began his brilliant speech to English scientists of Kliment Arkadyevich Timiryazev whose works had already gained world fame.
In his distinctive elegant, simple and clear style, Timiryazev outlined the results of his many years of research.
The great, according to him, factory of life, the green leaf or, rather, microscopic green grain of chlorophyll is a focal point in the world space to which solar energy comes in and from which all manifestations of life on Earth begin. The plant, wrote Timiryazev, is an intermediary between the skies and the ground. It is the true Prometheus who stole fire from the sky.
The noble family of Timiryazevs inherited their surname – so uncommon in Russia – from their ancestor, the Tatar Temir-Gaza. His father, a full-time state advisor, made a brilliant career, but his free-thinking ways and honesty had kept him from accumulating a fortune.
His English mother taught languages to her son and instilled the culture of her homeland in addition to the Russian culture. Kliment inherited the liberal spirit of the family and had been once expelled from St. Petersburg University for his involvement in student riots.
He welcomed the October Revolution with delight – he saw Russia's path to democracy in it. Timiryazev was actively involved in the work of the People's Commissariat for Education and the Moscow City Council. All cinema fans know that: in Dmitry Illarionovich Polezhayev, the main character of Alexander Zarkha's film The Deputy from the Baltic, Kliment Arkadyevich Timiryazev can be easily guessed.