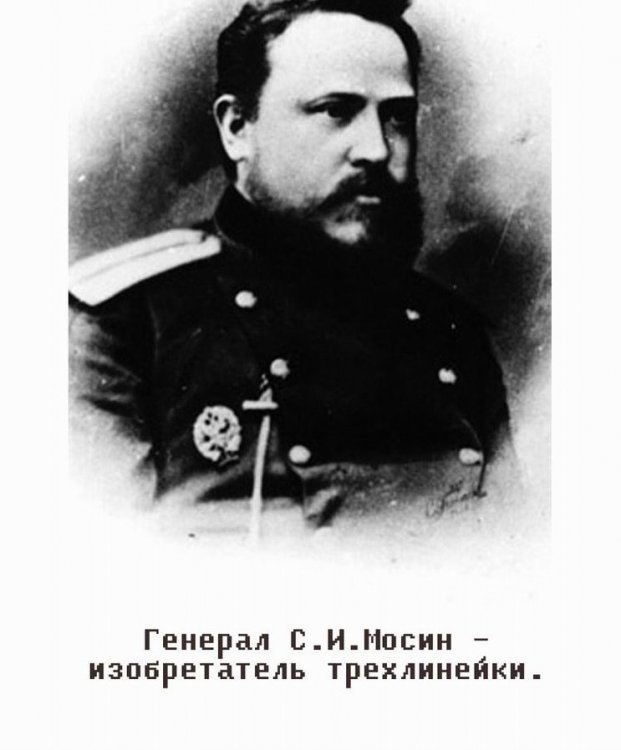 A line, an old Russian measure of length, is 0.1 inch long, that is 2.54 millimeters. Three lines thus add to 7.62 millimeters. 7.62 is the classic weapon caliber.
The three-line rifle is a legendary Russian weapon designed by Sergey Ivanovich Mosin.
So how was the rifle born? You won't believe it – out of love. Sergey Mosin traveled to Tula not by his own will but for family reasons: his distressed father served for the Arsenyev landlords in Tula.
That's where it happened. She was devoted to another man… Varvara Nikolayevna Arsenyeva was the wife of the landlords' son and raised two children.
A row with her husband escalated into a duel challenge. The husband complained to his superiors and demanded fifty thousand rubles for divorce. There was no money. And then Sergey Ivanovich designed the rifle – it brought him money and a beloved woman.
He was thinking of improving the firearm of the American Colonel Hiram Berdan but ultimately came up with his own design, an original three-line rifle, described in the Dictionary of Brockhaus and Efron as a "batch," or magazine-fed, system.
The top brass at the military compared the Mosin three-line rifle with the one of the famous Leon Nagant, and adopted Mosin's design: it was cheaper to produce, speeding up the rearmament of the army, while its accuracy and rate of fire were worse than that of the Belgian.
It is now well known that the military had made a perfect choice. The three-line rifle developed by Sergey Ivanovich Mosin, the head of the instrument workshop at the Tula Weapons Plant, served Russian and then Soviet soldiers in four wars, beginning with the Russo-Japanese war, and was not withdrawn from service until 1950.
When you visit Tula, honor Mosin's monument with a bow.