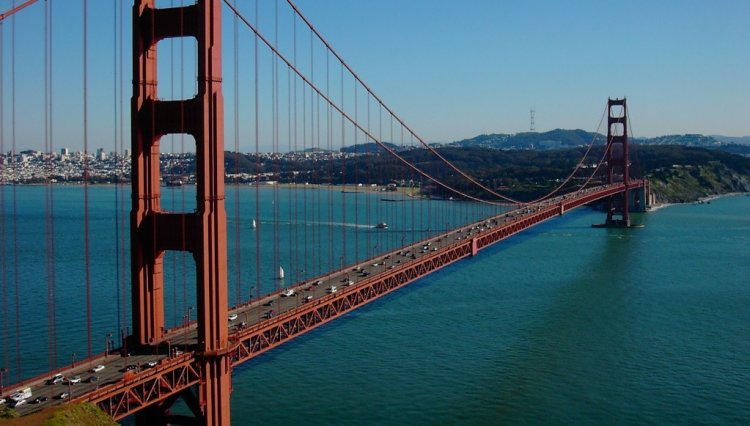 Russian writers Ilya Ilf and Yevgeny Petrov named San Francisco the most beautiful city in the United States of America. In January 1933, the Golden Gate was laid down in America's most beautiful city. The bridge with such a beautiful and symbolic name is the only bridge in the top ten construction achievements of the twentieth century. It was not that misfortune that helped, but a bottleneck – the Golden Gate Strait is quite narrow but it serves as a passage for ocean-going vessels to and from the world's largest natural harbor. It is clear that this passage should not be obstructed. The list of difficulties is compounded with tides, currents, fog...
But the problem was solved: Roosevelt's New Deal for getting out of the Great Depression provided favorable terms, helped by engineering and financial innovations, such as toll fees announced in advance.
So the Golden Gate was opened in a ceremony just four years after breaking ground.
The bridge immediately became a symbol of a city which had not been short of sights and landmarks. The stunning beauty of the bridge itself and the views from it attracts the attention of three million tourists visiting San Francisco every year. The bridge still serves its purpose faithfully, passing than a hundred and twenty thousand cars a day.
Despite having reached an advanced age, "The Great Harp Under the Sky" still adorns Frisco today. But painting the bridge is an ordeal: when the painters reach the end of the bridge, the start already needs some touch-up. Well, that's a sort of a perpetual motion on a perpetual bridge.