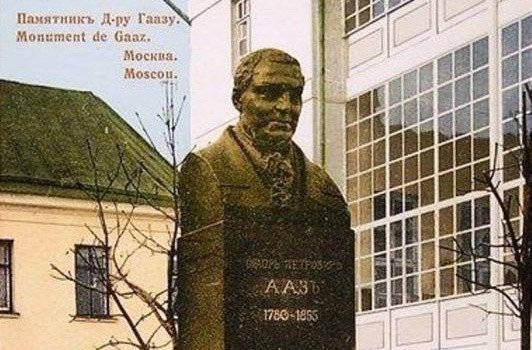 In Maly Kazenny Pereulok, in the yard of the Moscow-based Research Institute of Hygiene and Health Protection of Children and Adolescents is the bust. The pedestal says: "Fyodor Petrovich Haass." And below is: "Hurry up for good deeds."
A son of a pharmacist from a small German town, he became an eye doctor and practiced in Vienna. Countess Repnina who he successfully treated convinced him that he should come to Russia and become her home physician. Later, Fyodor Petrovich, the name he was given in Russia, was invited to become a senior physician at the Pavlovskaya Hospital. In the meantime, Haass visited Caucasus, studied local mineral waters and became one of the founders of the new spa medicine. In 1812, he became a military medic and ended the war in Paris along with the Russian army.
These are just trappings of the biography. Imagine a physician who serves a hospital administrator in our terms and treats the downtrodden at almshouses in his leisure time and treats them so well as to receive an order? What kind of reputation would it take for the governor-general to insist on appointing him a stadt physicist, the medieval term for the Moscow chief physician? And how smart and quick did he have to be to undertake a reform of the metropolitan medicine, so that the closed-minded, as in all ages, officials would get him dismissed next year?
Prosperity took turns with downfall. Doctor Haass spent his wealth to help and better lot for the prisoners, exiled and convicts, because he was appointed the chief physician of Moscow prisons. Haass's lifetime project was to fight pointless ordeals the prisoners were subjected to. His efforts made it possible to change the existing conditions — the convicts were no longer chained to the iron rod, while heavy shackles were replaced with the lighter ones, nicknamed Haass's shackles, jacketed with leather and cloth, which he ordered with his own money. He rebuilt the prison complex and opened the prison hospital, the school for the prisoners' children, and the Police Hospital for the homeless in Maly Kazenny Pereulok. Everything thanks to Doctor Haass's care and money. He spent his sunset years in utter misery at the Police Hospital.
But it is true that he that giveth unto the poor shall not lack and good returns good. In 1909, the Muscovites raised an amount to pay for the monument to honor "the holy doctor." Sculptor Nikolay Andreyev followed the motto "Hurry up for good deeds" and made it for free.