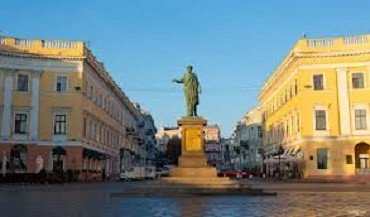 The humans settled the shores of the Gulf of Odessa, a part of the Black Sea, back in the classical times. In the 15th century, the Turks built a settlement of Hacıbey and a little later a fortress of Yeni Dünya next to it (literally "New World"). Today, we know for sure that the fortress was located on the sea shore between the modern-day Potemkin Steps and the Vorontsov Palace.
During a new Russo-Turkish War, the Russian army under command of the Neapolitan in Russian service José de Ribas seized the fortress of Yeni Dünya. As a result of the Treaty of Jassy (Iaşi), the fortress was handed over to Russia and the port and the city were erected in its place by the order of Catherine II. The city was founded on 22 August, O.S., i.e., 2 September, N.S., 1794. A trench was officially cut for the foundation of the city buildings and the Saint Catherine and Saint Nicholas churches were established with the blessing of the metropolitan in presence of the first city mayor de Ribas and the project manager Engineer-Major de Wollant and various other superiors. Early next year, the city was named Odessa (now Odesa) after the ancient Greek colony of Odessos, which was believed to have been located not far from here. Later, archaeologists discovered it near the Bulgarian city of Varna. The researchers do not take seriously all other versions, such as the French expression "assez d'eau" (meaning "enough water") read backwards.
The favorable location and the works of the smart mayors rapidly turned Odessa into a trading, industrial and scientific center of European importance. By its 100th anniversary, Odessa was Russia's fourth largest city by population and economic levels. With only Saint Petersburg, Moscow and Warsaw ahead.