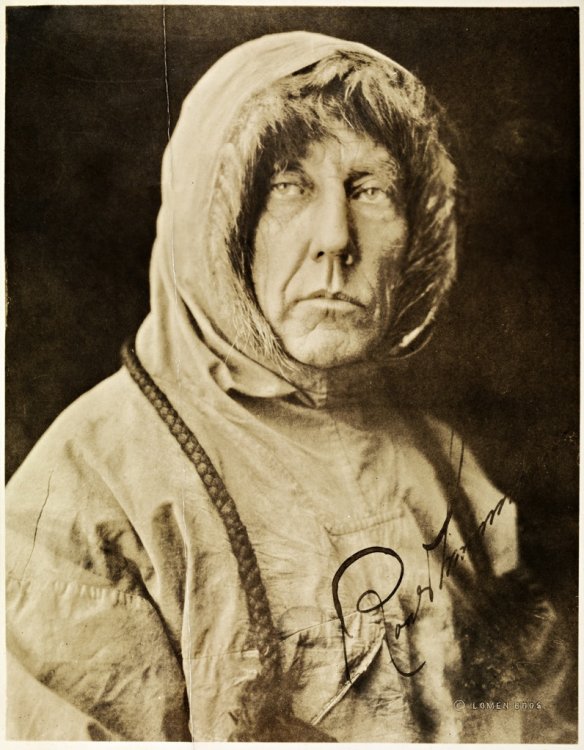 I am Roald Amundsen. I like ice.
The world is my oyster for it's capped twice with ice: first, Arctic, then Antarctic. Human life in those parts is a missing article.
O! when the temperature falls subzero the eyes grow blue,
the heart sincere. There are neither doubts nor a question mark:
it's the tails of your huskies which pull and bark."
The protagonist of this poem by Joseph Brodsky was born into a family of navigators and shipbuilders and dreamt of the polar expeditions since he was a child. He made his dreams come true. The North Pole tempted him but he could not get there in time, as American explorers Cook and Peary beat him to it. Amundsen then decided to change the destination and went to the South Pole. And thus he sentenced Robert Scott to die. The experienced explorer Amundsen chose a more successful starting point, arranged a better route and outran the English expedition by a month. Scott and his companions were morally crushed and could not take the hard way back. In the meantime, the winner hated himself for his triumph for the rest of his life.
But then the fifth ocean called Amundsen. The airship Norge with Amundsen and Nobile aboard reached the North Pole and ended its journey in Alaska. When Amundsen was asked two years later if he was planning to take part in the search for Nobile's expedition, he said, "Without any further ado." And he rushed to the rescue of a person with whom he was not on speaking terms. We know what happened next. The Swedish pilot Einar Lundborg evacuated Nobile from the ice, while seven members of his crew were saved by the Soviet icebreaker Krasin. Roald Amundsen who survived the harshest conditions in his arctic and antarctic expeditions went missing along with the crew of his Latham flying boat.
"In the fall, just before the freeze-up,
The boat gone to fish in the seas
Found a piece of his immortal glory –
A piece of the burnt wing."
Konstantin Simonov. In memory of Amundsen.