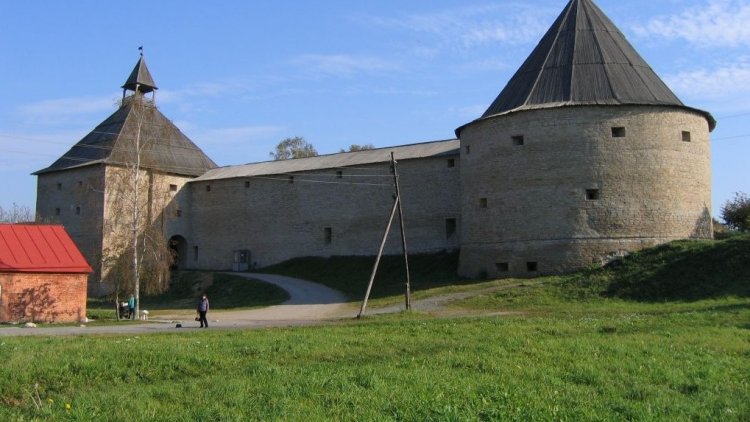 A long time ago, Staraya Ladoga was a city. And what a city it was! One of the ten oldest Russian cities. The city was first mentioned in the Russian Primary Chronicle. The chronicle tells a story of the Ladoga inhabitants who invited Rurik to rule them in 862, "They came first to the Slavs (Slovene), and they built the city of Ladoga. Rurik, the eldest, settled in Ladoga." In fact, Staraya Ladoga is much older, as the dendrochronology conducted by the Institute of Archaeology of the Russian Academy of Sciences suggests that the city was founded in 753. If the chronicle is to be trusted, Staraya Ladoga is the place, which the Russian statehood comes from. It is believed to be the earth house for Prince Oleg the Prophet. Here stands the amazing pre-Mongolian Saint George Cathedral with unique wall paintings. It was also here at the busy crossroads of the trade routes from the Varangians to the Arabs that the first Russian glass was melted from around 780s. Eyes, i.e., eye beads, which were melted according to the Arab low-temperature technology and also served as the first Russia money. The Ladoga inhabitants used them to buy fur from the neighboring tribes and sell it to the Arab merchants for the full-weight Arab dirhams.
In 997, Eric Haakonsson of Norway attacked Staraya Ladoga and burnt down the first fortress. In 1116, the Ladoga posadnik Pavel moved the fortress to the cape and built it from stone. The lands around the city witnessed many things — the Russo-Swedish wars, havoc wreaked by oprichniks of Ivan the Terrible, the Time of Troubles. But the true decline came here when Peter I founded Novaya Ladoga at the mouth of the Volkhov and stripped Staraya Ladoga of the city status, coat of arms and most population – people were ordered to move to the new city.
The scientists have long been dreaming to create a memorial estate in Staraya Ladoga. And they did. On July 15 1971, the first exhibit opened in the Gate Tower of the Ladoga Fortress. Today, the federal historical, architectural and archaeological memorial estate gathered 120,000 items. The unique wall paintings were restored and the now village of Staraya Ladoga, Volkhovsky District, Leningrad Oblast, pompously celebrated its 1250th anniversary.