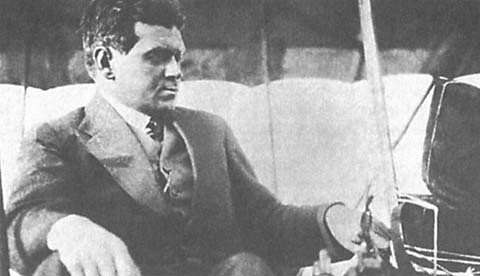 "Of many people I have ever met, he is the brightest figure by originality and wide-open heart," Alexander Kuprin wrote in his essay Utochkin. The writer can be trusted — he was well acquainted with one of the first Russian aviators and test pilots. "His life," Kuprin continues in awe, "was colorful, fast-paced, disturbing and in its way shining; always on the brink of risk, often in the teeth of death!"
In the autobiographical sketch My Confession, Sergey Isayevich meticulously listed all fifteen sports, in which he engaged and achieved success. Utochkin was an Odesa tennis, fencing, rowing, boxing, wrestling, skating champion, won regattas and established football clubs, took part in cycle and motor racing. But he achieved his greatest fame as a pilot.
He took dozens of demonstration flights in cities of the Russian Federation and his love for aviation inspired hundreds of boys. Including such future big names, as Sergey Korolev, Alexander Mikulin, Pavel Sukhoi, Sergey Ilyushin, Nikolay Polikarpov, Igor Sikorsky. Even Anna Akhmatova was impressed with Utochkin's flight way more than her wedding to Nikolay Gumilyov that took place that day.