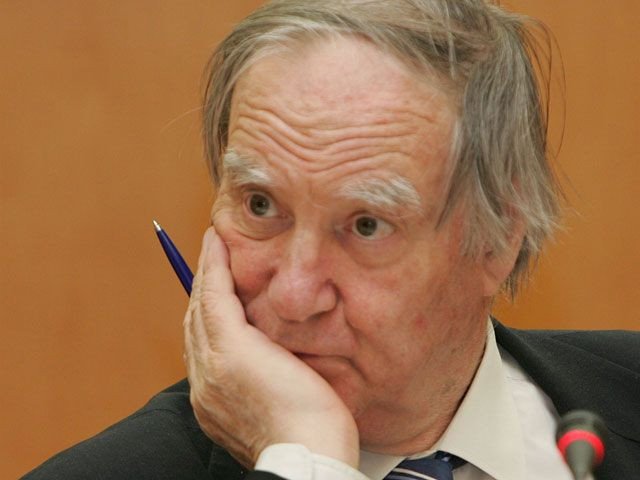 Official:
Sergey Petrovich Kapitsa. February 14, 1928 – August 14, 2012. Scientist, doctor of physical and mathematical sciences, professor. Author of 4 monographs, 14 inventions, and 1 discovery. Creator of a phenomenological mathematical model of hyperbolic population growth. The first winner of the Gold Medal of the Russian Academy of Sciences for outstanding achievements in scientific knowledge promotion. Permanent TV presenter of the popular science show Ochevidnoe–neveroyatnoe. Editor-in-chief of the V Mire Nauki journal. Winner of the State Prize of the USSR.
Life and Work:
1. When his mother wanted to scold the young Sergey for mischiefs, she switched to English. This is not surprising: famous physicist Pyotr Leonidovich Kapitsa's son was born in Cambridge, where his father worked in the Cavendish Laboratory. Their house in Cambridge is still called Kapitsa House.
2. Sergey Kapitsa's family tree has many scientific branches. His great-grandfather was the famous Russian geodesist, member of the Russian Geographical Society Ieronim Stebnitsky; grandfather – the Russian shipbuilder, mechanic and mathematician, academician of the St. Petersburg Academy of Sciences and later of the USSR Academy of Sciences Alexey Krylov; brother – the Soviet geologist and geomorphologist, corresponding member of the USSR Academy of Sciences Andrey Kapitsa. This is not to mention the famous father, the major scientist and Nobel Prize winner.
3. Even Sergey Petrovich Kapitsa's godfather was a great scientist. In Ivan Pavlov's museum-estate in Ryazan, there is a letter from Pyotr Kapitsa to his mother, describing, among other things, the christening: "This time Hieromonk Alexey, who came to baptize my son, visited us. He was christened Sergey. The christening was on Wednesday. Professor Pavlov and his son were here; they attended the christening..."
4. The thesis about geniuses' children was thus shamefully debunked. At the age of 15, Sergey Kapitsa left school, at 33 he became a doctor of physical and mathematical sciences. Until the age of 70, he taught physics at MIPT, worked as the head of the Department of General Physics, and then took up demography and mathematical modeling of socio-historical processes. And also achieved impressive results there.
5. In 1973, Sergey Kapitsa published the book The Life of Science and was invited to host a popular science TV show. Academician Artsimovich predicted his success, but warned, "You will certainly succeed, just keep in mind: this puts an end to your academic career."
6. Sergey Kapitsa was considered the best TV presenter among scientists and the best scientist of TV presenters. But he did not call himself a popularizer of science – he preferred the word "educator." And he claimed that he was doing publicly what his father did in secret correspondence with people in power. It was true: in personal letters to Stalin and other Kremlin residents, Pyotr Kapitsa explained the important objectives of science at that time.
7. Kapitsa hosted the Evident, but Incredible TV show for almost forty years with short interruptions. Sergey Petrovich introduced millions of people to scientific knowledge and it was appreciated. In 1980, he was awarded the State Prize of the USSR, in 2006 – the Order of Honor, in 2008 – the TEFI Prize, in 2011 – the Order for Merit to the Fatherland, 4th class. In 2012, Sergey Kapitsa was awarded the very first specially established Gold Medal of the Russian Academy of Sciences for outstanding achievements in scientific knowledge promotion. But before anyone else, Kapitsa's educational activities were appreciated by UNESCO: the Kalinga Prize – an annual award for the popularization of science – was given to Sergey Kapitsa in 1979.
8. The serious scientist and educator Sergey Kapitsa appreciated the thrill. He could fly a plane, was fond of speleology and descended into caves, and took up diving almost the first in the country – his scuba diver certificate bore the number 0002. As they say, his bride forbade him to skydive: she did not want to become a widow before becoming a wife.
9. According to him, Kapitsa treated popularity as a destiny and with humor. Kapitsa was not elected to the Academy of Sciences, just as Artsimovich predicted. But he became a member of the European Academy, where only about fifty Russian scientists were elected.
10. In September 2012, one of the islands of the Lesser Kuril Chain was named after Sergey Kapitsa.
11. The great enlightener had got to the sky much earlier: an astronomer of the Crimean Astrophysical Observatory, Lyudmila Karachkina, named asteroid No.5094, discovered on October 20, 1982, Seryozha in honor of Sergey Kapitsa.
12. A brilliant scientist and educator, he was also extremely witty. He penned the widespread aphorism: "It is easy to assemble a flock of sheep; it is difficult to assemble a flock of cats." Another Kapitsa's postulate, which is worth following, goes like this: "To lead is not to interfere with good people's work."