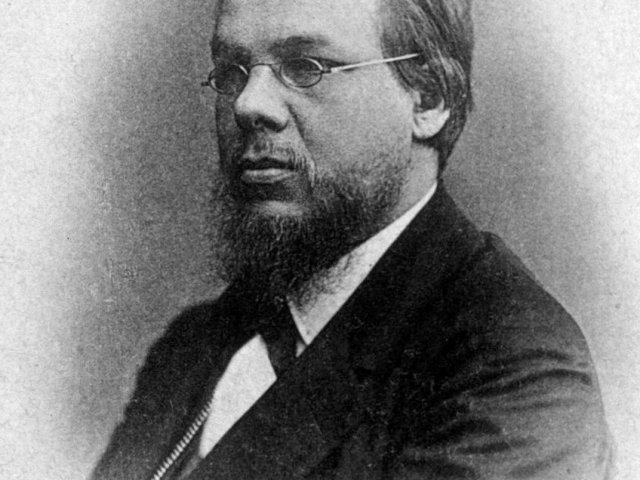 Official:
Sergey Petrovich Botkin. 5 (17) September 1832 – 12 (24) December 1889. Russian general practitioner and medical scientist. Privy councillor. Court physician.
Life and Work:
1. "When will the time finally come when there will be no need to regret that there are not forty hours in a day? After all, if I also suffered from love of money, ambition, and fame – I swear on my honor that I spit on everything that can soothe the attacks of these human diseases... I toil like a desperate timeworker. All summer has been sent on writing abstracts, preparing for lectures, and seeing patients; what can I do?" wrote the wonderful Russian doctor Sergey Petrovich Botkin in a letter to a friend.
2. His father was a wealthy tea merchant. But he did not raise his son – the eleventh child from his father's second marriage was raised by his older brother, the famous writer Vasily Botkin. And his friends: Vasily Petrovich was friends with Granovsky, Belinsky, Herzen. Later, Sergey had to treated Herzen for diabetes.
3. Until the age of fifteen, Sergey Botkin attended that "home university," and Granovsky, who lived in their house at the time, wrote later, "I watched Sargey's development, I saw outstanding abilities in him… He impressed Belinsky and me with his great curiosity."
4. At first, the inquisitive and capable teenager did not dedicate himself to medicine. He was drawn to mathematics, but Emperor Nicholas I personally stood in the way. He issued a decree that blocked Botkin – a non-noble and a son of a merchant of not the highest class – the way to all Moscow University departments, except for the medical one. After a little hesitation, Sergey Botkin went to study for a doctor.
5. It is not known what mathematics lost, but medicine undoubtedly gained a lot: today, Sergey Petrovich is considered one of the founders – along with Zakhariev – of the national scientific medicine.
6. In summer of 1854, still being a student, Botkin took part in the elimination of the cholera epidemic in Moscow.
7. In 1855, Sergey Botkin graduated from the university and soon went to the Crimean War as a member of N. I. Pirogov's detachment. The second military campaign in which Sergey Petrovich participated was the Russo-Turkish War of 1877-1878, when Botkin, the court physician, accompanied Emperor Alexander II.
8. Sergey Petrovich Botkin trained abroad with the most famous doctors and scientists of that time: in Professor Hirsch's clinic in Koenigsberg, with R. Virchow in the Institute for Pathology in Würzburg, in the famous physician L. Traube's clinic in Berlin, with the physiologist C. Ludwig in Vienna, as well as in the laboratory of the researcher and physiologist C. Bernard. The list is too long – suffice it to say, Botkin's medical education and clinical practice were very versatile and extensive.
9. Botkin's first scientific papers were published in the journal now known as Virchows Archiv.
10. Botkin was one of the first to understand that a person is an integral whole, and the disease not only affects a particular organ, but affects the entire body through the nervous system. And only knowing this, it is possible to treat the patient correctly.
11. In 1859, Sergey Petrovich Botkin was invited to St. Petersburg Medical and Surgical Academy. The following year, he defended his dissertation Absorption of Fat in the Intestines, and a year later – at the age of 29! – became a professor of the Department's Therapy Chair and head of the clinic. In this position, he worked until his death.
12. They say that Botkin's daily routine was as follows: 10:00 – arrival at the clinic, 11:00 – chemical and microscopic studies carried out by students and young doctors, 13:00 – the beginning of lectures for students, 17:00 – 19:00 – evening rounds of the clinic, 19:00 –21:00 – lectures for associate professors. After his eleven-hour working day, Sergey Petrovich drove home, where he had dinner and prepared for lectures.
13. This busy schedule left little time for hobbies, but Dr. Botkin still practiced the cello for at least half an hour a day.
14. Sergey Petrovich's friend and fellow student Ivan Mikhaylovich Sechenov wrote in his diary, "No healthy people existed for Botkin, and every person who approached him interested him almost primarily as a patient. He watched the gait and facial motions; I think he even listened to the speech. Fine diagnostics was his passion, and he practiced its ways just as much as artists like Anton Rubinstein practice their art before concerts."
15. In 1874, Botkin organized a school for female practitioners, in 1876 – women's medical courses. Thus, Botkin actually advanced the cause of women's education.
16. Botkin was distinguished by, as we would now say, passionarity. He was no stranger to social activities as well. Quite the opposite: in 1878, Botkin was elected chairman of the Society of Russian Doctors. Sergey Petrovich chaired the society until his death. At the same time, Botkin was a member of the head department of the Society for the Care of Wounded and Sick Soldiers, a member of the St. Petersburg Duma and deputy chairman of the Public Health Commission of St. Petersburg.
17. Dr. Botkin became the first Russian court physician – before him, Russian tsars trusted only foreigners to treat them.
18. At Botkin's initiative, hospitals were built, sanitary condition of cities was improved, clinical and experimental laboratories were opened.
19. Botkin studied jaundice and identified its infectious nature – in memory of his works, it was named Botkin's disease.
20. The annals of medical jokes include Botkin's famous advice: he recommended a lady who was interested in weight loss exercises to turn her head from right to left and from left to right when a meal was offered. To another fat man, concerned about the same problem, he advised eating for one ruble a day, while earning this ruble himself.
21. "Death has taken away its most implacable enemy from this world," newspapers wrote on the day of Botkin's death.
22. Botkin's sons followed in their father's footsteps. Eugene Sergeyevich Botkin served as a court physician physician of Nicholas II's family and kept his Hippocratic oath to the end – before being shot in the Ipatiev House basement.