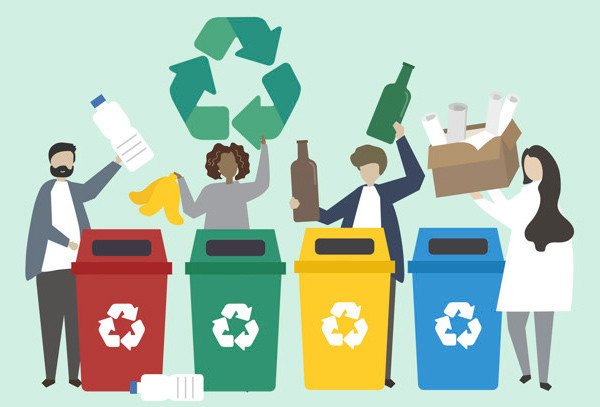 As early as by the end of the twentieth century, humanity encountered a number of global problems, one of which is definitely ecological. We consume resources, conquer new heights, without thinking about the consequences. The constant emission of car exhaust fumes, deforestation, and creation of large urban agglomerations, littering with waste has a bad effect on the all-mankind's standard of living. This is not a complete list of problems. While it is not possible to solve all of them at once, we can make a step in the right direction. 
As consumer opportunities increase, so does the amount of trash in landfills. According to expert data, the amount of trash in Russia alone reaches the territory size of Switzerland. It is known that every year mankind generates over 2 billion tons of solid municipal waste. By the year 2050 this figure could easily grow to 3.4 billion tons per year. According to the Ministry of Natural Resources and Environment, about 70 million tons of solid municipal waste is generated in Russia annually, and this figure is 3% higher every year. Only 5-7% of garbage is recycled, the rest is buried. It's scary to imagine! The ecology is under serious threat. Mankind is mired in refuse. It is difficult for the nature to enrich the Earth with useful resources because of the huge amounts of various wastes. Developed countries have been dealing with the problem of solid waste for many years. But it is worth noting that it will take several hundred years to improve the planet ecology with modern methods. Therefore, in order to continue "saving" the Earth from refuse, it is necessary to solve this problem wisely and engage in proper recycling and disposal of unnecessary things.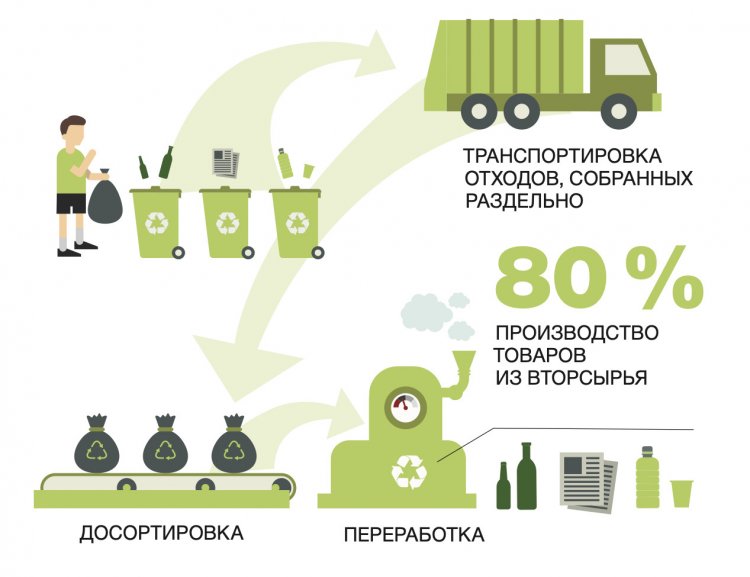 Recycling is a term that has not just entered the modern world, but has become a truly ecological concept today. But it is worth emphasizing that recycling does not mean burning garbage. Many types of waste release life-threatening substances – dioxins – at high temperatures. The most famous and toxic type of dioxins is called 2,3,7,8-Tetrachlorodibenzodioxin (TCDD). Nowadays, there are waste sorting facilities actively working in large Russian cities. These are special containers for recycling glass, plastic, paper. 
As for household appliances, they used to be replaced as needed when they were completely out of order. Today, the market offers consumers the opportunity to upgrade equipment as new models with improved functionality appear. Televisions, computers, washing machines, and other devices have become even more affordable, and consequently, people are more likely to buy new items without waiting for the old ones to break down. Besides, it is sometimes easier to replace a broken piece of equipment with a new one, especially if the warranty period has expired and repair requires the replacement of expensive parts. According to the Federal Law On Production and Consumption Waste, all non-hazardous components of household appliances must be sent for recycling, and the waste must be properly disposed of. By 2030, recycling will reduce the number of landfills in Russia by 75-80% – and hence reduce the number of waste deposits. Manufacturing companies are required to address the issue of non-operating equipment independently or with the help of third-party organizations and provide statistics in accordance with the Russian government decree N1342 dated 08.12.2015. On April 7, 2021, there will be about 100 collection points for household appliances across Russia, within the framework of the "Electric Spring-2021" program. You can bring any equipment, except batteries, rechargeable batteries, and printer cartridges, to the recycling points. This program will make it possible to reduce technical waste landfills. There are 243 recycling plants on the territory of the Russian Federation.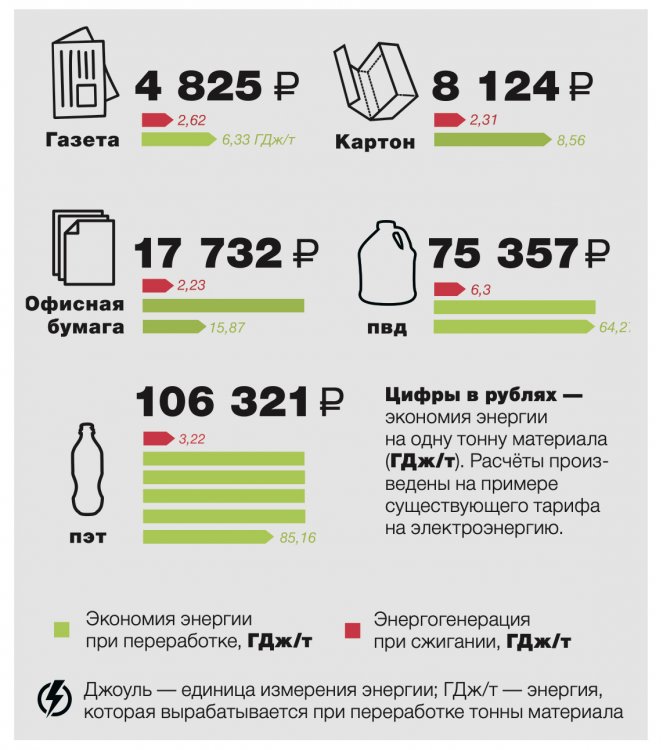 Unneeded clothes, shoes, and other clothing items are sent to charitable foundations, such as the Red Cross. But this only applies to intact and decent items without any extraneous damage. In case the item has lost its former look and it is inadmissible to give it to charity, then there are recycling points that use the method of recycling fabrics from different fibers or remainings of the production process materials. The main materials for such recycling are specifically discarded clothes, furniture, carpets, and other textiles.
In some European countries the sorting of household waste has been carried out since the end of the 20th century. For example, in Germany at least three containers are installed near each house, which are distributed for food waste, plastic and paper packaging. The glass for recycling is collected in special, publicly accessible, outdoor containers. Approximately 60-80% of the volume of sorted waste is sent for recycling or incineration plants to generate electricity, the remaining percentage of waste also goes to landfills. About 15% of the total raw materials used by industry in Germany are obtained by recycling. 
Japan is one of the countries in Asia pursuing total waste reduction. They recycle 90 percent of their waste, but they still continue to engage in this process. Having realized that it is impossible to recycle everything, Japan decided to follow the example of other countries and implement the "zero waste" program. "Don't throw it away until you've used it all!" the Japanese are convinced. For example, in the town of Kamikatsu, the government is introducing the idea of a complete rejection of disposable goods. Currently 60% of the population has already opted for reusable goods, which has significantly reduced the amount of waste. This kind of program should be established all over the world.
Main sources:
Greenpeace. What to do with refuse in Russia?
How to properly dispose of household appliances
What is made of waste clothes and shoes.
For the weight of trash: how the world manages recycling
Source of images in the text – Recycling
Source of images on the home page – FROM WASTE ON STREETS TO DEEP SORTING: THE WORLD'S BATTLE WITH WASTE (TASS)