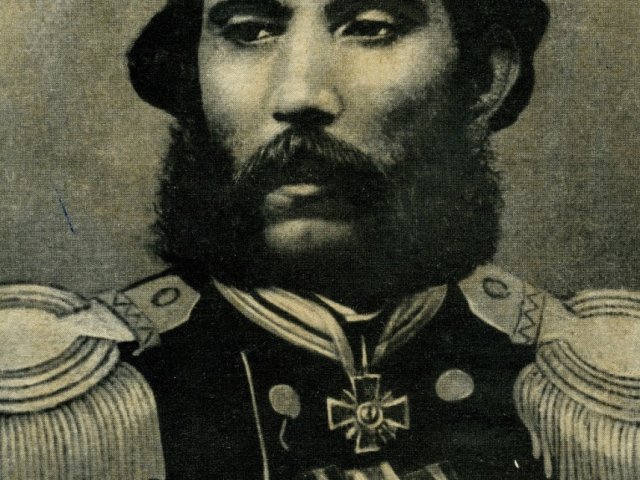 Official:
Pavel Matveyevich Obukhov. October 30 (November 11), 1820 – January 1 (January 13), 1869. Mining engineer, metallurgical scientist, who discovered a method for producing high-quality steel. The founder of a large-scale production of cast steel and steel gun barrels in Russia.
Life and Work:
1. Obukhov Plant in St. Petersburg is a legend of the country's industry. This is the plant that brought Russia to the leaders in terms of naval artillery. Obukhov Plant was probably the first one in Russia to receive its name not after the owner, but, in modern terms, after its chief technologist, chief metallurgist, and chief engineer at once Pavel Obukhov.
2. Pavel Matveyevich Obukhov was, as we would say now, a successor of the dynasty of workers and masters. His grandfather, Fyodor, despite having no education at all, rose from a hammerman to a master. His father, Matvey, was recognized as a skilled self-taught mechanic, who modernized Serebryansky Plant in the Urals, was appointed mining engineer, and then manager at Kushvinsky Plant.
3. Pavel was born to Matvey Fedorovich when he worked at Nizhneturinsky Plant in the Perm Province.
4. It is not surprising that with such heredity and family atmosphere, Pavel created drawings of dams, blacksmith's hammers, and forges from the age of six.
5. His passion for mechanics and mining led Pavel Obukhov to the St. Petersburg Institute of the Corps of Mining Engineers, from which he graduated in 1843 "best in graduating class" with a great gold medal.
6. Obukhov did not work as a supervisor at Serebryansky Plant in the Perm Province for long. The capable young man was sent to improve his education abroad, in Germany and Belgium, to study the latest technologies of iron, copper, and mechanical production. After that, Obukhov was appointed manager of Kushvinsky Plant.
7. There, Obukhov began the main work of his life: to make steel cannons for Russia. To do this, he continued the research initiated by the remarkable metallurgist Pavel Anosov, who discovered the secret of bulat steel.
8. By adding magnetite to so-called raw steel, Obukhov produced a steel plate that, at half the thickness, surpassed existing alloys when tested with shots.
9. In 1854, Obukhov was appointed manager of Zlatoust Arms Factory, the same factory where his predecessor and namesake, Pavel Anosov, produced bulat steel.
10. In Zlatoust, Pavel Matveyevich perfected the crucible method of producing cast steel. And he received a patent (called "privilege" at that time) for the method of mass production of high-quality crucible steel, which he had invented.
11. Cannons followed. Pavel Obukhov conducted his first experiments on rifle barrels. They tested them simply: just increased the dose of gunpowder in their own and control barrels. They competed with Krupp himself, then an authority in the steel industry. Krupp rifles burst at an eight-fold charge. And the Zlatoust ones withstood even a fourteen-fold dose.
12. In the late 1850s, Obukhov designed a project of Knyaz-Mikhailovsky Factory, meant to produce steel artillery pieces. The steel cannon factory was built in Zlatoust in 1859, and in 1860, for the first time in Russia, it began to produce steel cannons.
13. Russia got its own best artillery in the world: long-lasting, reliable, and in addition, almost three times less expensive. Obukhov was awarded another order and the rank of colonel. And it was decided to pay him thirty-five kopecks for each pood of the steel produced using his method. This made the metallurgist rich.
14. In 1861, Obukhov was elected a corresponding member of the Scientific Artillery Committee of the Main Artillery Directorate.
15. Obukhov's steel cannon, which withstood more than 4,000 shots without damage, was awarded a gold medal at the World's Fair in London in 1862. The gun was placed in the Artillery Museum, and an engraving on its barrel read: "Cast in 1860 at Knyaz-Mikhailovsky Factory from Obukhov's steel. Withstood more than 4,000 shots."
16. Zlatoust was not the best place to make cannons: far from the sea, hard to supply the finished products. It was decided to establish production near St. Petersburg. And the mining chief of Zlatoust Factory, Pavel Obukhov, went to St. Petersburg, where he was tasked with establishing a steel cannon plant.
17. The Maritime Department got the permission for the construction of the plant. In addition to the state capital, private capital was attracted. The work was entrusted to Obukhov Company, which, in addition to the metallurgist, included industrialist Nikolay Putilov and merchant Sergey Kudryavtsev.
18. The plant was put into operation in 1864, and four years later it began to generate profits. And the Russian Navy received its own naval artillery, the best in the world.
19. The "cannon king" Alfred Krupp offered Pavel Matveevich a good position at his factory, but Obukhov declined.
20. Hard work undermined Pavel Matveevich's health, and Obukhov was forced to resign. In autumn of 1868, he left for the Moldavian village of Piatra for treatment, but it was too late: he died on the first day of the new year 1869 (Julian calendar). Pavel Obukhov was laid to rest in Nikolsky Cemetery of the Alexander Nevsky Lavra. Now his tombstone is included in the List of objects of historical and cultural heritage of all-Russia significance.
21. In 1869, at Putilov's suggestion, the St. Petersburg plant, founding which consumed so much Pavel Matveyevich's effort, was named Obukhovsky Plant in honor of the merits of the metallurgist and engineer.
22. On the boarding naval cutlass M1856, it is possible to notice the abbreviation LSPO. The brand has perpetuated the name of the steel creator: it means "Pavel Obukhov's Cast Steel."