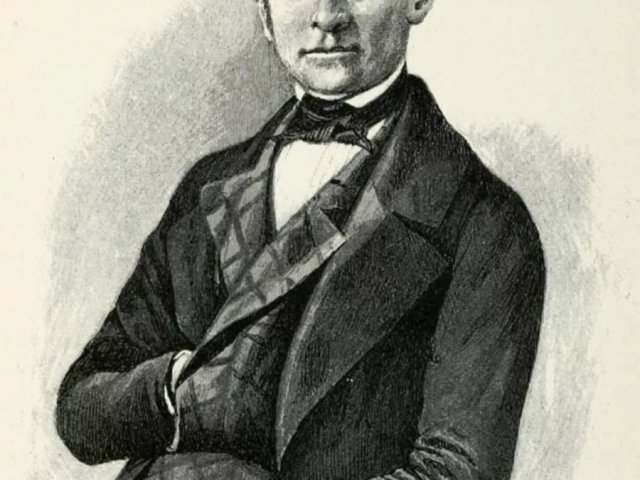 Official:
Leonty Filippovich Magnitsky. June 9 (19), 1669 – October 19 (30), 1739. Russian mathematician and teacher. Teacher of mathematics at the School of Mathematical and Navigation Sciences in Moscow, author of the first Russian textbook on mathematics.
Life and Work:
1. "What is arithmetic? Arithmetic, or calculus, is an honest, unenviable, universally understandable art of great use..." Today, no one doubts this postulate. But when Leonty Magnitsky published the very first Russian textbook on mathematics, it was very far from being universally accepted.
2. Where did this scientist come from? From the Ostashkovskaya patriarchal settlement on Lake Seliger, currently – the town of Ostashkov. According to some authors, at that time, his surname was Telyatin and he plowed the land with his peasant father since a very young age.
3. Leonty was a self-taught learner, he passionately studied various tricky things. After his death, a priest from Ostashkovskaya analyzed memories of him and concluded: "In his younger years, he was a minor and poor person, who earned his living with the work of his hands; he became famous here only because after having learned to read and write himself, he ardently liked to read in the church and study the complicated and difficult things."
4. According to another version, Leonty's uncle was Archimandrite Nektarius, the founder of Nilov Monastery. Allegedly, he gave the smart kid access to the monastery library.
5. Many events of Magnitsky's biography seem to be copied from that of Lomonosov, despite the fact that they happened half a century earlier. Just like Lomonosov, the peasant's son Telyatin left home with a fish caravan heading to Joseph-Volokolamsk Monastery. There, a literate boy was noticed and left at the monastery as a reader.
6. Then Leonty Telyatin was transferred to Simonov Monastery in Moscow, and the monastery superiors decided to train the smart young man to become a priest. That was how he got into the Slavic-Greek-Latin Academy – later, Lomonosov will enter it as well.
7. By the way, mathematics was not taught at the academy, but Leonty Telyatin took up studying it from foreign books and Russian manuscripts, simultaneously learning foreign languages to be able to read these books.
8. In the last decade of the 17th century, Leonty taught children in boyar homes and continued his self-education. As his contemporary put it, "he learned the sciences in a wondrous and unlikely way." It is claimed that Leonty Telyatin mastered Greek, Latin, German, French, and Italian on his own.
9. Meanwhile, Tsar Peter began to open educational institutions and gather intelligent people around him. Leonty Telyatin attracted the royal attention and made a strong impression with his powerful intellect and a broad outlook. Peter immediately appointed him teacher of the School of Mathematical and Navigational Sciences.
10. At first, Leonty Telyatin worked as an assistant to a teacher from England, but the Englishman was not good at teaching Russian Newtons and Nelsons. And Telyatin started to work independently.
11. It was there and then that he made an actual mathematical revolution – he stopped denoting numbers with Slavic letters and started to use Arabic numerals for the first time.
12. In addition, they changed Telyatin's surname – the tsar decided that he should be called Magnitsky. Why Magnitsky? His son Ivan explained it in the epitaph carved on Magnitsky's tombstone: "...and from His Majesty, due to his most pleasant and attracting disposition, he was granted the name Magnitsky..."
13. Also, Peter ordered to create the Russian arithmetic textbook. As the preserved record of the Armory Chamber states: "In 1701, on the 1st day of February, Leonty Magnitsky, born in Ostashkovskaya, was registered at the Armory Chamber and ordered to publish a book of arithmetic through his work in the Slavic dialect for the benefit of the people."
14. Arithmetic, That is, Science of Numerals from Different Dialects into Slavic Language Translated and Compiled into One, and Divided into Two Volumes was published in 1703 with a circulation of two thousand four hundred copies.
15. Just like Lomonosov, Leonty Magnitsky developed scientific terminology. It was he who introduced the words multiplier and divisor, product, million, quadrillion, and trillion into the Russian language.
16. However, it is not quite correct to call Magnitsky's book a textbook of mathematics. The voluminous work contains information on astronomy, geodesy, and navigation.
17. The textbook was so good that Peter was pleased to grant the peasant son nobility, villages in Vladimir and Tambov provinces and a house on the Lubyanka. Some of the tsar's gifts were quite exotic: for "incessant and diligent teaching work in navigation schools," the tsar-reformer awarded Magnitsky a "Saxon caftan."
18. Right on the title page at the very end of the long name, Magnitsky outlined to whom and for what this book was intended: "for the sake of teaching wisdom-loving Russian youths and people of all ranks and ages." Thus, he wrote a textbook for those who would like to learn just as he did – on his own.
19. Specifically for his Arithmetic, Magnitsky composed a poetic appeal: "Youth, take these flowers of wisdom...
Learn arithmetic kindly,
Follow different rules and things in it,
Because it is useful for citizenship and business...
It will help in the sky and at sea,
It is useful both at war and in the field."
20. When the Naval Academy was opened in St. Petersburg in 1715, the training in military sciences was transferred there. The Navigation School became a preparatory school, and Leonty Magnitsky was appointed its senior teacher. In 1732, he became headmaster of the school and kept this position until the last day of his life.
21. During the demolition of the church of the Grebnevskaya Icon of the Mother of God on Lubyanka Square in Moscow, Magnitsky's tombstone was discovered. The ashes of, as the inscription puts it, "the best mathematics teacher in Russia," rested in an oak coffin, and at the head of it was a glass inkstand shaped as a lamp and a half-rotted goose quill. His wife, Marya Gavrilovna, was buried next to him.