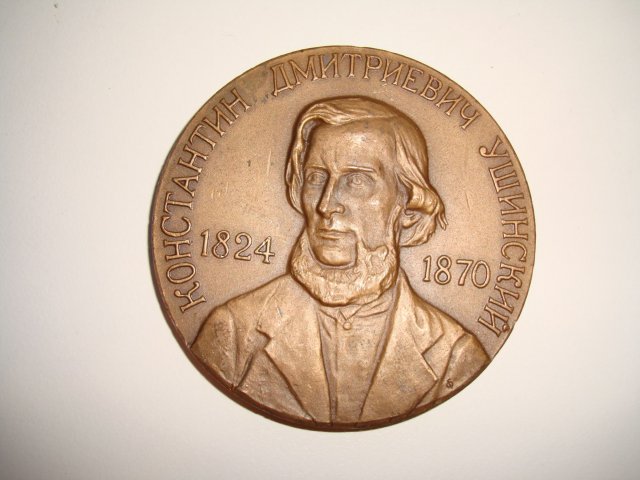 Official:
Konstantin Dmitrievich Ushinsky. February 19 (March 2), 1823 – December 22, 1870 (January 3, 1871). Russian teacher, writer, founder of scientific pedagogy in Russia.
Life and Work:
1. During the Soviet times, every city with a population of over 100 thousand people had a children's department store called Detsky Mir. Few people know that this name is a real monument to a great Russian teacher, Konstantin Ushinsky: it was he who wrote the book for initial reading Children's World (Detsky Mir).
2. The future founder of scientific pedagogy was born in Tula. His father, a retired officer, a participant of the 1812 Patriotic War, had the surname Voshinsky at the moment of birth, but he somewhat changed his family name to make it more sonorous.
3. The Ushinsky family did not stay in Tula for a long time. Dmitry Grigoryevich was appointed judge in the district town of Novgorod-Seversky, Chernigovskaya province, and so he bought an estate at four kilometers from the town. There, Kostya Ushinsky spent his young years on the banks of the Desna.
4. At home, Konstantin was taught by his mother. Her teaching was so successful that after her death the 12-year-old boy was immediately admitted to the third grade of a gymnasium in Novgorod-Seversky. "The long, low, shabby, blackened building... resembled, in the opinion of the surrounding landowners, a steam distillery rather than a temple of science: the old-framed windows were trembling, the rotten floors soiled with ink and worn out with heel nails were creaking and jumping; the split doors could only be closed improperly, the long old benches that had absolutely lost their original paint were cut and covered with writing by many generations of gymnasium students," Ushinsky recalled his gymnasium.
5. However, the level of teaching in that shabby building was excellent. "The education we received at that poor district gymnasium... was equal to or even better than that provided by many other gymnasiums at that time. It was largely due to the passionate love for science and even a somewhat pedantic respect for it of the late director of the N-gymnasium, an old professor whose name is also known to scientific literature: Ilya Fedorovich Timkovsky." Ushinsky is right: Timkovsky was a real scientist, a doctor of law and a retired professor at Kharkov University.
6. A graduate of the provincial gymnasium, Ushinsky entered the Faculty of Law at Moscow University. The achievements of the student of famous Granovsky and Redkin was such noticeable that, after his graduation from the university, he was left there to undergo training for professorship.
7. Young Ushinsky was one of the best representatives of his time, that is, he had broad interests and was no stranger to the problems occupying the representatives of progressive circles in the Russian society, for example, the problems of people's education.
8. "The embankment on the Volga is so good... the boulevard along which Streletskaya Street stretches on the right side of the Volga is good too; there is the Yurezovskaya confectionery on it. Ushinsky lives in the same building with this confectionery. We visited him and chatted for more than an hour." This record from the diary of playwright Ostrovsky dates back to April 1848 when Konstantin Dmitrievich was living in Yaroslavl and serving there as a professor of Yaroslavl Demidov Lyceum at the Department of State Laws and Institutions.
9. Ushinsky's career in Yaroslavl ended soon: his superiors were dissatisfied with the comradeship between the scientist and the students and his too significant influence on them. However, professor's great talents and excellent knowledge were recognized even by his violent critics.
10. In some time, Ushinsky continued his pedagogical activities at the Gatchina Orphanage and then – at the renowned Smolny Institute. Ushinsky was not purposefully trained in pedagogy, but reading pedagogical literature, his general education, his own experience and bold ideas soon stimulated Konstantin Dmitrievich to start writing articles for journals, including the Journal for Education.
11. Ushinsky made a significant contribution as a Smolny Institute inspector: thanks to scientist's efforts, they stopped dividing female students into "noble" and "ignoble," began to teach them in Russian and even opened a special pedagogical class to train future educators.
12. The institute superiors considered all these innovations free-thinking and sent Ushinsky abroad – to undergo treatment and study educational systems. Ushinsky was studying school, kindergarten, orphanage organizations in Switzerland, Germany, France, Belgium, and Italy.
13. According to the Brockhaus and Efron Encyclopedic Dictionary, "Ushinsky was ardently advocating the establishment of teachers' seminaries and spent a lot of time to compile books for reading and initial training: Children's World and Native Word." We should add that Children's World and Native Word are actually the first generally accessible textbooks for small children in Russia.
14. "Pedagogy is not a science but an art – the most extensive, complex, supreme and necessary of all arts. The art of education is based on science. As an extensive and complex art, it rests on many extensive and complex sciences; as an art, apart from knowledge, it requires skills and propensity, and as an art, it strives for an ideal that we struggle for but never completely attain: the ideal of a perfect person," believed Ushinsky.
15. Ushinsky's magnum opus is his work The Human as a Subject of Education: Pedagogical Anthropology. The first volume of The Human as a Subject of Education was published in 1868. The scientist did not manage to complete the third volume of his most important book.
16. During his last years, the scientist was seriously ill and treated with kumis in Crimea. Last time he did not reach Crimea, he caught a cold on his way there and stopped for treatment in Odessa. The founder of scientific pedagogy died there. He was buried in the Vydubychi Monastery in Kiev where his family were living at that moment.
17. Ushinsky's daughters honored the memory of their father. Vera Konstantinovna opened the City School named after K.D. Ushinsky for boys in Kiev at her own expense. Nadezhda Konstantinovna made good use of the funds she had raised from selling her father's works: she used them to open a primary school in the village of Bogdanka, Chernigovskaya province, where there was a house belonging to Ushinsky.