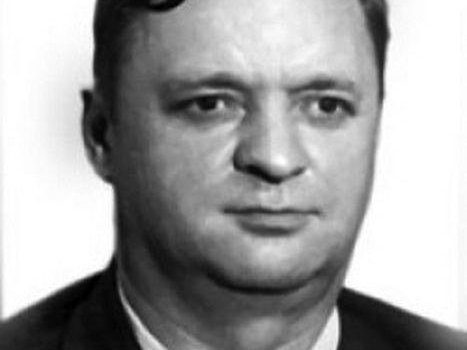 Official:
Kirill Ivanovich Shchelkin. 4 (17) May 1911 – 8 November 1968. Soviet physicist, First Chief Research Officer and Chief Designer of the Chelyabinsk-70 Nuclear Center, now the Russian Federal Nuclear Center – All-Russian Scientific Research Institute of Technical Physics, Corresponding Member of the Academy of Sciences of the Soviet Union, three times Hero of Socialist Labor.
Life and Work:
1. Alas, his name tells an uninquisitive contemporary very little: Kirill Ivanovich Shchelkin belongs in the extraordinary pleiad of nuclear physicists who forged a nuclear shield for our motherland.
2. Vladimir Gubarev, a famous science writer, figuratively called Shchelkin a "bomb keeper" as it was Kirill Ivanovich who issued a receipt of the first Soviet nuclear bomb RDS-1 from the assembly workshop. His colleagues later joked: "Where did you do with the bomb you issued a receipt for?"
3. The future combustion and detonation specialist was born in Tiflis where his parents, Ivan Yefimovich Shchelkin, a land surveyor from the Smolensk Governorate, and Vera Alekseyevna Shchelkina, a teacher from the Kursk Governorate, lived back then.
4. He moved with his family from Tiflis to Erivan and from there to Krasny, a town near Smolensk where his father came from. Kirill Shchelkin's childhood was nomadic as his son Felix later said. In Krasny, his family set up a farm and Kirill got used to working on the farm but it did not last long as his father contracted tuberculosis and the family of the future scholar had to move to Karasubazar (now Belogorsk) in Crimea where he attended the 6th grade at school.
5. After his father's death, Kirill Shchelkin had to work on a state farm but the talented boy did not abandon the school. However, he had much less time to solve problems from textbooks on mathematics and physics for high school.
6. For outstanding academic achievements at the faculty of physics and technology of the Crimean Pedagogical Institute, the graduate Shchelkin was awarded a pair of trousers. But he did not become a school principal in Yalta. He moved to Leningrad instead to take a position at the Institute of Chemical Physics and devoted himself entirely to science.
7. Before he departed for a new place of living, Shchelkin married his coursemate. The son and daughter of Kirill Ivanovich also became scientists: Felix developed nuclear weapons and Anna was a biophysicist.
8. His interview with the Director of the Institute of Chemical Physics Nikolay Nikolayevich Semyonov lasted all day. As a laboratory assistant, Shchelkin was given an allowance of 250 rubles, while his wife got a job of a school teacher and earned three times as much. "They slept at a laboratory. They spread a gray fur coat on a laboratory table and slept there," the scholar's son said.
9. "At the Institute of Chemical Physics, I found that my education had some serious gaps. In order to fill in the gaps, I attended mathematics and mechanics classes at the faculty of engineering and physics of the Leningrad Polytechnic Institute and took lectures for postgraduate students for three years from 1932 to 1935," Kirill Ivanovich later recalled.
10. Shchelkin was too modest because in 1938 he defended his Cand. Sc. thesis, titled Experimental Investigations on Conditions of Detonation in Gas Mixtures. The Academic Senate ruled: "The work by K. I. Shchelkin is a big leap forward in the science of combustion and shows that the candidate for a degree revealed not only a high qualification in combustion and strong experimental skills but also suggested a new original and rather grounded theory of detonation, having manifested himself an established independent scientist."
11. In addition to a purely academic interest, Shchelkin's works are of great practical value. Their findings were used by mine safety specialists, combustion, jet and rocket engine developers.
12. In 1946, Shchelkin defended his Dr. Sc. thesis and Kurchatov immediately invited him to join the nuclear project to test firing systems of nuclear bombs.
13. Shchelkin never concealed what he had done with the bomb. It was Shchelkin put a detonating charge into the RDS-1 bomb on the Semipalatinsk Test Site and it was also him who pressed the "Launch" button on 29 August 1949.
14. For this nuclear test, Shchelkin along with a team of other participants was given the first of the three Hero of Socialist Labor awards and scooped the first of the three Stalin Prizes.
15. It was Kirill Ivanovich who came up with an idea to establish a new research institute and found the future close city of Chelyabinsk-70, now Snezhinsk. With the city founded and the institute established, Shchelkin became the first chief research officer and chief designer of the institute.
16. Under the direction of Shchelkin, the Snezhinsk-based All-Russian Scientific Research Institute of Technical Physics developed and tested the first thermonuclear charge adopted by the Soviet Army. For that, Kirill Ivanovich received the Lenin Prize.
17. "Creativity was a necessity of his life. He was always successful thanks to his great powers of intuition, purpose, quest for something new, unknown, appetite for risk, insistence, amazing ability to work, I think. The father always set the highest goals for himself without fearing any difficulties and overcoming them thanks to his obsession in work, great passion for knowing the essence of things," his son Felix Kirillovich remembered the scientist.
18. The Snezhinsk institute was not named after Shchelkin. It was given to a Crimean town by the Sea of Azov where the Crimean nuclear power plant was once to be built.