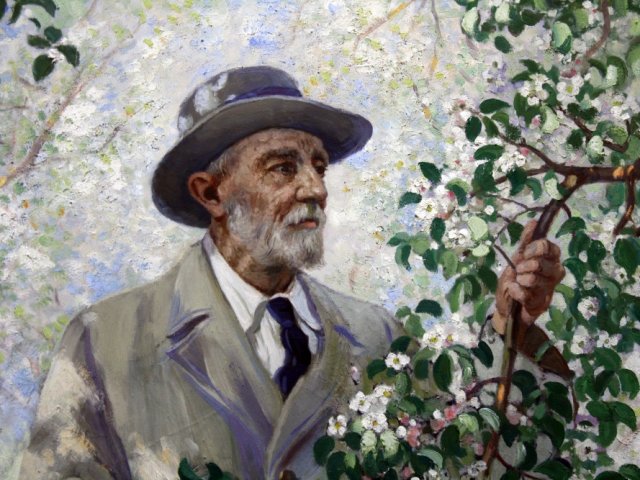 Official:
Ivan Vladimirovich Michurin. 15 (27) October 1855 – 7 June 1935. Russian biologist and plant breeder, creator of many sorts of fruit plants.
Life and Work:
1. "He was Adam and the first gardener, A friend of nature and a bastion of wisdom..." Nikolay Zabolotsky dedicated his poem Crowning with Fruits to the Russian biologist Ivan Michurin.
2. Everyone knows Ivan Vladimirovich. And those who do not know what varieties of fruit plants and berries the D.Sc. in Biology, honored scientist and engineer, recipient of the Orders of Saint Anna, Lenin and Red Banner of Labor created during his long life surely use such words, as "Michurinist" and "Michurinian."
3. Other than common nouns and the city in Tambov Region named after him, the exceptional Russian plant breeder left us a testament that every student of the Soviet school knows almost by heart. In the foreword to the third edition of his book The Results of Sixty Years of Work on Hybridization in the Field of Fruit Growing, the old Michurin concluded from his many years of work: "We must not wait for favors from Nature; our task is to wrest them from her."
4. Onomastics experts believe that the family name Michurin came from the pet name of Dmitry: Mitya – Michura.
5. The grandson and great grandson of the 1812 Patriotic War veterans was born at Vershina, a small manor near the village of Dolgoye, Pronsk Uyezd, Ryazan Governorate, where his father spent his retirement doing some gardening and beekeeping.
6. "Whether due to inheritance from my grandfather (Ivan Ivanovich) who put a lot of effort into a large garden... in the Ryazan Governorate, or probably from my great grandfather (Ivan Naumovich) who was also a famous gardener in the Kaluga Governorate still renowned for several varieties of pear called Michurinist, or the personal example of my father who also worked hard to set up a garden had a big impact on me back in the early childhood," Michurin wrote in his autobiography.
7. But it was not only the family devotion to gardening that impacted Michurin's life in the early childhood. The future scholar turned barely four years when his mother died. The father had to look after the orphaned Vanya. Together, the boy set and inoculated plants in the garden.
8. After graduation from the Pronsk Uyezd School, the father decided to teach Ivan an upper secondary course to make sure he would be admitted to the Saint Petersburg Imperial Lyceum. But Michurin did not become a student of Pushkin's Alma Mater as his father was slain by the soul's ailment.
9. Michurin did not stay at the Ryazan Gymnasium. Michurin was expelled "for disrespect for superiors" because Ivan did not pull the hat off his sore ear in front of the gymnasium principal in severe frost. Biographers claim that it was a mere pretext but the true reason was that his uncle, Lev Ivanovich, did not offer a bribe when he put a good word in for the future biologist's admission to the gymnasium.
10. The father's manor was sold to repay debts and the expelled gymnasium student had to look for a job. A rich neighbor, a landowner from the noble family von Derwies, helped Michurin get a clerk job at the cloth room of the Kozlov railway station of the Ryazan-Ural Railway. For an allowance of 12 rubles a month he had to work 16 hours a day. Later, Michurin was appointed an assistant station master. Afterwards, the future scholar spent 13 years as a watch and signal apparatus repairer of the same railway company.
11. By the age of 22, Michurin was married and had two children. The money was tight and Michurin opened a watchmaker in his apartment in Kozlov where he worked well past midnight. Amazingly, he still spared time to do gardening. Ivan Vladimirovich took a manor of 130 square fathoms with a neglected garden for three rubles per month and started plant selection works. Fairly soon, his small garden could not accommodate 600 some-odd varieties of fruit trees and berry shrubs anymore.
12. He had to take a new manor but it also ran out of free space for fruit trees very fast. With effort, Michurin borrowed some money to buy a land lot seven kilometers of the town, near the sloboda of Turmasovo on the bank of the Lesnoy Voronezh river. Today, this land lot is named perhaps the first breeding nursery in Russia. Plagued by lack of money, Michurin and his family members had to walk 7 kilometers with all plants and trees on their backs.
13. In 1906, Michurin published his first scientific works on breeding new varieties of fruit trees. The scientist's works were praised and he received the Order of Saint Anna, 3rd Class, in Russia. The United States wanted to buy his collection of plants and invited the plant breeder to move to America.
14. The church did not approve of Michurin's tests. "You turned the holy garden into the brothel," insisted a local protopresbyter demanding that the scholar should stop his plant cross-breeding experiments.
15. The World War I brought into trouble for both the country and the scholar. The cholera epidemic claimed the wife of Ivan Vladimirovich, while the flood followed by frost ruined his long-standing work. But Michurin endured and continued his work. And he succeeded as many hybrids, such as Belle Fleur cross-bred with the Chinese apple, a hybrid of Antonovka and Niedzwetzky's apple, the Ussurian pear cross-bred with Beurré Diel and so on, started bearing fruit during the same years.
16. Michurin accepted the October Revolution and decided to cooperate with the new regime. The uyezd land management department welcomed the scholar with open arms – they informed the People's Commissariat of Agriculture, provided guards for the orchard and offered the scientist certain benefits. The orchard was soon nationalized but Michurin was appointed its head.
17. By Lenin's order, Michurin visited Kalinin. Rumor has it that the "All-Union headman" offered the scientist anything he needed. In response, Michurin said: "I need another fifty years of life." The old plant breeder needed another fifty years of life to make his ideas come true.
18. Ivan Vladimirovich Michurin created over 150 new hybrid varieties, including 45 varieties of apple trees, 20 varieties of pear trees, 13 cherry trees, 15 plum trees, as well as varieties of black cherry, gooseberry, grapes, currants, apricots, walnut...
19. Legend has it that Michurin's last words were: "How is the most delicate Beurré?" Beurré, or Michurin Winter Beurré to be precise, is one of the pear varieties the scientist created.
20. In his later years, the biographer claims, Ivan Vladimirovich smoked own planted tobacco only. Michurin cultivated several tobacco varieties.
21. Ivan Vladimirovich had a town where he spent nearly all his life named after him while he was still alive. More than a dozen monuments have been erected in different cities and villages across Russia.