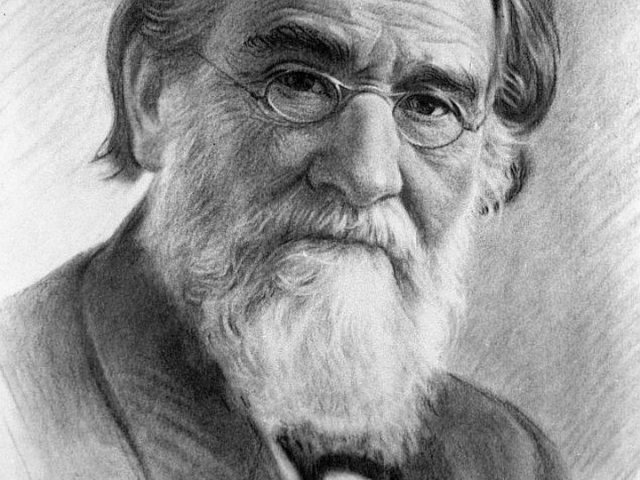 Official:
Ilya Ilyich Mechnikov. May 3 (15), 1845 — July 15, 1916. Russian biologist, microbiologist, cytologist, embryologist, immunologist, and physiologist. Honorary member of the St. Petersburg Academy of Sciences. Winner of the Nobel Prize in Physiology or Medicine. Advocate of prostokvasha [sour milk].
Life and Work:
1.
He who knows science onside out
Tells us haughtily
That the caecum is more valuable
Than any kind of philosophy,
That some sour milk
Can give us undoubtedly
Prosperity and freedom of mind.
This verse was written by Fyodor Sologub in 1913 after he attended a lecture by Ilya Ilyich Mechnikov.
2. On his father's side, Ilya Mechnikov came from an old Moldavian boyar family. The ancestor of the scientist, George Stefan Spatarul, was an associate of Dimitrie Cantemir and came to Russia with him. "Spatarul" is translated from the Moldavian "squire" or "swordsman", and in Russia the associate of the Moldavian prince received the name Yuri Stepanovich Mechnik [swordsman].
3. Mechnikov's maternal grandfather is the Jewish publicist and educator Löb Nevakhovich, author of the famous book Lament of the Daughter of Israel, published in St. Petersburg when Pushkin was an infant.
4. The older brothers of the Nobel laureate are also notable in history: Lev Ilyich Mechnikov was a geographer and sociologist, but an anarchist in his views and a member of the national liberation movement in Italy. Ivan Ilyich Mechnikov was a respectable official, prosecutor of the Tula District Court. He became a part of the great literature: he is considered the prototype of the character in the story by L. N. Tolstoy The Death of Ivan Ilyich.
5. The youngest son of a retired guard officer, Ilya Ivanovich Mechnikov, was born in his father's estate of Ivanovka, the Kharkiv province, where the family had to live when they didn't have enough money to live in St. Petersburg.
6. Young Ilya was interested in biology from childhood, fancied himself a real scientist, compiled herbaria, wrote essays on botany, and gave all his money to his brothers and other children so that they would agree to listen to his lectures. Later, he didn't have to pay his audience to attend his lectures. Some people were so impressed they wrote poems about them, as did Fyodor Sologub.
7. After graduating with a gold medal from the 2nd Kharkiv Men's Gymnasium, Mechnikov entered Kharkiv University. Then he trained in Germany, studied invertebrate embryology in Italy. Mechnikov was not elected a professor at the Military Medical Academy, and he moved to Odessa. Now Novorossiysk University, where Mechnikov worked, became Odessa University and bears his name.
8. In protest against the reactionary policy in the field of education, Mechnikov resigned and in cooperation with N. F. Gamaleya founded the second in the world and the first Russian bacteriological station to fight infectious diseases.
9. For many years, Mechnikov was engaged in comparative and evolutionary embryology and became, together with Alexander Kovalevsky, one of the founders of this branch of science.
10. In 1882, Mechnikov described phagocytosis, a process in which special blood and tissue cells capture and digest solid particles. The scientist called these cells, which protect the body from bacteria, viruses, and other harmful bodies, phagocytes. To this discovery, Mechnikov was pushed by an ordinary splinter.
11. Based on this discovery, Mechnikov created the phagocytic theory of immunity and was awarded the prestigious Nobel Prize for it. In 1908, Ilya Ilyich received a telegram from Stockholm, in which he was asked to appear on time, and also to explain which country he represented — France or Russia.
12. The Nobel Committee had all grounds to doubt: back in 1887, Mechnikov left Russia and moved to Paris to work in the laboratory of the institute created by Louis Pasteur.
13. Mechnikov never cut ties with Russia. In 1911, the scientist led an expedition of the Pasteur Institute to Russia during a plague outbreak.
14. Poet Fyodor Sologub got everything right — Mechnikov was interested in the mechanism of ageing his whole life. The scientist believed that we age and die prematurely because our body poisons itself with microbial and other toxins.
15. Mechnikov considered Lactobacillus bulgaricus a cure for old age and pessimism, and therefore promoted the sour-milk diet all his life.
16. Ilya Ilyich was married twice, and therefore science almost lost an outstanding figure twice. After his first wife's death from tuberculosis, the despaired Mechnikov drank a huge dose of morphine. Fortunately, the portion was too large, and he threw up. When his second wife fell ill with typhus, the scientist injected himself with the bacteria of relapsing fever. He fell seriously ill but recovered. As well as his wife.
17. Employees of the Pasteur Institute like to say that they work under the supervision of three "chiefs" - Pasteur, Roux, Mechnikov. And this is true — the graves of these scientists are located on the territory of the Pasteur Institute. Ilya Ilyich bequeathed to use his body for medical research, followed by cremation and burial on the territory of the Pasteur Institute. The scientist's will was fulfilled.
18. Mechnikov was not forgotten in Russia either. His name is given to the North-Western State Medical University in St. Petersburg. Since Mechnikov created the first Russian school of microbiologists, immunologists, and pathologists and actively participated in the creation of research institutions to combat infectious diseases, it is quite natural that several bacteriological and immunological institutes bear Mechnikov's name.
19. A monument depicting the scientist at a lectern with a microscope is also installed in St. Petersburg near Peter the Great Hospital. It's not surprising — in the USSR, the hospital was named after Mechnikov. On the monument, you can read the words by Ilya Ilyich "There is nothing incomprehensible in the world, much has not been understood yet."