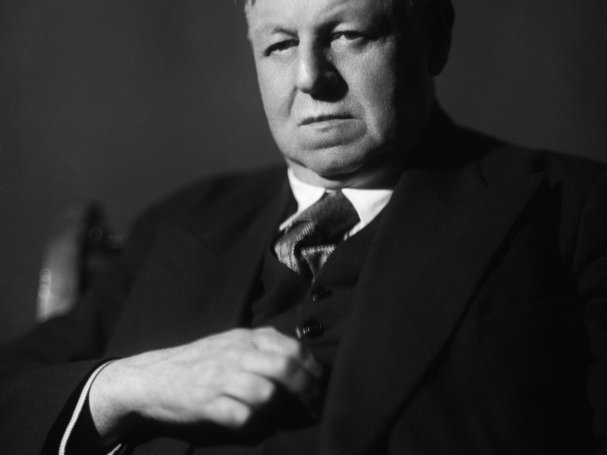 Official:
Yevgeny Viktorovich Tarle. October 27 (November 8), 1874 –January 5, 1955. Russian and Soviet historian, academician of the USSR Academy of Sciences. Popular biographer.
Life and Work:
1. At Yevgeny Viktorovich Tarle's anniversary, someone teased the poet Samuil Marshak suggesting that he would not manage to find a rhyme to the celebrant's surname. To this, Marshak immediately replied:
"In one go, historian Tarle
Could write (like me into one's album), Huge volume 'bout any Charles
And any Louis at random."
2. If you remember this rhyme, you will never misplace the accent when pronouncing the name of the remarkable Russian scientist Academician Tarle. Many people pronounce it incorrectly: they say that at the first lecture on the new history of Europe and North America, which he delivered to the first-year students of the Department of History and International Affairs of MGIMO in the fall of 1951, he said, annoyed, "My name is not TarlE – it is TArle, for I am not a Frenchman, but a Jew." The phrase betrays the scientist's remarkable courage: the anti-Semitic campaign was gaining momentum, and the "doctors' plot" case was not far off.
3. Indeed, Yevgeny Tarle was born in Kyiv to a Jewish merchant family and was named Grigory Vigdorovich at birth. It was under Alexander II – in 1874.
4. His father, Vigdor Tarle, did not pay much attention to running his store, leaving it to his wife. He was attracted to intellectual work: for example, translating Dostoevsky into German. His wife was from an educated family, where men had studied and interpreted the Talmud for generations.
5. Today in the city of Kherson there is a street named after Academician Tarle. This is no accident: the future scientist spent his teenage years there and graduated from the 1st Kherson Gymnasium.
6. Grigory Tarle's elder sister lived in Odessa. A meeting, which proved fateful for the future academician, happened in her house: the famous historian Professor Fyodor Ivanovich Uspensky advised him to enter the Department of History of Novorossiysk University.
7. Tarle did not stay long in Odessa. Uspensky introduced the capable lad to Kyiv University Professor Ivan Vasilyevich Luchitsky. And by the end of the first academic year, Tarle moved to Kyiv to study.
8. In Kyiv, in the St. Sophia Cathedral, Gregory Tarle was baptized into the Orthodox faith with the name Yevgeny. He did that for the most romantic reason: he had loved his future wife, an Orthodox, since high school. Then they got married and lived happily for the next sixty years.
9. Yevgeny Tarle's youth was stormy: he was a member of a social-democratic organization, was arrested at its meeting and sent under police supervision to his parents' place of residence, Kherson.
10. "Politically unreliable" Yevgeny Viktorovich was banned from teaching at imperial universities and state-run gymnasiums. Prominent professors asked for some favors, but just as Tarle was allowed to work as a private assistant professor at aт hourly basis at St. Petersburg University, the 1905 revolution broke out. The private assistant professor did not stay away from it. He was arrested and kicked out of the university with a scandal.
11. This time, the disfavor did not last long. On October 18, 1905, Tarle was wounded by a mounted gendarme's saber at a rally in support of the Manifesto of October 17, 1905, which proclaimed political rights and freedoms. The Manifesto declared amnesty for all politically unreliable people, and Tarle was able to return to St. Petersburg University, where he taught, albeit intermittently, for many years.
12. Political and scientific activities got along just fine: even before the revolution, Yevgeny Viktorovich defended his doctoral dissertation and published several volumes of works.
13. Tarle approved of the February Revolution, but not of the October Revolution, although he refused to emigrate and did not accept professorship at the Sorbonne.
14. In 1927, Moscow University Professor Tarle was elected a full member of the USSR Academy of Sciences.
15. Almost immediately, persecution followed: Marxist historians denounced his works as class-alien, their author as a proponent of French and British imperialists.
16. In January 1930, Tarle was arrested for the Industrial Party Trial and the Academic Trial. He was exiled to Almaty for five years. Stalin rescued the scientist – he wanted to use Yevgeny Viktorovich as a court historian.
17. In 1936, Tarle published his most famous book, Napoleon. Stalin liked it, and soon a government courier arrived at Tarle's home and handed over a package. The inscription, made in the best friend of historians' hand, read, "To Academician Tarle." Yevgeny Viktorovich immediately got the academic title back.
18. No one interfered with Tarle's work anymore. Before the war, he published a biographical book Talleyrand; during the war – The Crimean War in two volumes.
19. During the war, Yevgeny Tarle was evacuated to Kazan and worked as professor at the History Chair of the Department of History and Philology of Kazan University.
20. In 1942, Academician Tarle was included in the Extraordinary State Commission for the Establishment and Investigation of the Atrocities of the German Fascist Invaders and Their Accomplices and the Damage They Caused to Citizens, Collective Farms, Public Organizations, State Enterprises and Institutions of the USSR (ChGK). The commission's acts were one of the most important pieces of evidence for the prosecution in Nuremberg.
21. Today many people accuse Tarle of romanticizing Napoleon to the detriment of historical truth. But the important thing is: Tarle's literary talent introduced those who knew little about science to history.
22. According to experts, Tarle was somewhat frivolous with the facts, and his scientific works contain inevitable distortions for the sake of ideology. Nevertheless, Yevgeny Viktorovich's contribution to historical science is not in not questioned today: the Russian Academy of Sciences awards the Tarle Prize for outstanding scientific work in the field of world history and the modern development of international relations.