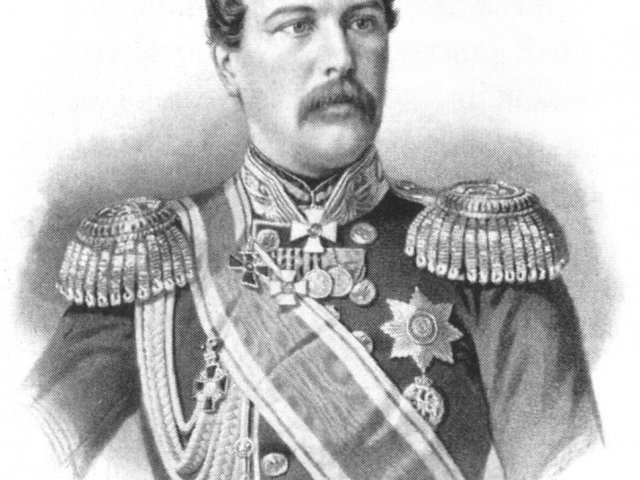 Official:
Eduard Ivanovich Totleben. May 8(20), 1818 – June 19 (July 1), 1884. Military engineer, builder.
Life and Work:
1. A remarkable monument has stood on Istorichesky Boulevard in Sevastopol for over a hundred years. Bronze warriors of six different branches trooped around the pedestal: a deminer in an underground gallery, a gunnery sailor, attacking soldiers. An attentive beholder will see a bronze map of Sevastopol fortification during the Crimean War. The monument is crowned by the figure of a general, and, on the back of the pedestal, one can read who it is and which of his achievements are honored by the monument and by the medals he is wearing. "Adjutant general, count Eduard Ivanovich Totleben. Awarded by the Order of St. George (Third Class) to honor his hard work on Sevastopol fortification, which is an example of fine engineering, and to reward his outstanding bravery at rebuffing the attack."
2. During World War II, the monument was hit by a missile and lost its head. It was restored in 1945.
3. Real Eduard Totleben managed to avoid losing his head during battles and wars: The Crimean war and the Russo-Turkish War.
4. The most prominent military engineer of his time, the author of scientific works and an honorary member of Russian and foreign academies was born in Courland, in Jelgava, which is now Latvian. His father was a descendant of a poverty-stricken German clan.
5. As a child, Eduard enjoyed building castles, and, having noticed his son's talents, Eduard's father sent him to St. Petersburg Engineering School.
6. A heart disease prevented Totleben from finishing the full course, but not from building his career.
7. The young man turned out to be a gifted engineer. He was not yet 30, when he developed a system for handling the enemy's mine tunnels and received his first medals for it.
8. Totleben managed to take part in several expeditions of the Caucasian War. Upon return from the Caucasus, he settled in St. Petersburg and married Viktorina von Hauff, a daughter of Hessen-Darmstandt Council General in St. Petersburg. They had three sons and ten daughters.
9. Eduard's talent came in full swing during the Crimean War. "Active, sensible and brave," Totleben's commanders said about him. He distinguished himself at the siege of Silistria and was sent to help the Crimean army.
10. Foreseeing the long and difficult defense of Sevastopol, Totleben even wrote a goodbye letter to his wife. But it did not prevent him from building fortification structures day and night.
11. Thanks to these bastions and forts, erected under the supervision of Engineer Colonel Totleben, the enemy's attack on the city did not succeed and had to be turned into a siege.
12. The enemy tried to blow up Sevastopol fortification, but found a network of mine galleries prepared by Totleben. They say that admiral Nakhimov often repeated, "We would have perished without Totleben, definitely perished."
13. With a wounded leg, Totleben continued to supervise the works for as long as he could. And only abrupt worsening of his condition made him leave Sevastopol.
14. After the fall of Sevastopol, the issue of the defense of Nikolaev was raised. Totleben's explanatory note on fortification of Nikolaev is the most precious scientific work of Eduard Ivanovich. His military experience gave him ideas that became breakthrough in the art of fortification. Even France did not have it, with all its experience of Napoleon's wars.
15. Between wars, Totleben studied military arts in Europe and was Head of the Engineering Department of Russia's Military Establishment.
16. Eduard Ivanovich taught combat engineering to infantry and reequipped Russian fortresses from the Black Sea to the Baltic Sea. He managed and supervised fortification of Sveaborg, Dinaburg, Vyborg, Kronshtadt, Nikolaev, Kerch and so on.
17. The Russo-Turkish War of 1877-1878 made Totleben world famous. He no longer warded off an attack but was in charge of the siege of Plevna. Three violent attacks failed, but after a siege, skillfully organized by Totleben, Plevna went down.
18. Our Bulgarian brothers thanked Eduard Ivanovich by naming a village and a boulevard in Sofia after him. And a monument to Totleben was erected in Plevna.
19. Totleben's homeland also thanked the great military engineer: he was awarded the Order of St. Andrew the Apostle and given the title of count.
20. In later life, Totleben did not retire, but remained at the state service as a member of the State Council, Governor General of Odessa and Commander of Troops of the Odessa Military District, and later on Governor General of Vilna, Grodno and Kovno and Commander of Troops of the Vilna Military District.
21. In his estate in Kėdainiai in what then was Northwestern Krai, Totleben made a park with a palace and a minaret resembling the one in Plevna to honor the memory of the Russo-Turkish war.
22. There in Kėdainiai he passed away. He was later on reburied in the Brethren Cemetery in Sevastopol.