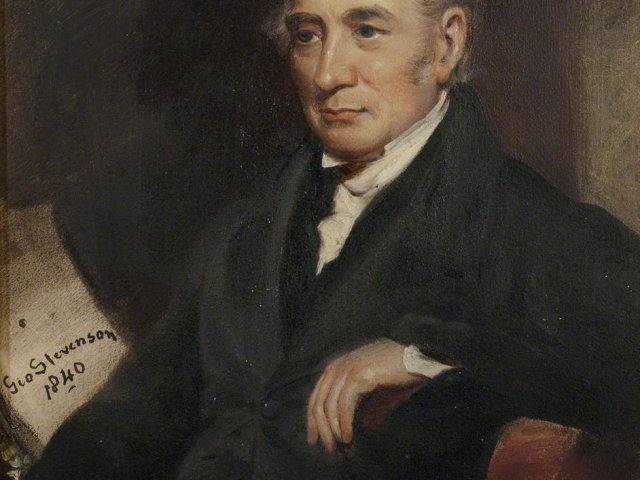 Official:
George Stephenson. June 9, 1781 – August 12, 1848. English inventor, mechanical engineer. Is considered to be one of the "fathers" of railway communication.
Life and Work:
1. According to an English saying, the Brits write Manchester and read Liverpool. In 1830, the connection between the two English cities became even more solid. George Stephenson linked them with the world's first railroad.
Strictly speaking, the first public steam railroad ever was Stephenson's first try – the Stockton and Darlington railway.
2. English inventor, creator of one of the first steam trains and builder of the first railway George Stephenson was born in the era of animal-drawn transport – on the 9th of June, 1781.
3. His biography is a model of perseverance and a fairytale about a pauper who became a prince thanks to his own efforts. Stephenson was a miner's son. When he was eight, instead of going to school, he went to work in a mine.
4. Stephenson learnt to read and write when he was already an 18-year-old adult. Quite independently, he mastered the profession of a mechanic and grew to be chief mechanic of a coalmine without anyone's help. Along the way, he invented the Geordie lamp and solved the task of transporting coal from a mine by using a steam machine.
5. A steam machine for coal transportation was just a step away from a steam train, and Stephenson took this step. He designed his first ever locomotive in 1814.
6. Since then, Stephenson's life was inseparable from steam trains and railways – even though the first real railway for passengers only happened eleven years later. Before that, Stephenson's locomotives hauled trolleys with coal in mines.
7. In September 1825, Locomotion #1, designed and driven by Stephenson, went along the Stockton and Darlington railway. It cheerfully hauled cars with coal, flour and the acceptance committee.
8. Then Stephenson encroached on Manchester and Liverpool and designed a railway between them, including bridges and viaducts smoothing down the longitudinal profile of the way.
9. It was Stephenson who chose the track gauge to be 1435 mm, which is now accepted in all Western European countries. It is called Stephenson gauge.
10. By that time, locomotive building in England was going full blast, and Stephenson had to participate in a tender. In October 1829, the only one in human history speed race among locomotives took place – the so called Rainhill Trials. Besides Stephenson's brainchild, the following locomotives toed to the starting line: Novelty, Sans Pareil, Cycloped and Perseverance. Cycloped was horse-powered.
11. Stevenson's steam train, prophetically called Rocket, was the clear winner and got accepted for operation.
12. In 1836, Stephenson opened a design bureau in London, which became the research and development center of railway construction.
13. However, not all and not always went smoothly. Stephenson sometimes had to run ahead of the train and dispel villagers who tried to break down the machine.
14. One of the committees asked Stephenson: would animals be afraid of the red-hot funnel and burner of the locomotive. Stephens was quick to answer: no, they would think the funnel and burner are painted red.
15. Locomotives were also built in other countries according to Stephenson's design.
16. George Stephenson's son Robert actively participated in his father's project since young age, and later became a well-known locomotive engineer.
17. Stephenson's student Joseph Locke surpassed his teacher and became chief engineer of many railways in England. He sometimes won tenders from Stephenson – unlike his student, Stephenson offered reliable but more expensive projects.
18. Hardworking Locomotion #1 can until now be found in the Darlington Railway Museum. It was used to haul cars until as late as 1857, when it was put to well-deserved rest.
19. To commemorate the 150th anniversary of the Rocket train, its acting copy was built in the United Kingdom in 1979. It differs slightly from the original by its shorter funnel. It is not an accident: the roadbed in Rainhill became much higher in 150 years, and the old rocket would not have been able to pass under a bridge.
20. Any Brit had the chance to see Stephenson's face since 1990 till 2003. For that, Albion dwellers did not have to open an encyclopedia, only their wallet. George Stephenson's portrait was on 5-pound banknotes those years.