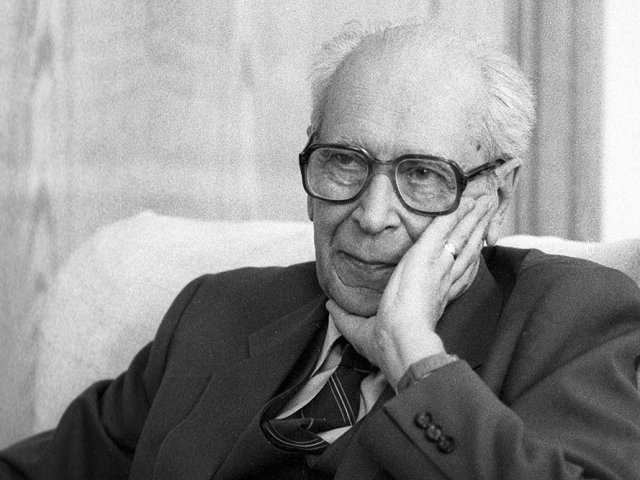 Official:
Dmitry Sergeyevich Likhachov. November 28, 1906 – September 30, 1999. Russian philologist, culture scholar, art critic, academician of the Russian Academy of Sciences (before 1991 – USSR Academy of Sciences).
Life and Work:
1. "Regarding morals, live as if you will die today, work as if you are immortal." Indeed, Dmitry Sergeyevich Likhachov lived as if he had to die that day, and worked as if he was immortal.
2. The future academician and famous scientist Dmitry Sergeyevich Likhachov was born on November 28, 1906 in St. Petersburg – as he wrote himself, in an average family of intellectuals: his father served as an electrical engineer.
3. Likhachev was one of "May beetles" – that is how students of Karl Ivanovich May's school proudly called themselves. The school was really outstanding – more than 30 of its graduates have become academicians and corresponding members.
4. In 1923, after the revolution, Dmitry Likhachov entered the Linguistics and Literature Division of the Department of Social Sciences of Leningrad University.
5. In 1928, for participation in the student organization Space Academy of Sciences, was arrested and sentenced to five years for counter-revolutionary activities. The counter-revolutionary activities were essentially a report on the old Russian orthography, which Likhachov delivered. However, the words were seditious for that time: he considered the old Russian spelling "trampled and distorted by the enemy of the Church of Christ and the Russian people."
6. As he put it himself, Dmitry Sergeevich lived in three cities only – in St. Petersburg, Petrograd, and Leningrad. Of course, from a formal point of view, this is not true: Likhachov served his sentence in the Solovki Special Camp and in Belbaltlag.
7. Likhachov published his first scientific work while still at the camp: it was published in 1930 in the Solovetskiye Ostrova [Solovetsky Islands] bulletin. It was titled Criminals' Card Games.
8. In 1932, Dmitry Sergeyevich Likhachov was released. In 1936, at the request of President of the USSR Academy of Sciences Alexander Petrovich Karpinsky, his criminal record was removed.
9. In 1938, Dmitry Sergeevich got a job at the Institute of Russian Literature of the USSR Academy of Sciences, that is, the Pushkin House.
10. Likhachov lived in Leningrad with his wife and tiny twin daughters during the first terrible winter of the siege. Not only lived, but worked: he defended his thesis Novgorod Chronicles of the 12th Century and published his first book Defense of Ancient Rus Cities, written in collaboration with M. A. Tikhanova.
11. Dmitry Sergeyevich's father died of starvation, while the scientist managed to take his family to Kazan via the Road of Life.
12. Once in the What? Where? When? game show, experts were asked to name Academician Likhachov's favorite word. The educated experts did not find it difficult – the ancient Rus history specialist's favorite "word" was "The Tale of Igor's Campaign" [in Russian, "word" is homonimous to "tale" in this case].
13. In 1950, The Tale of Igor's Campaign, translated and commented by Likhachov, was published as part of the Literaturnye Pamyatniki series. By that time, the commentator and translator had already defended his doctoral dissertation and became an associate professor at Leningrad State University.
14. Later, Likhachov initiated the publication of the five-volume Encyclopedia of the Tale of Igor's Campaign.
15. Dmitry Sergeyevich Likhachov introduced hundreds of monuments of ancient Rus's literature into scholarly discourse and for many years headed the Ancient Rus Literature Department of the Pushkin House.
16. Textology, a fundamental work by D. S. Likhachov, is a reference book of all philologists.
17. But this is not all about Likhachov. Since the fifties, he had been trying to preserve historical and cultural monuments, and introduced the expression "ecology of culture." He fought for Nevsky Prospekt and saved its architectural appearance, saved the Park of Peterhof, prevented the construction of the Peter the Great skyscraper on Vasilievsky Island.
18. Likhachov also wrote about the St. Petersburg skyline, that is, about the predominance of horizontals over verticals. His Declaration of the Rights of Culture is one of the greatest ideas of the twentieth century. It has not yet been adopted, but it will be – in the third millennium, the Declaration of Human Rights alone is no longer enough for the planet to exist.
19. "Education and intellectual development are the very essence, the natural state of a person, while ignorance and lack of good manners are abnormal states for a person. Ignorance and half-knowledge are almost a disease." He had the right to say so – a great scientist and a real intellectual, he coined the phrase "One cannot fake being an intellectual."
20. Likhachov was showered with honors and awards, titles and regalia. Through hardships he reached the stars, and this is not a figure of speech: a planetoid was named after Likhachov. He is not forgotten on Earth either: the year of his centenary was declared the Year of Likhachov in Russia.