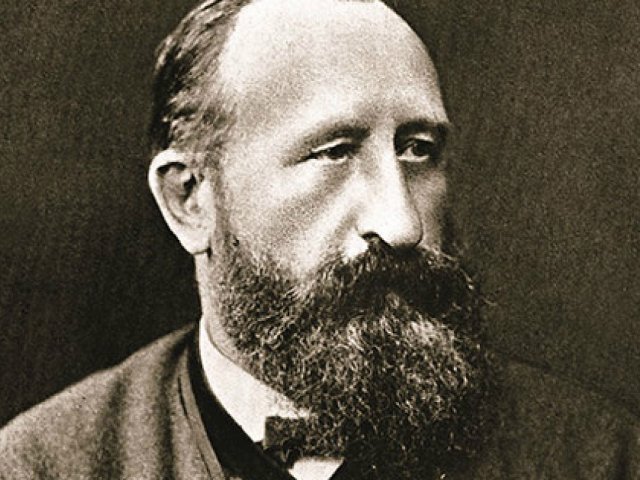 Official:
Alfred Edmund Brehm. February 02, 1829 – November 11, 1884. German zoologist and traveler. Animal life describer.
Life and Work:
1. "Nature is a theater of animal life" – this is how the first chapter of the book that made its author famous starts. The main work of Alfred Edmund Brehm has the same title – Brehm's Life of Animals.
2. In Egypt, where Brehm lived for almost 18 months, Arabs considered him to be their kind and assured that the naturalist's real name was I-bra-hem, i.e., Ibrahim. They refused to call the scientist Alfred, the name his parents had given him, as it resembled the Arabic word "afreid" meaning "devil."
3. The father of the future scientists was called "bird's pastor" by the local peasants at Unterrenthendorf, a village in the German Duchy of Saxe-Weimar-Eisenach, i.e., the current Thuringia. Christian Ludwig Brehm is still famous as an ornithologist. He brought together a collection of 9,000 European birds.
4. Alfred, or Brehm the younger, got a rifle for his 8th birthday. The same day he shot a reed bird. While walking in nearby forests, the pastor told his sons about nature and introduced them to local flora and fauna.
5. The pastor's family were interested in other sciences, moreover, children were taught fine arts. Therefore, it was not surprising that Alfred and his brother wrote a comedy and that he first of all chose architecture as his career.
6. However, Alfred Brehm never constructed buildings. He was 17 years old when Johan von Muller, a German zoologist, hired him as a secretary and took him to the field trip to Africa.
7. Brehm traveled around the Black continent for 5 years. He experienced various troubles – he suffered from severe fever, almost turned over on Nubian rifts, was close to be killed by local tribes' darts and a wounded hippopotamus, stayed penniless, lost his brother who drowned literally in his sight.
8. Nothing stopped the young scientist and he continued his research. "Science is irresistibly attractive in itself, and it rewards its admirers by the satisfaction they experience when serving it," Brehm wrote back then.
9. The naturalist's ability to tame wild animals surprised the locals so much that they called Brehm a sorcerer.
10. When Brehm returned from Africa, he brought his diaries and two monkeys. The scientific outcome of the field trip was so significant, that the young scientist was immediately granted membership at Leopoldina, the German Academy of Natural Sciences.
11. Upon return to Germany, the scientist began writing Travel Essays of North-East Africa and entered the University of Jena because he needed to complement practice with theory. His university-mates gave him a nickname of the Pharaoh. Instead of the doctor's thesis in Latin, Brehm presented his Travel Essays and received a doctoral degree.
12. The newly-minted doctor went on a 2-year research trip to Spain. Later the geography of his trips expanded to include Norway and Lapland. Then he went to Africa again, this time to Abyssinia. Over the 55 years of his life Brehm saw almost half the world – he visited Hungary and Silesian Mountains, West Siberia and Turkestan.
13. In the intervals between his trips Brehm systematized his collections, wrote scientific articles for specialized periodicals and popular science books. Brehm's books were characterized by lively language, yet by a serious scientific approach.
14. In 1863, the recognized scientist was invited to head the zoo in Hamburg. Here Brehm remained loyal to himself – he turned the zoo into a scientific institution devoted to educating general public. However, the local zoological community did not appreciate Brehm's ideas and he left for Berlin.
15. In Berlin, he founded the famous aquarium. Now it is claimed that he was ahead of his era for at least half a century. He presented the whole living world along a 300-meter walkway. It included land, water and air species. Later Brehm designed another zoo, this time in Dusseldorf.
16. In the preface to the Soviet edition of the Life of Animals we read: "In his youth Brehm was a tall handsome man with a clever and friendly face – his forehead was high, his nose aquiline, his blue eyes friendly, his long dark beard and rather long hair added special expression to his figure. As for his character, he was frank and straightforward, sometimes even harsh. These features brought him many enemies. He was always modest about his achievements, he never showed off, but he disliked flattery as well. In public he was a cheerful and lively interlocutor making everyone laugh at his funny stories and tricks."
17. Having failed to find common ground with Berlin authorities, Brehm had to resign. He spent the last decade of his life traveling, writing and giving lectures. He was favored by fame, however, life delivered him a hard blow – his wife, who was also his loyal friend, travel companion, and literary editor of his works, died in labor.
18. The scientist made his last trip to the USA. According to the contract, he had to give lectures in 50 cities. Brehm did not manage to cancel his trip, though his children fell ill with diphtheria. He received tragic news in the USA – his youngest son did not recover from the illness. The sorrow exacerbated his old maladies that were now accompanied by new ones and 6 months after his return, Brehm passed away.
19. Apart from the Life of Animals, Brehm's most famous works include Life of Birds, Caged Birds, and Forest Animals. The Siberian diary of the scientist was also partly published.
20. Brehm's scientific achievements consist of describing various bird species and subspecies, including a subspecies of magpie (Pica Pica melanotos), a yellow wagtail subspecies (Motacilla flava Pygmaea), a jay subspecies (Garrulus glandarius flaviatus and Theklalerche Galerida theklae), or Thekla's lark that Brehm named in honor of his sister who died at an early age.