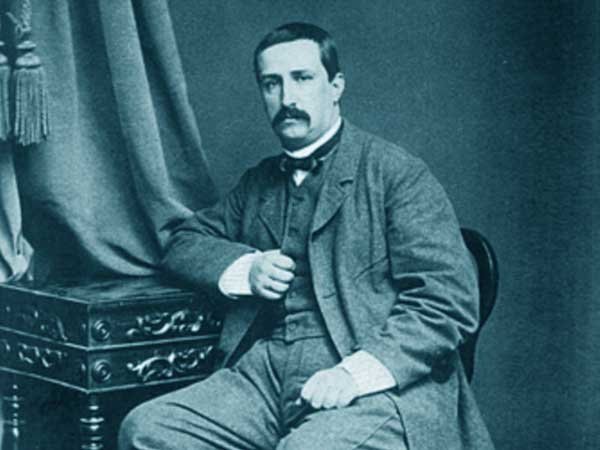 Official:
Alexander Porfiryevich Borodin. October 31 (November 12), 1833 – February 15 (27), Russian chemist and composer.
Life and Work:
1. Alexander Borodin developed methods for producing bromine-substituted hydrocarbons, was the first in the world to obtain an organofluorine compound, studied aldehyde, and conducted a plethora of other chemical research studies. But his most famous work is... the Prince Igor opera.
2. They called Borodin the best chemist among composers and the best composer among chemists.
3. Alexander Borodin's fater was 62-year-old Imereti Prince Gedianov, who lived in St. Petersburg. But there was a trouble – the boy could not inherit the Gedianov name and the prince title, because his young mother, Evdokiya Konstantinovna, was not married to the old Gedianov.
4. The child was registered as a son of Gedianov's indentured servant and got the patronymic Porfiryevich. With that, Alexander Borodin set off along the path of his life.
5. Until the age of seven, Alexander was listed as his own father's serf. Shortly before his death, Gedianov freed him and bought a four-story house for him and his mother.
6. Alexander was not allowed to enter the gymnasium, but he received an even better education at home.
7. From the age of nine, Borodin wrote music; from the age of ten, he became interested in chemistry. Their house was crammed with retorts, beakers, and the smell of chemicals. But in his spare time, the boy learned to play the flute, piano and cello, drew, sculpted, learned languages effortlessly. He probably had the Leonardo complex – this psychological term means that Alexander Borodin sought to express himself in different areas.
8. The illegitimate son and former serf could not receive a higher education. But for a large bribe, a Tver State Chamber official registered Alexander Porfiryev Borodin as a third-class merchant from Novotorzhok. The seventeen-year-old "merchant" passed his school-leaving exams with honors at the First St. Petersburg Gymnasium and entered the Medical and Surgical Academy.
9. At the Medical and Surgical Academy, Borodin studied medicine and continued to study chemistry, since the famous Nikolay Nikolayevich Zinin worked there as a chemistry professor.
10. Studying medicine and chemistry took a lot of time but did not prevent Alexander Borodin from composing romances. Professor Zinin reproached him for chasing two rabbits but changed his mind after hearing Borodin's wonderful music.
11. In March 1857, the young graduate was appointed resident of the Second Army Hospital, where Borodin met an officer who was receiving treatment there. His name was Modest Mussorgsky. Later, Borodin met the Russian composer Mily Balakirev and together with Mussorgsky, Rimsky-Korsakov, and Cui, they became the Five or the Mighty Handful – a creative collaboration of Russian composers.
12. Soon after he defended his doctoral dissertation On the Analogy of Phosphoric and Arsenic Acids in terms of Chemistry and Toxicology, Borodin was sent on a work trip to Soligalich to study the composition of local mineral waters. Thus, balneology complemented the list of scientific disciplines to which Alexander Borodin contributed.
13. For three years Alexander Borodin improved his chemical education abroad: in Heidelberg, Paris, and Pisa. At the same time, the remarkable scientist, together with N. N. Zinin and a friend and colleague, D. I. Mendeleev took part in the famous international congress of chemists in Karlsruhe, where the atomic-molecular theory of the matter structure finally triumphed.
14. During his stay abroad, Borodin met his future wife, the pianist Ekaterina Sergeevna Protopopova.
15. Incredibly busy with his scientific and teaching work, Alexander Porfiryevich wrote music in rare hours of leisure or when he was ill. That is why he constantly complained that his musical companions, contrary to the generally accepted customs, wished him not health, but illness.
16. Academician Borodin, head of the Department of Chemistry at the Medical and Surgical Academy in St. Petersburg, was extremely demanding of himself and therefore his musical heritage is not so extensive. It took him eighteen years to write the main work of his life, the Prince Igor opera. Yet, he did not finish it – it was completed by Rimsky-Korsakov and Glazunov.
17. Alexander Borodin is considered one of the founders of the classical genres of symphony and quartet in Russia. Borodin's Second or Heroic Symphony is recognized as the pinnacle of Russian and international epic symphonism.
18. According to Borodin, his contribution to chemistry would be even greater if the government cared about the development of science and allocated more money for the research.
19. Despite his outstanding achievements in science and music, Alexander Borodin was plagued by financial difficulties throughout his entire life. In addition to other numerous occupations, Alexander Porfiryevich worked as a foreign literature translator.
20. And this was not enough for the "Russian Leonardo": he was a notable public figure as well. He did a lot for women's education and became one of the founders of women's medical courses.
21. Borodin's fantastic absent-mindedness is legendary: his mind was busy with either chemistry or music. One day, after spending all the evening with the guests, he suddenly got up, put on his coat and began to say goodbye: as he said, he had a lecture the following day, so it was time to go home. And only his friends' loud laughter brought the classic back to earth, and he realized that he was in his own living room.
22. The chemist Borodin was a great help to the composer Borodin. And to us as well: Alexander Porfiryevich's music scores, currently stored in Glinka Museum of Musical Culture, are still in excellent condition. The chemist Borodin invented a coating of liquid gelatin, which he used to cover the score sheets to prevent the pencil inscriptions from fading.