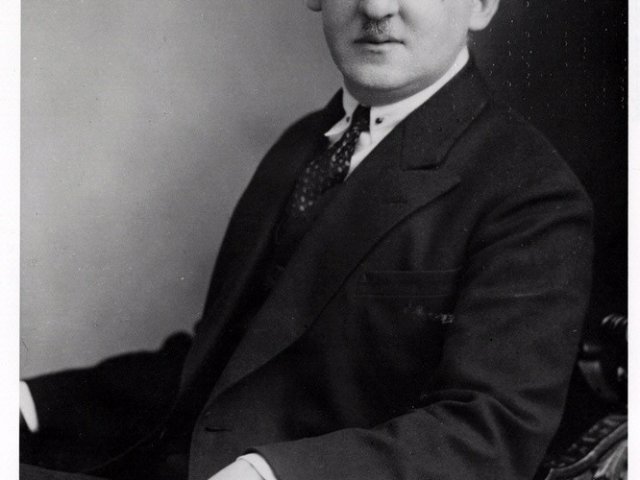 Official:
Yakov Isidorovich Perelman. november 22 (December 4), 1882 – March 16, 1942. Scientist and popularizer of science. The author of many books on "amusing" science.
Life and Work:
1. The title of Perelman's biography is intriguing: Doctor of Amusing Science. His books grab readers' attention from the first lines, make them wonder at what is hidden in mundane things and events, and most importantly, teach them how to think. The titles of his most famous works begin with the same adjective - "amusing."
2. In 1934, famous fantasy author Herbert Wells met a group of Soviet writers and popularizers of science at Astoria Hotel. Having met Perelman, Wells asked, "Aren't you the Jacob that so cleverly exposed my Invisible Man by noting that he should have been blind as a newborn puppy?" To which he answered, "I must confess, Mr. Wells, it is my doing..."
3. Yakov Perelman was born in 1882 in Bialystok in Grodno Province. It is now a Polish city, but back then it belonged to the Russian Empire. Yakov's father worked as a bookkeeper, his mother was a teacher. His older brother Iosif later became a well-known writer and playwright, and wrote in Russian and Yiddish under the pseudonym Osip Dymov.
4. In early childhood, Yakov became a half-orphan. But his mother put all her effort into giving her children good education.
5. At the age of seventeen, Perelman published his first educational article in Grodnenskie Gubernskie Vedomosti. The text under the intriguing headline "About the expected fiery rain" was signed by the initials Ya.P.
6. Having entered St. Petersburg Forest Institute, Yakov started to collaborate with the Priroda i Lyudi magazine. Without leaving his studies, he worked as the executive secretary and, later on, chief editor of the magazine.
7. He never used his diploma of a forestry specialist: by the time of graduation, Perelman was an experienced journalist and an aspiring writer.
8. The first part of Amusing Physics was published in 1913 and boasted tremendous success. Orest Danilovich Khvolson, a physics professor of St. Petersburg University, said the following to the author, "We have more than plenty forestry specialists, but we do not have a single person who could write about physics the way you do. My strongest advice is: please continue writing books like this."
9. That very year, Perelman started to correspond with Tsiolkovsky, and this correspondence continued till the very death of the father of Russian cosmonautics.
10. In 1914, Perelman wrote a chapter titled "Breakfast in a Weightless Kitchen" for Jules Verne's novel From the Earth to the Moon. Doing that, he also coined a term for such literature. He named his freshly written chapter science fiction. This compound word was unknown before Perelman. Jules Verne called his books scientific, and Herbert Wells called his books fantastic.
11. But Perelman did not plunge into science fiction. He followed Khvolson's good advice. Yakov Isidorovich has over a hundred scientific and educational books to his name, published in millions of copies: Amusing Arithmetic, Amusing Mechanics, Amusing Algebra, Amusing Astronomy, and so on.
12. Before the revolution, Yakov Perelman was a member of a committee titled the Special Council in Fuel. It was then that he suggested to set clocks forward one hour to save fuel, and it was implemented, but later – in the 20s.
13. In early years of the Soviet Union, Perelman worked for People's Commissariat for Enlightenment of RSFSR. He composed the curriculum in physics, mathematics and astronomy, and worked under this curriculum in different educational institutions. He started a magazine titled V Masterskoy Prirody [In Nature's Workshop] and collaborated with different other educational magazines.
14. Books and magazines was not all he was up to. In October 1934, a unique museum was opened in Leningrad in the Fountain House. There, one could see the "perpetual motion machine," one million peas, a model of Tsiolkovsky's starcraft, seven hundred and seven digits of pi, and even the museum's own meridian. Despite the classic rule of museums, one was allowed and welcome to touch everything. The inscriptions directly instructed: "Touch." Academic supervisor of the House of Amusing Science Yakov Perelman advised that the employees make the exhibit items "hands-proof" and be happy that kids are growing up curious.
15. From the first days of the war, Yakov Perelman delivered lectures to soldiers about terrain association without equipment.
16. During the Siege of Leningrad, Perelman and his wife Anna died of hunger.
17. Perelman's books were published about five hundred times in the USSR only, and total print exceeded thirteen million copies. Bibliophiles counted that Perelman's educational books were published over a hundred times in about twenty countries.
18. Building 31 in Chkalovsky Avenue in St. Petersburg, where Perelman lived and died, now has a memorial plaque on it.